Frootsy Collins
is creating cute illustrations, animations, comics, and more!
Select a membership level
Villager
Welcome to the community! Every legendary hero needs quest givers!

• Thank you/mention in my social media posts

• High-resolution art posts

* Digital Rewards are sent out via direct message after each month's payment


Merchant
You come bearing wares from distant lands, having access to secret trade networks and exotic goods!

• Discord Access: Come chat with me and other supporters! Share your art with others and get feedback or discuss the latest shows, movies, and games!

• High-resolution artwork sized for wallpapers and avatars, tailored to any device or format you'd like!

• Sketches of art I've made each month

(All rewards from previous tiers)

* Digital Rewards are sent out via direct message after each month's payment


Includes Discord benefits
Rogue
Only someone with your particular set of skills can sneak their way through the village's seedy underbelly.

• NSFW art access: Any art I make with nudity will be exclusively available to Rogues and above

• Process videos of the art I've made for each month

• (All rewards from previous tiers)

* Digital Rewards are sent out via direct message after each month's payment


Includes Discord benefits
About

For visiting my Patreon and being interested in my work! It means so much to me!
I'M FROOTSY!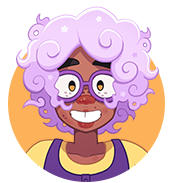 I'm a graphic designer by day, but I would much rather make my living doing what I'm passionate about: making cute artwork! I love to create fun characters that resonate with people and draw them in scenes that make them smile (or think, or cry, or anything that makes their day more interesting!)
Having supporters on Patreon lets me spend less of my time doing uninspiring graphic design and more time creating art that you'll love! All of the feedback and kind words I've received over the years has infinitely improved my life and I want to keep it going! I have so many ambitious ideas that you can help make possible!

I work on tons of different projects and am always trying new things. Here are some of the subjects I've tackled and want to do more of in the future!

Original Characters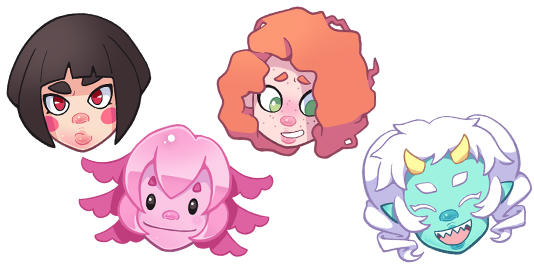 I love to make new exciting characters, with a focus on women and people of color. I have tons of ideas for new ones that I can spend more time on with your support!

Fan Art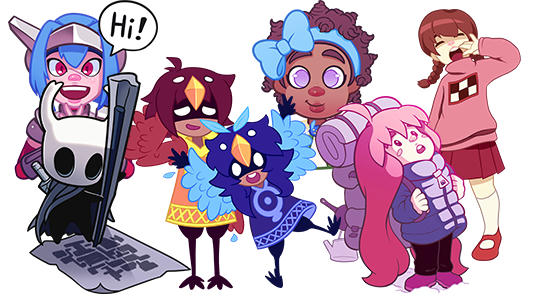 -I'm old and can't always keep up with the latest fandoms. As a supporter, you will have direct access to me for suggesting new shows/games/anime/whatevs to make fan art of!

Animation
I've only recently dipped my toe in the water of animation, but I've gotten such positive reception for it that I want to push it further and learn more animation principles!

3D Art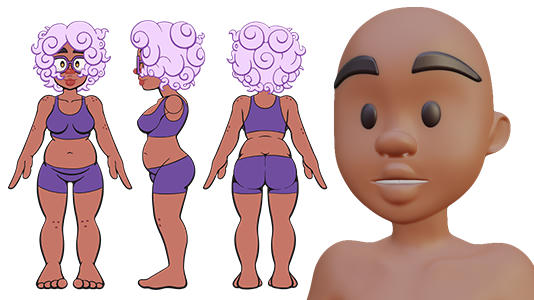 I recently started making a 3D model of my OC Simone! It's been really challenging learning how to use Blender, but I'm loving the results so far! You can look forward to seeing her and more characters in 3D in the future!
Comics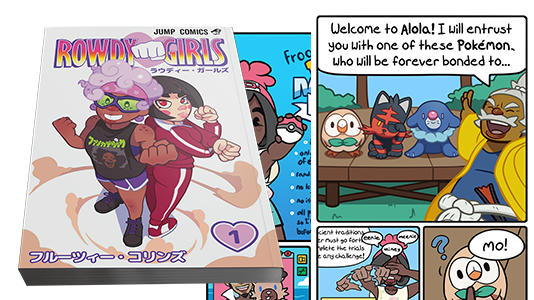 I experimented with making a comic for a Pokemon Sun and Moon Nuzlocke run and had a lot of fun with it! I would like to build my limited experience with sequential art and bring you more comics! I have some really fun ideas involving my original characters in a fantasy setting that I'd love to explore!

By become a supporter on Patreon, you not only help me produce more of the art you love, but you also get exclusive rewards and access!

Discord Access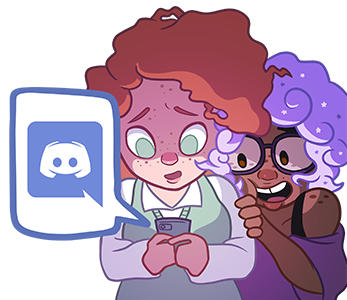 Come and join the community! My goal with the Patreon is to not only get more direct support from my followers, but also have a more direct way to get to know them! You'll have more or less 24/7 access to chatting with me and other supporters, whether it's discussing the latest games, movies, and shows, sharing your art and getting feedback, or just sharing dank memes!

Prints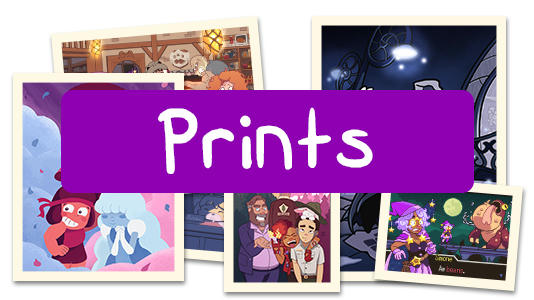 Higher reward tiers include physical rewards! Prints will range from 4x6 (postcard sized) to 11x17 (poster sized)! Every month you'll get a surprise print of my art mailed to you. Check out the reward tier section for details!

Stickers and Buttons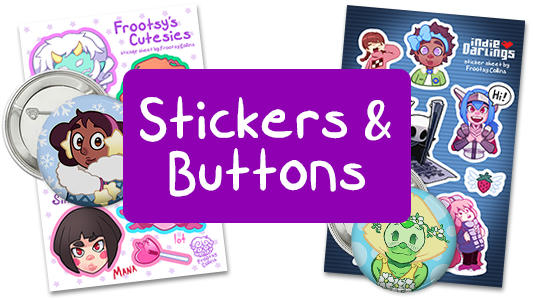 I love designing stickers and buttons, but it's been difficult to find places to sell them aside from conventions and POD sites that I don't have much control over. By supporting me you can have new stickers and buttons sent to you monthly!

Pinup Girls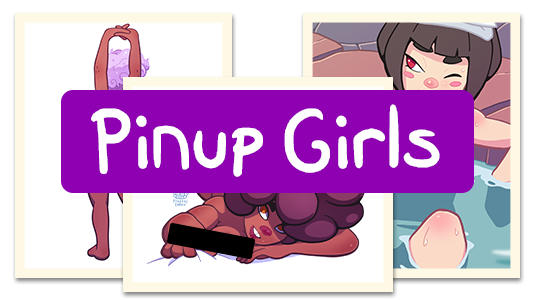 I try to make everything I draw cute, but I've made some more sexy art that I'd also like to explore. Since I have younger fans, and potential employers googling me, I've hesitated to show it on my social media channels. Patreon is a place where I'm safe to share it with my audience and they'll have exclusive access to it. For anyone not interested in that, I'll provide plenty of other rewards at that tier to make it worthwhile to everyone!

And so so much more!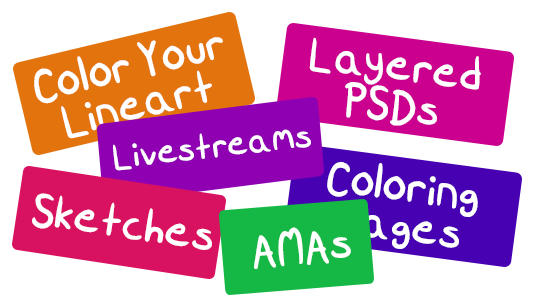 Check out the reward tiers to see what else you can get when you support my art! There's fun stuff at all levels of support, like access to sketches and process videos, AMAs, or even getting me to color your own art! I want to give back as much as I can, and your support will mean the world to me, no matter what level it is!
If you have any questions about reward tiers or billing/shipping, please don't hesitate to send me a message through Patreon! And if you've stumbled upon this page and want to see more of my art to see if it's something you want to support, it's all available at the social links above! Instagram is probably the quickest way to get a sense of what I make.
Commission Raffle!
If we can reach this milestone, let's celebrate with a commission raffle! All Patrons supporting at the Merchant level or higher will get a raffle ticket and be entered to win a free full-color bust commission!

1 of 1
Become a patron to
Unlock 75 exclusive posts
Connect via private message
Recent posts by Frootsy Collins
How it works
Get started in 2 minutes