Furlana
is creating Erotic Furry Art & Comics
Select a membership level
Lil Panda
Exclusive access to daily sketches
A month early access to all my artworks and their alternative versions in high resolution
Early access to the voted for monthly refined sketch

Snip-it spoilers of what I'm currently working on (posted to Discord, to avoid cluttering the Patreon feed)
Includes Discord benefits
Pandamic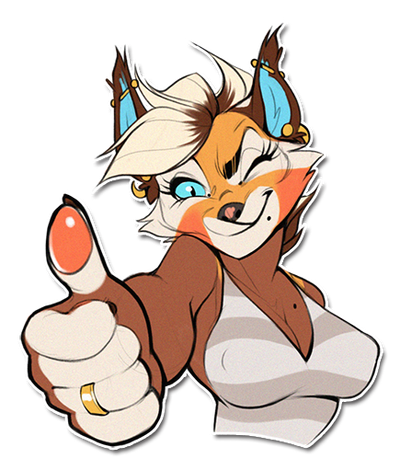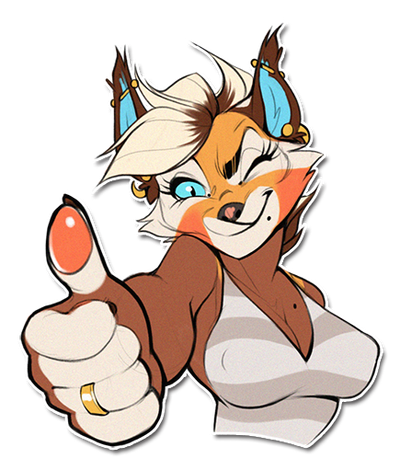 All previous rewards 
Access to comic pages in high resolution up to a month before they become public. Every 2 pages up on Patreon, I post 1 page publically. This way Patrons get way ahead the more pages I make!
Take part in a monthly Q&A session for all my comic characters and get sketches as answers!
Early access to comic concept sketches
Voting rights (fanart poster, comic posters, refined sketches and more...!)
(+ locked goal: Take part in a bi-monthly comic Q&A event with drawings as answers)
Includes Discord benefits
Pandamonium!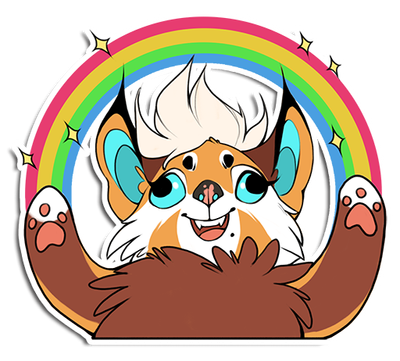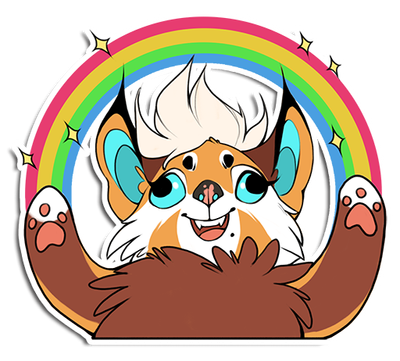 All previous rewards
Exclusive access to step by step images of my art, speedpaints and PSD files
Early access to flat priced YCHs
Regular access to commissions: sketches, simple renders and reference sheets (more info in Patreon overview)
Suggest ideas for daily sketch topics and characters for the fanart vote
(+ locked goal: Patron contests!)
Includes Discord benefits
About Furlana

Hey! My name is Lana!
I'm a Polish freelance adult artist. I'm also a mom to a lovely baby boy and I am trying my best to balance being a parent and working. I've been doing commissions for a living for many years already, but I want to focus on developing my own projects. I'm here because I want to create my own comics, long and short, erotic and adventure, fantasy and sci-fi, thrilling and heartwarming. I can only make this dream come true
with your generous help
.
I'm trying my best to be one of the
most active Patreon accounts
, as well as build a welcoming and
warm community on our Discord channel
!
If you decide to support me, please make sure to add your Discord info to your Patreon profile and you will be automatically added to the server!
You will get exclusive access to snip-its and teasers of what I am working on, on a daily basis :)
As I mentioned, this is a very active Patreon, I post content daily!


What can you find on this Patreon?



Daily sketches suggested by Patrons and concept art for my comics
All my newest art in high resolution as well as it's alternative versions a month earlier than the public
Comic pages in high resolution and over a month early access (currently 2 pages monthly guaranteed, but I aim at weekly updates as often as possible)
Process images, speedpaints and PSD files of most of my artworks
A bi-monthly fanart SFW/NSFW poster (characters suggested and voted for by Patrons)
A monthly vote to refine and color your favortie daily sketch

Constant access to sketch commissions
Early access to claim flat priced YCHs
snip-it spoilers of the art I'm currently working on as well as comic pages (shared on the Discord server to avoid cluttering the Patreon feed)
With more funding I look forward to
expanding the rewards, adding new ones, making more of them or make them more often.
Please take a look at my goal list to see where we're headed!

ABOUT THE CONTENT
The content I concentrate on is aimed towards
adult audiences only
. As to what I produce - I mainly work with
lady pinups, suggestives and erotic art
. However I also like to spice things up, as well as tone them down and draw simple slice of life scenes. I also draw
adult art featuring men
, but recently way less often than girl :)
This Patreon
mostly revolves around early access and having voting power as to what I draw. I don't want to paywall content, so most of my art will be submitted a month early for Patrons, later to be viewed by the public. As I cannot make adult artwokrs public on Patreon, make sure you follow me on my other sites to never miss my art! :)

I sometimes mess around with rewards, add new ones, delete the ones that don't work out too well either for me or when I see they aren't what the community wants. I always try my best to make everyone happy with my content, so you're sure to have a variety of posts incoming!


PANDORA'S BOX TIER


Pandora's box is a limited tier. Once a month, a daily sketch goes to your character! BUT... You cannot choose the theme, or the pose. We present the reference along with information about your character to the audience (all Patrons!) and they get to suggest what they would like to see your character do! You will have access to the suggestions they make and moderate what ideas you'd like to veto. I will choose the suggestion I enjoy most and.... voila!
You get a surprise monochromatic sketch suggested by the audience!
The range will vary from a halfbody to a fullbody depending on the idea. I will choose the day on which I will create your sketch, so it will be a total surprise!
These sketches are excluded from the monthly refining vote.

The quality of the Pandora's box sketches is the same as the daily sketches: a monochromatic , messy, artistic sketch, like the examples posted here.

If you'd like your Pandora's box sketch to be refined on any level (colored sketch, full render etc.) you can always conntact me and get priority in ordering it. The price will be based on my regular commission prices -85$ :)






COMMISSIONS FOR PATRONS


All Patrons of tier 15$+ have regular access to my commissions. I have recently expanded the types of commissions I can accept from Patrons on a regular basis.
For Patrons I offer: monochromatic sketches, colored sketches, simple renders and reference sheets.
The queue for reference sheets is a separate one, since I can only take one of those every few months, so the queue moves slower than the regular commission queue.

For more information and prices on these commissions please check the commission info on my Trello. You will find a pricelist along with examples of finished works there.

The updated queue can be found on our Discord server, in the 'commissions' channel. I highly recommend joining, so you can keep track of your place in the queue (it will also allow me to easier ping you and contact you about commission details!) and on any updates regarding commissions in general.
The usual count of my Patron commission queue is around 10 people. Every few commissions I finish, I usually get a few new people in the queue, so this number is a constant. I kindly ask that you be patient, I always try my best to work within a decent timeframe, but being a parent sometimes makes it impossible to meet the demand as fast as I wish I could.

Once you become my Patron and want to be added to the commission queue, simply ping me on Discord in the 'commissions' channel or PM me on Patreon.
Thank you so much for your huge interest!
SUGGESTING SKETCHES
Un
der the 'suggest' tag all Patrons of 15$+ tiers can find a post with links for posting ideas of what they want to see me draw. The link is also easily accessible through our Discord server in the pinned messages of the 'wips and suggestions' channel. The rule is it must be my characters (See them here). I believe this will get easier once the comic speeds up and you get to know the cast!
I will draw the ideas I find most interesting and fun if I cannot manage to draw them all.
Note that these are not commissions, so the suggestions should leave me space to breathe and interpret them.
I allow up to 2 characters per suggestion :)
At the beginning of each month I organize a vote where Patrons of 6$+ tiers can vote to see their favorite sketch colored and refined.
Current comic project: Bubblegum
Chew or be chewed.
An innocent girl is thrown into a world of organized crime. Will she persevere, or will she be disposed off like an old piece of gum?
'Bubblegum' is an adult crime/urban fantasy furry comic

based in the modern world setting, where anthro and humans live together. 
I invite you to read the published pages below!
DISCLAIMER
This comic is an
R rated
comic touching upon
problematic issues
. It is an important personal project to me that I have spent many years developing. I treat everything I portray with seriousness and do not endorse the views and actions of all the characters within.
I do not recommend reading it if you're looking for a light pornographic comic.
Thank you so much, darlings!
Special thanks to my husband Filip, Xionix, Admiral Whiterun and Sage Catori
Thank you so much for your conitnued support
. I am truly blessed to have a lovely bunch of supporters who enjoy my art and make me want to keep going and improving.
I hope you will find something interesting here and stick around to see my w
ork!
Hope you'll enjoy your stay on my Patreon! If you have any questions or doubts , shoot! I am here for you!
Follow me on my other sites!
Furaffinity * Deviantart * Ko-fi * Twitter * Picarto * Gumroad
If you want to support me with a one-time donation

$2,618.87 of $4,000
per month
I will be able to dedicate most of my time to creating comics!

Reaching this goal will unlock:
Weekly updates for the 'Bubblegum' comic with at least a month early access for Patrons!
I will work to refine the Bubblegum website and create a solid character and places database with additional info for the main cast, a special layout and character images in a matching theme (mugshots, police records). I will make sure all the updates are posted to the website as well as gather all artwork official and fanart in galleries!
New reward for 15$ tier: Patron contest! Once bi-monthly I will organize a small comic-oriented contest. Contest topics? Finding a theme song for a specific comic character or pairing, find a life inspiring quote that best fits a given character, find a perfect voice actor for the characters, find a new set of clothes that best fit a character and that they would wear in the comic in the upcoming chapter, build a character mood board etc.
The winners will get one of the daily sketches as an artistic freedom monochromatic sketch featuring their character!
The winning entires will be used for the comic (with your consent :))!
New reward for $15$: Patron comic streams! Where you wil be able to watch me sketch, line and render the newest comic pages live~
6 of 7
Become a patron to
Unlock 698 exclusive posts
Connect via private message
How it works
Get started in 2 minutes