Game Genius
is creating games and experiences for social good
Select a membership level
The Fan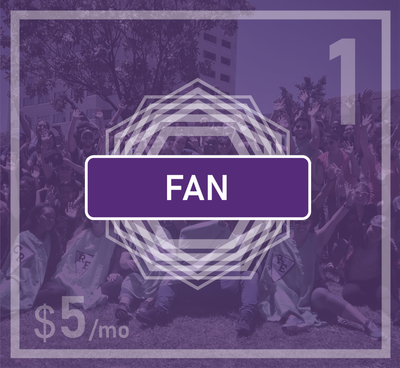 Like our mission and want to support our work in the community? This tier is for you. You'll get: 
Mailed monthly newsletter and annual report
10% discount in our game store
Patron-only posts and new content
The Player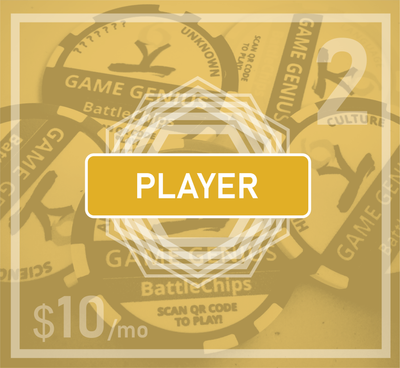 Want to take your support a step further and indulge in more of our games? This tier is for you. You'll get:
Mailed BattleChip Game and exclusive access to monthly competitions 
And everything in the previous tier
The All-Star
Think our impact is critical and want to get involved at the game design level? This tier is for you. You'll get:
New game prototypes (sent virtually) to playtest and review with one of our lead game designers 
Inclusion as a design contributor when games are published
And everything in the previous tiers
About
ABOUT US
At Game Genius, we see games everywhere, made out of anything, and designed by anyone. We leverage the process of playing and making games for social good:
First, our workshop services challenge teams to test ideas, develop skills, and solve problems through custom games. An environment filled with opportunities to play often inspires better work, talent, and leadership. We balance for-profit and non-profit projects in order to offer pro-bono services to those who cannot afford it.
Next, our public experiences (i.e. treasure hunts) and products (i.e. tabletop games) demonstrate how non-digital play can effectively build relationships, address societal barriers, and encourage empathetic solutions. People who play more tend to exercise better situational awareness and resilience in real life. We've built games around topics like toxic partisanship, financial literacy, mental health, and environmental sustainability.
Finally, while play is universal, we believe impact work is best done locally. Based in the Greater Washington DC region, Game Genius explores play as a gateway for more people to participate in philanthropy. Ultimately, we have found that harnessing people's playfulness (heart), creativity (mind), and giving instinct (soul) makes what we do and care about more fun.
WHY PATREON?

Game Genius is a unique business model. As a young start-up in the Washington DC region, cost to do business isn't cheap, especially when trying to balance social impact and sustainable growth. Our vision is to become a
B-Corp
(status for ethical companies) as we grow into a bigger agency. Game Genius pledges to do at least one non-profit project for every for-profit project we complete. Your support as a Patron helps us keep non-profit work free!
We also believe in the power of a grassroots movement. Support at any level allows us to launch new content that you can enjoy regularly with friends, family, or colleagues. Your feedback will help us improve our offerings.
PATRON TIERS

We are committed to providing value at whatever amount you pledge. Here is a brief digest of each level:
At $5/month (Fan), you'll get exclusive access to our patron-only content, a 10% online store discount, as well as personalized monthly newsletters and annual impact report.
At $10/month (Player), you'll be sent a physical BattleChip and gain access codes to our monthly competition, which include mini-games that unlock a final kinetic challenge. We will feature a winner on social media. Players also get everything in the Fan tier.
At $25/month (All-Star), you'll receive digital prototypes of our new games to playtest and give feedback. We'll follow up with you to address your thoughts and include you as a design contributor in the final version. All-Stars also get everything in the Player tier.
At $100/month (Champion), we offer a taste of our game services. You'll get up to 3 hours per month of direct virtual support with the Game Genius team to address your specific needs. Whether you're an individual (or group) looking for game advice, an entrepreneur seeking fun ways to grow, or an organization thinking about creative fundraising and team-building strategies, our team is here to assist. For additional inspiration, Champions receive everything in the All-Star tier.
We'll launch our 26-episode podcast where we interview different industry professionals about bringing games and gamification to their particular role. The series will also include an audio puzzle that unlocks a secret 27th episode. Ready to learn your PlayBCs?
1 of 6
Recent posts by Game Genius