Chris DeLeon
is creating videos, interviews, and practice teams to help anyone make games
Select a membership level
Indie Club Supporter
Get videos of each HomeTeam GameDev (Apollo group) update meeting plus materials to get started
Access to our meeting videos
Includes video of HomeTeam guest speakers
Access to the full textbook (as PDF) from our popular video course ("How to Program Games")
Media Tutorials
Get behind-the-scenes tutorials on how I create podcasts, online courses, and YouTube videos so you can make your own.
Video tutorials (note: I use Mac software)
Patron-only Q&A - message me your questions here on Patreon about creating podcasts, online courses, or YouTube content and I'll be happy to chat
More soon, content in-development, happy to discuss your questions in Patreon messages since this will help me prioritize which content to share for this next
Plus all previous rewards
Sponsor 1 HomeTeam Membership
Covers full membership dues for an applicant who otherwise could not afford access to our peer training community, library of paid learning resources, or personalized 1-on-1 mentorship support from industry professionals. (Note: this is not membership for the person sponsoring on Patreon, or for someone chosen by the person sponsoring. The sponsorship anonymously covers a HomeTeam applicant who checked the box indicating they would need their dues covered to be able to participate.)
About Chris DeLeon
My mission: make learning fun
After several years working as a technical game designer in the game industry I went to grad school to study educational games. I wanted to make learning more enjoyable for difficult, practical subjects.
While I was a student again I started a game development club in 2010. I based it on one I'd built elsewhere as an undergrad in 2004. The clubs weren't for my studies. I just wanted to make games with people.
Building games is ideal for this
Halfway through the PhD program I realized the main impact I had on learning was by creating these communities for new game developers.

This isn't a class. These are club members on a Friday evening.

Educational games haven't evolved much. That's not from lack of people trying. It's a really tricky design space. They're still largely either for young kids, niche research, or job training simulations.
Meanwhile, hundreds of people were making games in my clubs solving sophisticated technical, design, and coordination challenges. Nobody was doing it for a grade, to get managers off their backs, or because someone else said they should.
This learning was driven by the real desire to make better games with more realistic car movement, smarter monsters, online play, and so on.
I dropped everything to adapt our pattern for use outside colleges
College can be valuable. Unfortunately, it's also expensive, only several years long, and isn't available for everyone. Although my clubs can work in college settings, they really shouldn't need a high tuition paywall, long-term relocation, or taking years off work.
I knew this format could work for more people. That includes people who already finished school, who haven't gone yet, as well as people who haven't gone and don't intend to.
One challenge in making this happen was that at engineering schools several people came in with enough technical experience to lead development. That's a steep learning curve without a clear introductory curriculum.
Origin of club training materials
During 8 months of my last year in university I volunteered 2 hours every Saturday teaching teenagers introductory game programming at a YWCA homeless shelter. I taught the way I'd learned: beginning with retro remakes and simple coding, increasing complexity a little on each project.
I had no bigger plans yet, I was just trying to help some people.
I started documenting and further expanding what I taught there. I tested and refined those techniques in one-on-one training, wrote a textbook on my method, and built video courses to go with the book addressing real questions people asked when we worked through it live.
That's now our club's introductory curriculum. It's helped many of our members who started with no technical background go on to lead teams in our game development practice club.
I'm sharing our methods globally
Since then more than 170,000 people have programmed their first game with my free video course. I've released hundreds of new YouTube videos, and put out an industry interview podcast (100+) every other week, each covering developer issues and behind-the-scenes project stories to better equip people who're building their own games. I've been speaking at industry conferences (GDC x3, SIEGE x4, DiGRA, and with IndieCade in Los Angeles, NYC, and Paris). I mentor solo and small team game developers around the world.
HomeTeam GameDev (before Summer 2019 known as "Gamkedo Club"), my third and newest club, is fully online and is independent, with no college affiliation. We've completed over 60 games by more than 100 collaborators worldwide (19 time zones!) in our first three years. I supplement our introductory curriculum with online office hours, in which I work with members one-on-one through questions they run into.
To help more new developers worldwide I've also:
Spoken on game development for a dozen schools, from elementary and high school up through universities (including UC Berkeley, Moorpark College, SAE Institute Geneva, Academy of Art, Westwood College, University of Michigan, and Becker College)


Co-organized nearly 80+ workshops and sessions of industry speakers sharing their experiences for IndieCade in Los Angeles and Paris over the past few years


Keynoted for Global Game Jam in Hollywood and gave a #ResistJam talk


Daily signal boosted, encouraged, and connected game developers in a community of over 95,000 on Twitter as @HomeTeamGameDev


Volunteered every week for 6 months helping dozens of individuals and beginner teams stay on track, steering clear of trouble through personalized production and planning feedback


Included my textbook and example code in the Humble Freedom Bundle, of which 100% of the proceeds went to charities (ACLU, IRC, and Doctor's Without Borders). Along with dozens of indie games the bundle raised $6.5 million, giving the book to over 200,000 people. More about the book and bundle:


None of those points above pays me anything. Nada. I'm not in this for money. I will continue to do these things if I have zero patrons, as I have been doing for years.
However, with your help I'll be able to reach more people with greater frequency and higher quality content.
Why I'm starting a Patreon
The purpose of most contract side gigs I do is to help improve the reach and quality of my free offerings, or to keep my personalized support affordable.
Nearly all school speaking I do is for free. I've avoided business sponsors because I've witnessed firsthand teaching at a summer camps how those can derail teaching into a sales pitch for products people don't need. I left the academic teaching path to help more people learn at lower cost than those types of institutions can accommodate.
It's important to me that even when training people privately or in HomeTeam GameDev I keep rates within reach of people in middle-class circumstances. Professionals in industry have told me I could easily charge significantly more based on my development and teaching experience. I don't feel right doing that, since often people who need help most are working within limited financial means.
Making games is for everyone
The
techniques I teach to make games can be done in as little as a few hours each week
. This way practice can fit sustainably alongside a day job, classes, and social obligations.
For some people my approach has been a stepping stone opening up new career options. But much like how most people who play a sport or learn an instrument may never do so professionally, it can still be a valid and enriching part of life for everyone.
I wrote an Extra Credits episode better explaining my case for personal game making
. It's not just for people who are aiming to make a job out of it.

Making games builds confidence
I don't just advocate for making games because it's fun, or can hone skills.
In much the same way that most martial arts aren't merely about self-defense, practicing game development can have other benefits for personal growth.
Making games forms a routine of disciplined habits. It gives us practice regularly overcoming unexpected difficulties. It humbles us to challenge our ideas about what should be done or how by putting them into action.
Building something that works instills confidence, and it does so while developing real abilities to back it up. It's empowering to have skills to create new things straight from your imagination without needing anyone else's permission.
It's also healthy to feel a bond of community by building shared projects, not on account of dependency on one another but instead from understanding how collaborative compromises can help us achieve better results together than we could alone with total control.
Get patron-only rewards
For as little as $9/month you'll get access to weekly videos of our HomeTeam GameDev meetings. These include all project pitches, progress updates, and industry speakers. This is a great way to follow the community's growth, or to learn from how we operate. It also includes our training materials.
If you'd like to make your own podcasts and YouTube videos, another reward tier will have new videos tutorials from me with tools and tips I've learned making mine.
Help someone be part of the club
Anyone can apply to join
HomeTeam GameDev. We do have monthly dues. The rates are comparable to a martial arts dojo, or a fitness gym. Much like those businesses, we provide structure to help people grow alongside practicing peers with the benefit of professional guidance to get more out of their time. Doing that well has overhead.
If you support our mission and vision, but feel the community isn't a fit for what you're seeking, you can still help by sponsoring a new scholarship-like applicant. This makes the method's full benefits available to a new member at no cost to them, and is intended to help people who otherwise may not be in a position to afford dues on their own.
The rate to cover this is reduced, so that it's less than it would be for someone to signup directly. I'm partly subsidizing this option from my end, as well. The club's leadership team will choose from the new member applications on the first of each month based on the number of current patrons at or above this reward level.
Anyone can apply
. <-- the link to share with a friend it may help
Here are some short stories from sponsored members about how support from Patreon and their time with the club has been beneficial (no names are attributed since we keep private who is supported through sponsorship):
"I've struggled with not having a sense of belonging. When I got the patreon sponsored membership I couldn't have been happier. Even though we are thousands of miles apart, I feel like I have somewhere that I belong; and now I have the chance to help make games that could have a positive effect on someone's life like they have with mine. Thank you to Chris, patreon sponsors, and everyone in the community for bringing me this far."

"I have a Computer Science background and have been making games in university for 4 years but the club completely blew me away. Failures are encouraged as part of the learning process which I really prefer as there is less stress as compared to when having to produce games in a graded environment. Hopping straight into a team was very easy as all the members are friendly and welcoming."

"To patrons who make sponsored memberships a possibility – thank you! Because of your support, aspiring game devs like me learn and grow with an amazing group of people. Not only am I receiving experienced mentorship, but when I go on the forum any time of day or night and ask for advice, members elsewhere in the world reach out with encouragement and pages of information. Club members point me to tutorials that worked for them, discuss options, and provide constructive feedback when I post for critique. Whether you're a hard-boiled solo developer or an uncertain newcomer, the community is an amazing source of mentorship, camaraderie, knowledge, and experience. I'm incredibly grateful for my member sponsorship. You might find applying to be the best-spent minutes of your life! Give it a shot!"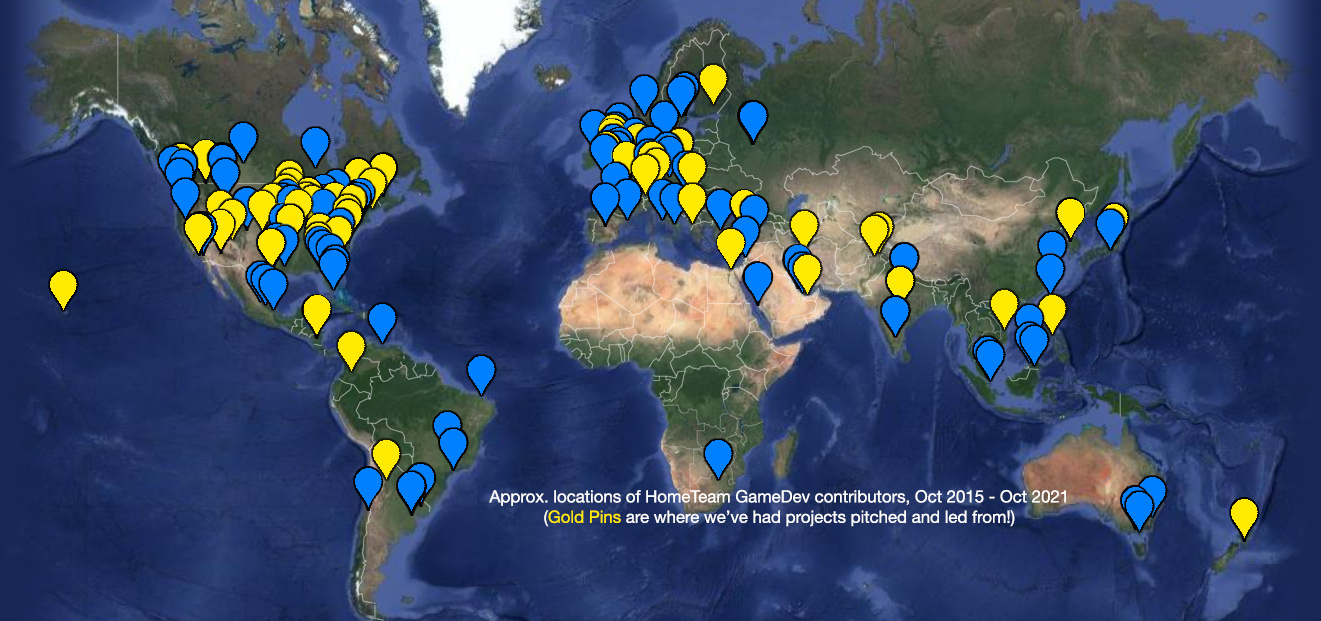 Worldwide locations of contributing members, including sponsored.

Let's get the world making games
Your support will help me bring more people worldwide into making games as a lifelong endeavor. My goal is to get the whole world making games. I hope you'll choose to join me in this journey.
Your help will make a difference!


All logos are property of their owners. These are companies, schools, and events I've worked with, spoken at, or had work featured in. These do not indicate endorsement or ongoing relationship.


By becoming a patron, you'll instantly unlock access to 13 exclusive posts
By becoming a patron, you'll instantly unlock access to 13 exclusive posts
Recent posts by Chris DeLeon
How it works
Get started in 2 minutes