Garrett Crowe
is creating Podcasts & Roleplaying Games
Select a membership level
Manos and Dragons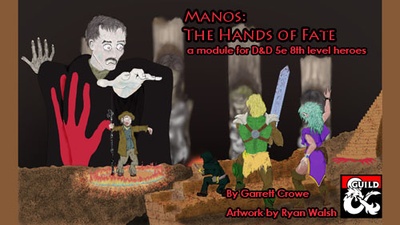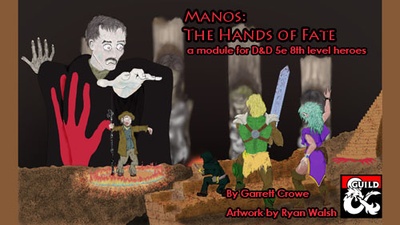 You're a loyal supporter of Threat Detected and Threats From Gallifrey. Receive a Dungeons and Dragons module of Manos and Dragons, an original 8th level adventure.
Limited (4 of 6 remaining)
Let's Game! Garrett will run a campaign for his supporters, Doctor Who, Deadlands Noir, Star Wars, Achtung! Cthulhu, The One Ring or even 5th Edition Dungeons and Dragons.  The game will be monthly, held on a Friday or Saturday night, group's decision.
You Are Now a Production Company... You know at the start of a movie where they list tons of studios that made the film possible... well, that's going to be you. All patreon supporters at this level get their names read in a deep booming voice before each podcast episode.
About Garrett Crowe
Hey gang,
I'm a podcaster-writer... and you know what I want to do? Make more podcasts and write more roleplaying game materials.
Crazy, right?

For four years, Threat Detected Podcast has provided amazing radio-drama style Actual Play of the Dawn of Defiance Star Wars Campaign. We've expanded to interviews with writers, map makers and the leaders in the Star Wars RPG community. This has led to the creation of Threats From Gallifrey, which geeks out joyfully over the Star Wars RPGs, plus Savage Worlds, Doctor Who and The One Ring  RPGs... and only the Doctor knows what else we'll talk about in the future.

 Now I want to create original games and run another campaign. The wife reminds me of the mortgage and having to fix the broken car. I say, "Why not do them all?" 

Hopefully, this Patreon will provide me with supplemental income to be able to game more with you, the supporters, create original games to share... and of course keep pumping out amazing episodes of Threat Detected and Threats From Gallifrey.
Receive all the pregens, non-commercial maps and adventure modules for the Star Wars Saga delve, Lord of the Hives.
2 of 3
By becoming a patron, you'll instantly unlock access to 6 exclusive posts
By becoming a patron, you'll instantly unlock access to 6 exclusive posts
Recent posts by Garrett Crowe
How it works
Get started in 2 minutes