Geek The Halls
is creating kawaii resin charms and handmade gifts
Select a membership level
Garland
♥ Access patron-exclusive demolding videos  
♥ Access to WIP / Behind - the - Scenes posts
♥ Ability to vote in opinion polls regarding special releases
♥ Day early access to special releases on geekthehalls.com
Tinsel
♥ A thank you post card sent by mail
♥ 5% discount code for special releases 
♥ Access patron-exclusive demolding videos  
♥ Access to WIP / Behind - the - Scenes posts
♥ Ability to vote in opinion polls regarding special releases
♥ Day early access to special releases on geekthehalls.com
Holly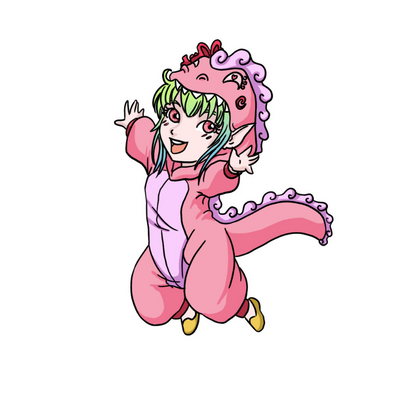 ♥ 10% discount code for special releases  
♥ Monthly shout-outs on social media  
♥ Access to tutorials 
♥ A thank you post card sent by mail
♥ Access patron-exclusive demolding videos  
♥ Access to WIP / Behind - the - Scenes posts
♥ Ability to vote in opinion polls regarding special releases
♥ Day early access to special releases on geekthehalls.com
About
Hello and welcome to my Patreon! My name is Stephanie and I am the owner of Geek The Halls! Many of you may know me as the go-to fangirl who loves to make gifts inspired by some of our favorite genres. Whether its, sci-fi, fantasy, anime, or gaming, odds are, I'm going to love it!
For years, it's been a wild dream of mine to make things my friends and family would love. It began with me making small gifts, such as hand-painted ornaments for them. The more I made things, the more I fell in love with the art of handmade crafts and how meaningful it can be to not only give a handmade gift, but also receive one. In the summer of 2016, I decided to create Geek The Halls to extend my love of creating handmade goods to others!
Since then, I've been creating gifts from ornaments, to tea-lights, to mugs and water bottles. However, I have recently become more known for my resin charms!
Under the Reward panel on the right side, you can have the option to choose how much you'd like to pledge per month. Each tier comes with different rewards, like shout-outs, livestreams, communities, and other cool things that are exclusive to you as a patron! 
You can edit or cancel your pledge at any time.
Please note that
Patreon will charge you once you sign up,
then at the 1st of each month after that.



I decided to create a Patreon because I want to push myself to be a better artist and to achieve my ultimate dream of having Geek The Halls as my full-time career. With your support, that dream can become a reality. I want to create a sense of community, get to know each of you better! Your support also helps me purchase better supplies, which, in-turn, will make my shop the best it can be!



Each tier is based off my mascots! Their names are Garland, Tinsel, and Holly and they represent the G, T, & H of Geek The Halls! They are the kawaii sibling trio that help out around the shop when they see fit. Mostly, they simply enjoying their days laughing, playing games, and eating too much candy!



Check out my F.A.Q. post!
100$ per month will help pay for supplies!
1 of 2
By becoming a patron, you'll instantly unlock access to 174 exclusive posts
By becoming a patron, you'll instantly unlock access to 174 exclusive posts
Recent posts by Geek The Halls
How it works
Get started in 2 minutes