Giulia Adami
is creating I Love Photography
Select a membership level
Photo Lover
✅ Become part of our project 🤓
✅ Sign the Photography Manifesto,
✅ Get access I Love Photography Festival Exhibition


PhotoLab Starter
✅ All the benefits of the previous tiers 
✅ Private PhotoLab Whatsapp Group and monthly Photo Assignment. The pics posted in the group are under :
Creative Commons Commercial License (CC BY 4.0)
✅ Free access to online workshops, courses and interviews
✅ Showcase 2 of your best photos during I Love Photography Festival Exhibition and contribute to the charity auction
PhotoLab Student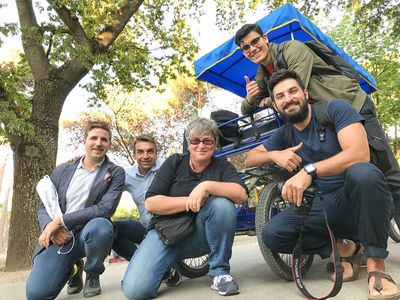 ✅ All the benefits of the previous tiers
✅ Showcase 4 of your best photos during I Love Photography Festival Exhibition and contribute to the charity auction
✅ 50% Discount in all my workshops and photo experiences


About
EN 🇬🇧🇺🇸
When I met photography I fell in love 😍 and I never stopped seeing the world through the lens of my camera and communicating with others through the visual language📷.
Photography is my job since 1992 and I want to share my expertise more and more, I teach people with concrete experiences, beyond all the technicalities, how to find a new way to express their emotions ❤️.
I am a Certified Adobe Expert in Photoshop and Webmaster. I love Long Exposure, Landscape, and Cityscape Photography.

👥 During these Photo Experiences, I met a lot of people and asked them to be part of a group. Now we are an international Photo Lovers group looking for other Photo Lovers and Patreon is our online house.
📍We meet online and once a year offline during the International Photo Festival "I Love Photography" where you will find a photo exhibition, workshops, and photo networking.

📷 We also organize Photo Experiences as extra activities during the year.

❤️ That is why we ask you to donate even only one dollar if you like to become a Photo Lover.  
As the donations will grow, I will be able to have more time to create content useful to you if want to learn more about photography and I will be pleased to answer your questions about photography.
There are so many ways to communicate with Photography:
this
Manifesto
helps me to fix some of
my fundamental beliefs
, the borders of my photographic kingdom and
spread the discussion
to those who, like me, are passionate about photography 🤓.
👉
What is your Photography Manifesto?
👉
What is Photography for you?
👉
Why do you take photos? 
👇👇👇
Please write a comment
by commenting the post at the link below 👇👇👇 and share your thoughts about Photography! 
👉👉👉 https://www.patreon.com/posts/30205575 👈👈👈


ITA 🇮🇹
Quando ho incontrato la fotografia me ne sono innamorata. Da quel giorno non ho mai smesso di osservare il mondo attraverso la lente della mia macchina fotografica e di scattare foto per comunicare con gli altri attraverso il linguaggio visivo.
📸La fotografia è diventata il mio lavoro nel 1992 e oggi sono una professionista certificata Adobe in Photoshop e Webmaster.
👥 Siamo un gruppo internazionale di Photo Lovers alla ricerca di altri amanti della fotografia e Patreon è la nostra casa online.

📍 Ci incontriamo online e una volta all'anno offline durante il Festival Internazionale di Fotografia "I Love Photography", dove troverai una mostra fotografica, seminari e networking fotografico.

📷 Organizziamo anche esperienze fotografiche come attività extra durante l'anno.

❤️ Ecco perché ti chiediamo di donare anche solo un dollaro se vuoi diventare un Photo Lover e sostenere il progetto di condivisione della conoscenza nel campo della fotografia.
Attraverso il tuo sostegno su Patreon avrò la possibilità di condividere sempre di più la mia esperienza e conoscenza rispondendo alle tue domande e curiosità.

By becoming a patron, you'll instantly unlock access to 12 exclusive posts
By becoming a patron, you'll instantly unlock access to 12 exclusive posts
Recent posts by Giulia Adami