Lesley Pyke Glass Engraver
is creating Glass Engraving lessons / Engraved glass tuition / glass etching
Select a membership level
#1 Let's chat...
We all love a live chat and once a month I hold a live chat on YouTube for about an hour, Q&A's, ideas, tips and sharing across the globe. As a Tier#1 you are entitled to send in questions in advance for me to answer / discuss.
In addition, I will give a critique on one or two lucky Patron's work during the chat. (if one is brave enough to let me). This is an excellent way to learn. All you do is send me a good quality image of a piece of your work that you wish for me to analyse and discuss.
♥A big Thank You for your support♥  
#2 Basic
This Tier offers The previous benefits PLUS
One basic demo video per month, could be any single subject of my choice...or maybe my Patrons' choice.
♥A big Thank You for your support♥  
#3 ( a bit more serious....)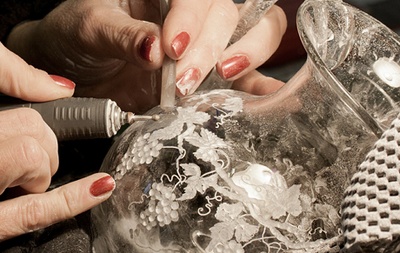 All the previous benefits PLUS
This Tier lets you watch all the videos I upload.
♥A big Thank You for your support♥  
About
First of all, Welcome!
(IF YOU ARE ON A MOBILE PHONE AND SEE ONLY A BLANK AREA ABOVE THE PHOTOS AND THIS WORDING, CLICK ON THE SPACE TO SEE THE WELCOME VIDEO)

I have been a Patreon Creator since 18 October 2019 and a You-tuber since year "dot" !
GLASS ENGRAVING is my absolute passion, let me show you, teach you, so it can be yours too. It is the most alluring and baffling medium, changing with the light and offering a 3D effect like no other.
I have been a professional glass engraver since 1983, initially for 19 years in Zimbabwe, Africa, and to the present day here in rural Suffolk UK.
I engrave for clients as well as my own art glass.



Your pledge helps towards my goal of sharing and teaching my 36+ years of experience and knowledge, to all those budding engravers out there, desperate for some "know how" in this exciting medium of engraved glass.

Journey with me through commissions and creative pieces of art, also basic subjects that stump all beginners.

I use 2 main techniques: Hand engraving with a drill and sandblasting.

Watch me engraving while I explain the processes to you.

Learn about my own secret techniques, hints and tips and the inner workings of my workshop.
www.lesleypyke.com


Become a patron to
Unlock 64 exclusive posts
Connect via private message
Recent posts by Lesley Pyke Glass Engraver