Gotham Variety
is creating Podcast
Select a membership level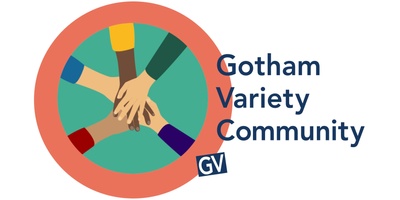 Gotham Variety Community
Welcome to the community! Your support for the show means the world to us, and we want to show the world how grateful we are. Includes
Exclusive access to "Listener Q&A" - ask us anything about the show.
Access to the patron-only activity feed.
We add your name to the Wall of Heroes on our site, linked to in each episode's show notes.
We'll follow you on Twitter for as long as you are a patron (and you follow us back!). Please have your Twitter handle on your Patreon profile.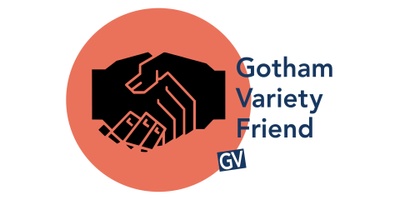 Gotham Variety Friend
Let's be friends! You'll receive the rewards to all levels below this, plus
Exclusive access to "Talking Movies" - capsule audio reviews of films from yesterday and today.
A shoutout on the show's Twitter @gothamvariety. Please have your Twitter handle on your Patreon profile.
10% discount store coupon. Please contact us at [email protected] for your offer code.
Gotham Variety Family
Welcome to the family! You'll receive the rewards to all levels below this, plus
Exclusive access to "Director's Notes" - commentaries for each theatrical episode.
Early access to every theatrical episode.
15% discount store coupon. Please contact us at [email protected] for your offer code.
About Gotham Variety
Welcome to our Patreon page! I'm Joe Rubenstein, creator of Gotham Variety, an audio drama podcast that presents new episodes on the 1st and 15th of every month. Our first season features a Civil War manhunt, a Kafka sampler, a 2-part murder thriller, a documentary on the dinosaur extinction event, and more. I record the actors here in my home studio in NYC, and do the editing, music, and sound design here as well.
Until now, I've paid the actors out of my own pocket, which is not deep. But I believe artists should be compensated
something
for their labor if at all possible. As a working musician in one of the most expensive cities in America, it hasn't been easy to fund this. To cut costs, I do all the creative and promotional tasks myself (besides the acting) as a labor of love (i.e. for free). But I can't do that going forward. It's not sustainable.
Patreon is like a digital tip jar. You help support the creation of valuable content with regular monthly contributions of whatever you can afford, and get some pretty cool perks in the bargain (more on that below). Patreon enables creators to bring more beauty and meaning into the world by making their project sustainable over the long haul. It is a beautiful concept. Please consider supporting our work, starting at the $2 a month "Community" level. You can cease patronage at any time.
Our goal is to do what we do better than it has ever been done. We may succeed or fail, but that is the goal, always. Based on the the feedback we're getting, people are connecting with our stories in a big way. (I'm blessed with an amazingly talented cast, which helps). The detail work involved in bringing these stories to life through pure sound is all-consuming, so the feedback is very gratifying.
Obviously, I want to keep Gotham Variety going. But more than that, I want it to get bigger and better. I want to produce more than 8 episodes a season, a lot more. I have endless ideas for episodes and miniseries and am constantly working on scripts at home, on the subway, on breaks at gigs, wherever.
But I need more time and funds to devote to it. I need to advertise, to go to podcast conventions and network, to run campaigns on social media, to hire at least one assistant, to grow Gotham Variety into the creative beast I know it can be. I can't do that all by myself, not with my current budget constraints and time limitations imposed by a full time job.
So if you're in a position to throw some support our way and help us take Gotham Variety to the next level, then fantastic, and we thank you very much! And along with helping us continue to create and grow, you get rewards as a patron, from exclusive access to bonus content to Twitter shoutouts to merchandise discounts to gift cards and more. All of our patrons - starting at $2 a month level on up - get access to at least some of these things. To find out exactly which perks each tier entitles you to, just look to the right side of this page.
But maybe you've heard and loved the show, and are thinking, "Man, I would love to support this, but I just can't. I'm stretched too thin as it is." Don't worry about it - seriously. Episodes will
always
be free, and I hope you continue tuning in and enjoying the show (and please tell your friends about it!) Again, as a musician, I understand about financial struggles and the anxieties that go along with them, so please don't feel bad if this isn't a good time and you have more critical priorities.
We really appreciate your taking the time to read this. If you love what we're doing and are in a position to help, please consider becoming a patron, whatever you can afford. It's a cliché, but it's true: every little bit makes a difference. You'll always be part of our creative family, and we'll be forever grateful - that I can promise. And if you can't do it right now, keep listening. At the end of the day, that's why we do this: to bring something meaningful into the world and connect with our fellow humans. Thanks, and
keep in touch
!
Joe Rubenstein
Creator, Gotham Variety
How many podcasts do you release a month?
We release 2 episodes per month during our theatrical season. Between theatrical seasons, Gotham Variety magically morphs into an interview show and we continue to release 2 episodes monthly.
I don't have much money. Can I still become a Patron?
Yes. Please only sign up to donate what you can afford. Even $2 per month adds up, and is greatly appreciated.
Can I stop donating in the future if things get tight?
Absolutely. Just log in to change or cancel your pledge whenever you want, no questions asked. It's easy, I promise.
I still have questions.
The Patreon support team is friendly, helpful and quick to respond. Just
send them a message by clicking here
. And if you have questions specifically about my page or Gotham Variety, or just want to say hi,
drop me a line
.
Do I have to pay in U.S. Dollars?
Any currency is fine. This is a U.S.-based website, so everything is shown in dollars, but you can use any currency and it will be converted automatically.
Recent posts by Gotham Variety
By becoming a patron, you'll instantly unlock access to 7 exclusive posts
By becoming a patron, you'll instantly unlock access to 7 exclusive posts