Matt Chapman's Gothic Greenhouse
is creating dark, Gothic illustrations, 3D art, and storytelling
Select a membership level
Get exclusive patron-only merch
Traveller's Tier
You've made it to the village, where Black Manor sits atop of the cliffs ... 
Here is where you may support my work, and enjoy postings of my on-going projects, exclusive to Patreon only! 
Tavern Tither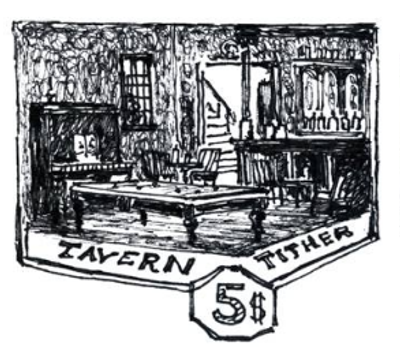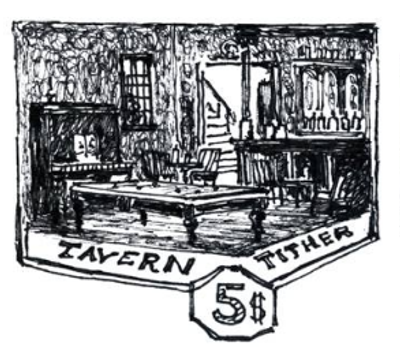 You've come to stay a while, and enjoy the festivities in the local cantina - Here I offer a little more, early previews and stage development of my work, before releasing any final creations.
Work-in-progress updates (digital)
Hallowed Acquaintance
A familiar face in the halls is welcome to joining the artist at work - here I will be featuring not only the base content of my creations but a glimpse of how I create, including videos and tutorials of my process. This is the level of support if you wish for a more interactive experience! 
Behind-the-scenes content

Work-in-progress updates (digital)
Includes
Exclusive Mini Print -

Here's a print of Mr. Boddy - my way of thanks!

Exclusive Mini Print -

Enjoy your introduction to Black Manor's Hall!
Guest Resident
You've made your residence and now you may retire to the guest bedroom where special gifts await - At this level, you are granted access to exclusive content, culminations of my projects and downloads released specially for you, offering access to select completed samples of my work.
Behind-the-scenes content

Work-in-progress updates (digital)
Includes
Exclusive Mug -

A mug featuring the Courtyard, Hall and Nursery!

Exclusive Mini Print -

Enjoy your introduction to Black Manor's Hall!

Exclusive Mini Print -

Here's a print of Mr. Boddy - my way of thanks!
About Matt Chapman's Gothic Greenhouse
My name's Matthew Chapman, and I'm a Canadian artist and illustrator creating projects centred around my current interests, styled in a dark, Gothic aesthetic, branched under my artistic moniker - the Gothic Greenhouse. Gothic Greenhouse is the symbolic structure of which I envision as the source of my creations; an isolated place in nature producing the output of work centred in dark, melancholic themes.

I first joined Patreon in 2018 for promoting a Willy Wonka inspired series, as well as my popular blueberry people art. I've since developed my page to be an inflation-exclusive site - Seismic Inventions and decided to bring my other personal work to this new page so you can follow the steady development of my projects and show your support!

These projects are what I'm currently working on, and featuring on my page. I am showcasing the development of these projects here, and nowhere else.

Clue: The Murderer - Inspired by the board game Clue (Cluedo in the UK), I am creating an ultimate edition of Clue that is set in a doll-house styled manor, with 50 locations, 50 weapons and 50 suspects involved in the deaths of Mr. Boddy and Dr. Black. This version of Clue is unique in that it is set in Mexico, 1913, in the midst of the Mexican Revolution. Dr. Black is the owner of Black Manor, a European styled manse situated in a remote cliffside down on the West Peninsula of the country. He is joined by his partner, an American playboy and adventurer, Mr. Boddy, who together are hosting a ball bringing together their many colleagues and acquaintances, offers them residency in the manor during they stay. The events of the evening turn deadly, when Dr. Black turns up murdered, and Mr. Boddy finds himself in a game of cat-and-mouse, leading to his possible death as well.

R.M.S. Chthonic - My interest in the Titanic disaster had lead me to designing a new, fictitious ship, affiliated with the Olympic-class of ocean liners in the early 20th century. Following in design of the R.M.S. Olympic, R.M.S. Titanic, and R.M.S. (Eventually H.M.H.S) Britannic, is a mysterious new liner, the Chthonic. The chthonic were gods of the underworld, and this fourth vessel is built with a darker edge in contrast to her earlier sisters. Designed with an ice-breaker bow, the Chthonic offers new routes of passage including pleasure cruises through the arctic regions.

David in Black Manor - A prequel to Clue: The Murderer, this is a book I created with author, Warren Clements, that features Dr. Black in his childhood and his experience living with his foreboding Uncle Eduardo, who has a penchant for kidnapping the village children. David finds himself besot with the task of rescuing his close friend, John Boddy, who the Uncle has laid clutches on.

John's Dream - This is a 3D animation project I've been working on in collaboration with a musician, once again a prequel to Clue: The Murderer, this time from the perspective of John Boddy as an adult, during his passage on the R.M.S. Titanic. He finds himself sick with a disease and bedridden in his cabin, C-11, imbibing himself with laudanum. His drug-induced sleep brings back nightmares involving a demented witch ceremony on the grounds of Black Manor, entrancing him obvious to the disaster unfolding onboard.

By pledging to support my page, you are granted exclusive access to enjoying the development of these projects and ones to come, along with any perks and rewards offered as well to higher tiers. No matter what you pledge, you are helping me to invest my time bringing my ideas to life and committing myself fully to my artistic practice. - Matthew



I will commence bringing "Clue - La Morte" to 3D modelling and UnReal as an interactive environment and game. 
3 of 3
By becoming a patron, you'll instantly unlock access to 176 exclusive posts
By becoming a patron, you'll instantly unlock access to 176 exclusive posts
Recent posts by Matt Chapman's Gothic Greenhouse
How it works
Get started in 2 minutes