Grace and Beauty Movement Academy
is creating Dance Tutorials in an Evolutionary Program
Select a membership level
Bloom Level
You are someone (dancer or not) that would like to see Grace and Beauty Movement Academy bloom because you believe in me, Florence Leclerc, in my vision with this beautiful project and in the lovely dancers that will benefit from this.
In this tier, you will:
-  Receive monthly updates and news on the growing of the Academy 
-  Be invited to participate in polls to help the growth of the Academy 
BASIC
- Warm up and Stretching
- Conditioning videos playlist
- Arms routine
- Technique drills
- Monthly news of the Academy
This membership will inspire you to build structure and consistency in your dance training by offering you diverse tools you can add to your existing routine or to help you build a personal routine. 
FULL TRAINING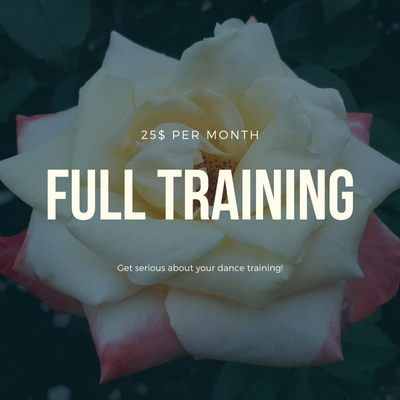 - Combo of the month (3 versions)
- Spotify playlist
- Training plan
+ All that is included in the ''Basic'' membership!
In this membership,  on top of everything that is included in the previous membership, you will get challenged with the Combo of the month and receive a music playlist through Spotify to practice to, along with a suggestion of training plan for the month. 
Everything you need all in one!
About
Welcome to the Grace and Beauty Movement Academy!
I am Florence Leclerc and my goal, as a guide through your dance journey, is to offer you a program where you can
feel yourself evolving
as a dancer and to
inspire you to take this time for yourself on a regular basis. 
How will this works?
Patreon is an amazing platform where creators, like me, can offer their art or services to the people that are the most interested by it: You! It is a perfect way to connect and interact directly with likeminded people and to build, with time, a strong community around a same subject.
You decide which option is the more suitable for you (in the Tiers section) and you pay the monthly amount according to it and become one of my Patrons. You then receive the rewards I will be offering for each category.
It is super simple, the platform does it all and we can both concentrate on our dance together!
When you become a Patron:

Every month, you will have access to various materials (mostly videos) to:
- Warm up and stretch
- Condition your body to execute the proper movements of Oriental Dance
- Review the basics while discovering my personal approach to this dance
- Consolidate those basics by playing with different variations from simple to more advanced levels
- Have fun with the
Combo of the Month
 (3 versions) to integrate all of the material
And many more bonuses and surprises!
And for those really motivated: I will be giving you personal access to my expertise by receiving vocal comments and even online or live private sessions!
Your dance journey is in your hands and I will be glad to add mine to yours!
So, go look up at all the rewards that are waiting for you, become one of my Patrons and let's dance together on the other side!
www.patreon.com/graceandbeautymovementacademy
Florence Leclerc
When the Grace and Beauty Movement Academy will reach 30 Patrons, I will start a Challenge of the Month Feed for all Patrons!

1 of 3
Recent posts by Grace and Beauty Movement Academy
By becoming a patron, you'll instantly unlock access to 22 exclusive posts
By becoming a patron, you'll instantly unlock access to 22 exclusive posts