Green Agenda
is creating essays and interviews on green politics, philosophy and activism
Select a membership level
Support Green Agenda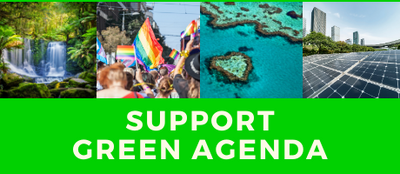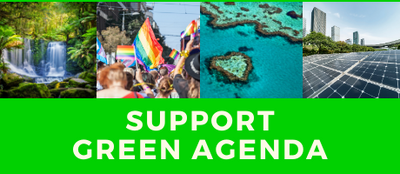 Support Green Agenda! Support media for greens, funded by greens.

Support Green thinking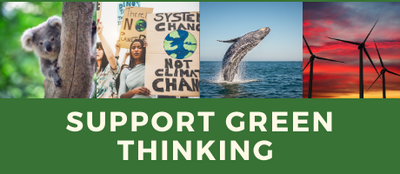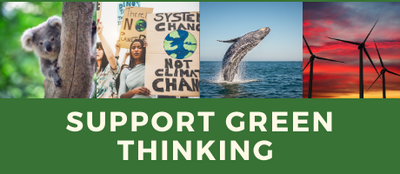 Support green thinking! At this supporter level you will receive the warm fuzzies of supporting green media PLUS receive free registration to all Green Agenda webinars.

Stimulate a deep green discussion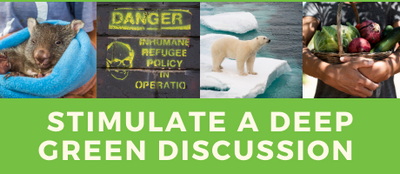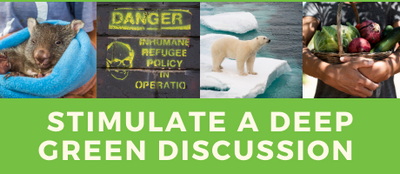 Stimulate a deep green discussion! At this supporter level you will receive the warm fuzzies of supporting green media PLUS receive free registration to all Green Agenda webinars PLUS receive free registration to all Green Institute webinars.

About Green Agenda
Sick of hearing their ideas? Get green ideas. Support Green Agenda. Media for greens, funded by greens.
Green Agenda is an online publishing project that aims to stimulate public discussion and debate, and deepen understanding of critical and contemporary green politics and philosophy.
It is a project of the Green Institute, focusing on publishing essays and interviews that explore the challenges of our time and present creative, progressive ideas for the future of Australia and the world.
This Patreon page will help support the work of Green Agenda's writers and editors while further engaging its existing audience and reaching a greater one.
The Patreon supporter levels are located on this page - and the good news is we've tried to keep them very reasonable, from $2.50/month. And since the launch of the Quarterly Journal format in Spring 2020,
we now have some great patron perks
! Be sure to check them out.
Why Green Agenda?
Green Agenda had its genesis in conversations about the broken state of political debate in this country. There is more, and must be more, to politics and public debate than repeating the ways in which any particular government is bad.
When as a society we are seeking to meet the challenges of our times, we need to do so by discussing and debating alternative ideas and thinking; weigh up different ways of seeing the world and different visions for what we want our community, nation, and planet to be.
Underpinning these considerations are the values we hold and the beliefs through which we view the world; otherwise known as a philosophy. These values become apparent when considering questions such as:
How do we view the relationship between people, the environment, and the economy?
What is the role of the state in our society?
How and to what ends should we construct our economy?
What does it mean to recognise people's inherent humanity and dignity?
How do we acknowledge that human beings are part of the natural world and respect the specific values of all aspects of nature?
Instead of debating these questions, the old political parties fundamentally share a similar worldview. This shows itself, for example, in their inhumane refugee policies, their addiction to coal and other fossil fuel exports in the face of global warming, their preparedness to cut welfare to balance the budget, and a willingness to damage our democracy by subjecting people to mass surveillance. 
This isn't to say there are not differences between the old parties nor to suggest that there are not better or worse governments, but too often the differences are in how policy is implemented not in the rationale.
Green thinking is a challenge to this consensus, both here in Australia and around the world. The ideas and philosophy underpinning green politics are concerned with meeting the challenges of the future: promoting the public good, valuing people over an economic system, addressing growing inequality, and protecting the planet's ecosystems.
Green Agenda is a place for thoughtful, substantive political ideas and discussion. We want to explore the philosophy that sets green thinking apart and the ideas that will help our society meet the challenges of the present and the future.
We invite you to both be a part of and support this collaborative, challenging, and exciting project.
What Is Green Thinking?
Green political movements globally are founded on a set of beliefs best summarised in the
Global Greens Charter
. Here in Australia the four pillars of ecological sustainability; social and economic justice; participatory democracy; and peace and nonviolence guide green thinking and the work of the Greens as a political party.
However, green thinking is not confined to people who are active in green politics or identify as part of a green political movement. Green thinking is found wherever people are writing or talking about ideas that are consistent with these values.
Essays on Green Agenda are structured under categories of the four pillars. That said, the pillars are, of course, interconnected – there cannot be social justice without economic justice or economic and social justice without ecological sustainability, while participatory democracy is essential for creating a peaceful world.
Debate and Discussion
If you are interested in progressive green thinking, please do support Green Agenda financially - even a small monthly contribution is vital to ensuring this important debate and discussion continues.
However, you can also contribute to Green Agenda as a writer. Our primary content is long form essays (up to 5000 words) or interviews exploring a topic or theme consistent with the values and beliefs discussed above. We also welcome creative forms of content, for example graphics, photos, cartoons or multi-media content.
We are seeking to encourage discussion of the ideas raised in the essays through publishing thoughtful responses (over 500 words). If you read an essay or interview and something in it resonates or doesn't, please look to write a response and continue the discussion.
Ideas for essays, interviews and creative content can be submitted
here
, along with responses to any content.
How it works
Get started in 2 minutes