Grissini Project
is creating Music
Select a membership level
PATREON FEED & ANTICIPATED RELEASE !
Access to our exclusive Patreon feed where I am announcing our next renditions and  all the news you will be interested in !
Access to anticipated video release ! 
1 post per week approximately. Anticipated video release one week before the official release date.
1 HIGH QUALITY AUDIO
1 music of your choice that you'll receive as a lossless audio quality format !
(Don't forget to PM us your wish please ! Everytime you're charged you can ask for the reward again) 
+ EVERYTHING ABOVE 
2 HIGH QUALITY AUDIOS OR 1 SCORE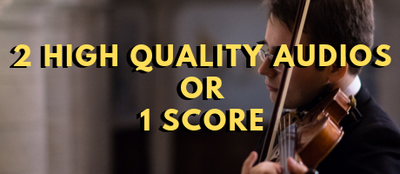 2 music of your choice for free in lossless audio format, OR the score of your choice among all our music videos !
(Don't forget to PM us your wish please ! Everytime you're charged you can ask for the reward again)

+ EVERYTHING ABOVE

About
Welcome to the Grissini Project Patreon page campaign !
The Grissini Project is a classically trained musician ensemble, also specialised in video game, film and anime music.
Founded in 2010 first as an one-man band composed by an unique pianist/organist, the idea was to proposed through a YouTube channel, some videos of covers, arrangements, transcriptions with a specific attention on the quality of the arrangement and the interpretation.
Upon the years, other musicians joined the project before reaching the final instrumentation : Romain on the piano and the organ, Lilou as the singer, Bastien on the violin and finally Marwane on the cello.
Today, the Grissini Project, it's almost 250.000 subscribers from all over the world and dozens of millions accumulated views on our videos : organ solo, with Lilou our vocalist, or as a trio piano violin cello. It's a project that now wish to professionalize, carried by 4 motivated musicians and friends, who all are devoting their life to music !
At the golden age of the numeric and streaming, it's difficult for musical artists of our kind to find a stable economic model.
We always have been self-financed, we're proud of that since it's allowing us a great independence and artistic liberty.
However, right now our costs for the production of the videos and musics are constantly rising, when our incomes from our YouTube videos are meanwhile decreasing, as constantly.
YouTube unfortunately gives privileges to quantity instead of quality. Each of our videos represents dozens to hundreds hours of work : Transcription, arrangement, rehearsals, recording, editing, mastering, filming, editing, etc. It's difficult for us to do more than 1 video every two month for now. As a result, YouTube don't refer us very well and the earnings we have are lower months after months.
We hope, through this crowd-funding campaign, to be able to sustain this project with a monthly stability, that would allows us to keep this self-financed economic model, pursuing by the same way our projects, more ambitious each time !
Here is the principals costs that this campaign would support :
- Renting filming material and recording devices : Microphones, cameras, drones, lights, etc....
- Filming crew for the videos : Director, Director of the photography, location manager, camera assistant, drone operator, etc...
- Sound engineer : Presence of the technician for the recording, then editing session, mixing, mastering, etc....
- Costs of travels and accommodations on the places of the filming / recordings.
This campaign is a monthly campaign, but it's important to keep in mind that Patreon let you free : You can cancel at any time.
So it's up to you ! You can decide to support us a lot with a big pledge but for only one month, and then never again. Or a bit every month and finally get back on your decision after some few months. As you wish !
More than the potential pleasure of joining us in this adventure, we also hope that the rewards will give you some motivation to support us !
We want to propose you some real rewards that worth it and that are, for some, exclusives on such campaign.
Lossless music audio format, scores, personal message, goodies and merch

...

Thanks for your interest in our Patreon campaign.
Of course, there is no obligation, we'll keep making videos that will be on YouTube for free and the music will always be available through free streaming platforms like Spotify and Deezer.
If you want to jump the gap and join us in this adventure by participating this campaign, be sure that each pledge, even the smallest one, will contribute directly to help the Grissini Project.
There is no little contribution, it will be a great help for us and it will permit us to pursue what we're doing right now in good conditions !
Also (and that's quite something), be proud to support artists and independent creators !
Cheers !
Roman from Grissini Project
By becoming a patron, you'll instantly unlock access to 81 exclusive posts
By becoming a patron, you'll instantly unlock access to 81 exclusive posts
Recent posts by Grissini Project