Grissini Project
is creating Music
Select a membership level
MP3 DOWNLOADS!
Instant access to download the complete MP3 library of all Grissini Music. So you can listen to it as much as you want: https://tinyurl.com/y3scyxnl
Access to an exclusive Patreon feed, news and Early access of the videos.
Discord server access so we can hangout and livestream occasionally!
50% discount code on all our merch and scores / sheet music on musicnotes.com! 
Includes Discord benefits
.WAV AND SCORE DOWNLOADS!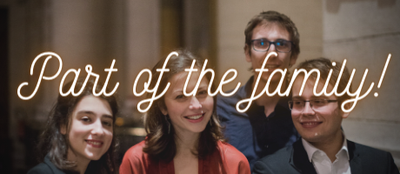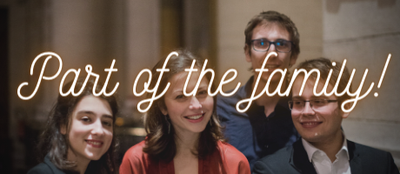 Instant access to download the complete .wav lossless library of all Grissini music. So you can listen to our music as much as you want: https://tinyurl.com/y42lw2ed
50% discount code on all our merch and scores / sheet music on musicnotes.com! 
All rewards from lower tiers :) (Patreon exclusive content, Early access to videos, access to exclusive Discord server access)
Includes Discord benefits
PRODUCER TIER!
Your name in the credits! Your name will appear at the end of the videos as a thank-you for supporting us!
50% discount code on all our merch and scores / sheet music on musicnotes.com! 
All rewards from lower tiers :) (.WAV download https://tinyurl.com/y42lw2ed + Patreon exclusive content, Early access to videos, access to exclusive Discord server access)
Includes Discord benefits
About Grissini Project
Welcome to the Grissini Project Patreon page campaign! 
My name is Roman and I look like a Grissini. You know, those thin Italian bread-sticks.
The irony is such that I'm neither Italian nor a snack. Rather than that, I'm a passionate organist and pianist, half Swedish, half French, classically trained and quite into animes, games and films. 
I founded the Grissini in December 2010. First as a ''one-man band''.
Felt kinda lonely practicing organ alone in my dark church. Pianist is quite a lonely job as well.
I met Lilou first at a concert before realizing we're studying in the same school. She was singing Allegri's Misere and my heart stopped when she reached that famous high c in the high register.
That was the starting point of a very long friendship and musical collaboration.
I met Bastien in the meantime in the corridor of the conservatoire. A solid guy that you can always count on. Those kind of people you're glad to have in your life.
At that time I  was playing with two violinists instead of a cellist. At some point I thought, ''we just miss a cellist to be a classical piano trio''.  
And there arrived Marwane in 2016. She's the loveliest person in the world. Her energy and kindness, aside being exceptional cellist, links all our character and artistic traits together, which makes the Grissini something so special in my life. 
Today, the Grissini Project is also an orchestra! 
A project with many identities and constellations. A project , an idea, rather than a trio, a quartet, an organ, nor an orchestra.
That was my goal and the idea remains the same: making music like you can't hear it anywhere else.  
Because YouTube money sucks. What YouTube money actually? 
Ok let's try to be politically correct. This is rather serious subject. 
At the golden age of streaming and numeric music, it's difficult for artists of our kind to find a stable economic model.
It's an extremely unsafe career path.
On the 4th of December 2020, our Howl's Moving Castle video, the biggest of the Grissini YouTube channel with 11+ millions views, got striked from nowhere by a rather obscur Japanese rights holding company who deleted the video despite the fact the video was licensed on my behalf and clean of all copyright infringements. 
In a blink of an eye and with no warning, the locomotive video of the Grissini YouTube channel disappeared, and my financial capacity for the project with it. 
I've always been financing the videos from the Grissini earnings and from my very own pocket. I'm proud of that. Proud to be independent and self-financed.
However as for now our costs of production always exceed the earnings the videos are generating. And I'm not even talking about larger productions like The Witcher 3 which cost me usually around 5.000 or 10.000€.
The production cost of the videos are constantly rising because I also want to bring incredible content. In the meantime, the incomes from YouTube videos are decreasing.
YouTube unfortunately gives privileges to quantity instead of quality. Each video represents dozens to hundreds hours of work: Transcription, arrangement, rehearsals, recording, editing, mastering, filming, and so on.
I'm trying to increase the pace a bit but that's rather difficult especially since I'm finishing my master degree as a classical pianist on the side. One or two videos a month is the actual pace.
YouTube prefers quantity over quality. A Patreon campaign is therefore an evident solution and also a probably better way to engage with those who really support the Grissini: You. 
I'm boiling with dozens of project and ideas inside my mind and I can only see exciting future and new artistic fields to explore with the Grissini Project. 
You can be part of that story, if you want to contribute. 
Here is the principals costs that this campaign would support :
- Financing the constantly rising costs of the filming. (Material location and so on)
- Financing the audio recording (Renting the venue, microphones, grand piano, etc)
- Financing all the crew around the project. (Filming crew, engineers, etc.) 
- Financing the costs of travels and accommodations. (Skyrim was filmed in Norway!..)
- Paying the musicians. I swear they desserve it for their hardwork!  
This campaign is a monthly campaign, but it's important to keep in mind that Patreon let you free: You can cancel at any time.
So it's up to you! You can decide to support us a lot with a big pledge but for only one month, and then never again. Or a bit every month and finally get back on your decision after some few months. As you wish! 
More than the potential pleasure of joining the adventure and writing a bit of this history, I also want to provide you the best experience as a Patron!  
This include a complete access to download all the Grissini music, in MP3 as in lossless. 
The scores also! Some exclusive content, early access to the videos, a monthly patreon reserved YouTube live talk chat, and a community to hang out with on a private Discord server :) 
Thanks for your interest in this Patreon campaign.
There is no obligation. I'll give my best to keep doing what I do for the Grissini until I'm in front off a dead-end.
If you want to jump the gap and join me and the others in this adventure by participating this campaign, be sure that each pledge, even the smallest ones, will contribute directly to help the Grissini Project.
There is no little contribution, it will be a great help and it will allows me to pursue and develop the activities of the Grissini!  
Also.
(and that's quite something).
Be proud to support artists and independent creators!
Cheers!
Roman / Grissini 
Let's dream big. 
When I started organ videos, I thought ''I won't stop until I cover some Disney Hunchback of Notre-Dame on the organ of Notre-Dame.''
Fire can stop me tho. Doh!
What would considerably improve the possibilities of the Grissini projects is directly owning an acoustic studio for all our recordings. Finding a suitable place for the recording is extremely complicate and expensive, each time. 
I've been dreaming about such a solution for 5 years and I keep looking at old houses with old barn in Norway that I could possibly turn into a studio... With magnificent landscapes just behind the house to provide you crazy scenery in the videos.  
That's the investment I'm working for!  
1 of 1
Become a patron to
Unlock 121 exclusive posts
Connect via private message
Recent posts by Grissini Project
How it works
Get started in 2 minutes