Paul Guinan
is creating a graphic novel - AZTEC EMPIRE
Select a membership level
Soldier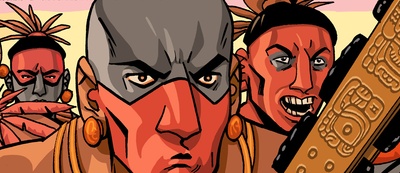 Read finished pages of the series here, beginning with page fifty-one. I will link the new pages with the old, to make the entire epic a seamless read. I'll also be posting occasional process images that show development and reference materials used for a specific panel of a page.
Includes
New pages
Panel comparisons
Connect with other patrons
Captain
An exclusive look at the stages of drawing in this series, from initial layouts to the inked page, as well as the reference sources used. You'll get to see colored pages in all their glory, without the word balloons.
Includes
Drawing process
Unlettered colored pages
Sketch-Layout and Inks of each page
Panel comparisons
General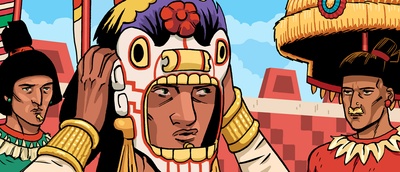 Posts that go deeper into the process of drawing and writing this series. Rare peeks at some pencils from certain pages (my collaborator is very close to the vest about his penciling process). Comparisons of initial drafts of the work to revised versions, that is, showing mistakes that needed to be corrected.
Includes
Drawing process
Unlettered colored pages
Sketch-layouts and inks of each page
"Deep-Cut" process posts 
Panel comparisons
Comparing initial and revised versions of pages
About
This is a nonfiction graphic novel about the Aztec Empire's dramatic fall. It's a unique tale in human history, and one that has yet to be fully or accurately told in a visual medium: comic books, movies, or TV.
I've been fascinated by this story for many years and continue to research it exhaustively as new discoveries are made. I'm collaborating with award-winning artist David Hahn. We're both longtime comic book pros and founding members of
Helioscope
, which is North America's largest comic book studio.
I'm making every effort to be as
historically accurate
as possible for
Aztec Empire
, since the actual events are so surreal that any attempts to fictionalize elements of this epic would only undermine the incredible-but-true nature of the narrative.
Science-fiction and fantasy fans will find this unique event in our recorded history to be a real-life "alien first contact." In this case, between two sides of a planet that were separated since the dawn of human civilization, for 10,000 years, before realizing the other even existed.
Aztec Empire
will be released in episodic form, eventually totaling 500 pages
.
Each chapter will include bonus material such as historical endnotes, maps, and illustrated features on the different cultures involved in the story.

"Good luck with this work that we know will contribute much to our people and knowledge of our culture! The art form of comics has a teaching power like no other medium. We would be very honored to help publicize it … and help you in anything that you might require in your research."

—Ka'an Comics, pre-eminent comics retailer in Mexico City
"What a great project. I cannot wait to see the final product (and indeed to use it in the classroom)."
—Matthew Restall, Professor of Latin American History and Anthropology, and Director of Latin American Studies, at Penn State University.
Minimum needed to complete 3 new pages per month. This is so that my brilliant artist collaborator, David Hahn, can earn a living wage and care for his family while devoting himself to Aztec Empire. I'm not taking a salary.

1 of 2
By becoming a patron, you'll instantly unlock access to 202 exclusive posts
By becoming a patron, you'll instantly unlock access to 202 exclusive posts
Recent posts by Paul Guinan