Hannah's Homemade
is creating Recipes
Select a membership level
"The Whole Shebang"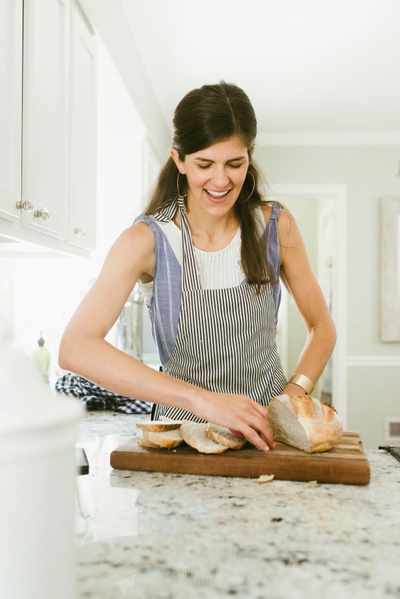 For $2 a month you will have access to: 
+ 2 delicious, seasonal, one-of-a-kind homemade recipes
+ Sourdough bread tips, tricks, & videos
About
As a little girl, I vividly remember sitting in our kitchen, eating a red pepper like an apple, & watching my mama cook. Asking questions, watching intently, & always curious to learn more— and that all started at the ripe age of 5. I have always had a interest in eating and cooking with quality ingredients-- to heal your body and prevent disease.

I have found great joy in resting in the simple pleasures of life. Taking delight in the most simple things— a homemade loaf of bread, the smell of coffee, fresh picked flowers from the garden, a meal shared with others. There is no sweeter place than home and I have found great delight in cooking in our kitchen— using local, fresh, & in season, flavoring with sea salt, fresh cracked pepper, and extra virgin olive oil, lemon, and herbs.

A favorite quote of mine, by Joanna Gaines, "The kitchen actually reminds me a lot of the garden. You put your hands to work and tend to it, and when the harvest comes, it gives back to you hundredfold. There is a reward that comes from working with your hands, whether it is in your home, garden, and kitchen. We choose to view the everyday tasks of life as either chores or gifts."
I choose to view cooking as an absolute gift.

When you subscribe to become a patron of mine, you will have access to my recipes (1-3 recipes per month), as wells as tips, tricks, videos for healthy living and a speciality of mine--sourdough bread making. I will supply you with a starter to begin your bread journey if your heart desires!

I look forward to sharing with you! I am a wife and a mama— to Jesse, and our two boys Levi and Teddy. Jesse is my number one fan and encourages me to use my gifts that Jesus has given me. We live in Homewood, a neighborhood where everyone feels like family.

To end on this, a favorite quote of mine that I choose to live by daily is by Mother Teresa, "Let no one ever come to you without leaving better and happier. Be the living expression of God's kindness: kindness in your face, kindness in your eyes, kindness in your smile."

Blessings and happy cooking!! 

Hannah 

A 'Hannah's Homemade' Cookbook!
1 of 1
By becoming a patron, you'll instantly unlock access to 76 exclusive posts
By becoming a patron, you'll instantly unlock access to 76 exclusive posts
Recent posts by Hannah's Homemade