Happy Healthy Vegan
is creating YouTube Videos, Vegan Tees, Music & Books
Select a membership level
Access Our Patreon-only Feed
Patreon-exclusive content: Access to our past YouTube live broadcasts on-demand, plus an occasional behind-the-scenes  video!
Patreon-exclusive LIVE STREAMS! A new feature Patreon just added. Look for announcements for scheduled broadcasts.
Gratitude: That warm and fuzzy feeling knowing that you're helping out Happy Healthy Vegan! 
Get a Shoutout & Exclusive Feed Access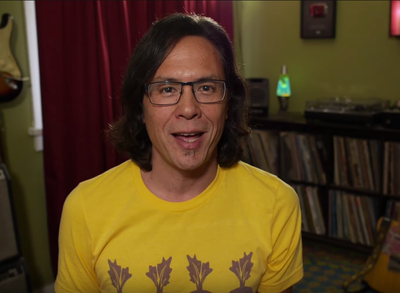 A "Thank you to our new Patreon patrons" shoutout on one of our YouTube videos. 
Plus, all the rewards from the $1 reward level.
Music, Shoutout, & Patreon Feed

Note: You'll receive music download codes after one billing cycle
Free download (from Bandcamp.com) of the new Lovespirals album, 'Life Goes On,' as heard on Happy Healthy Vegan. 
Plus, all the rewards from the $2 reward level.
About
Who Are We and What Do We Do?

We are Ryan and Anji Lum, and we independently produce and release healthy vegan lifestyle videos on YouTube. We've have a busy production schedule, releasing  3 - 5 videos per week since 2013.

One of the reasons people love Happy Healthy Vegan is our wide variety of video styles and topics. From episode to episode, you never know what you'll see; a rant against a popular vegan myth, a vegan travelogue, a day in the life/what I ate in a day vlog, a vegan cooking video, or maybe something new? Ryan likes to focus on friendly debate using reason with a solid backing in research and science, while Anji prefers to accentuate the positive with inspirational vlogs that show how easy and fun it is to live a vegan lifestyle.

Why We Would Appreciate Your Support!

HHV has become a full time job that that we love to do. You may not realize that a single YouTube video can take from 8 to 25 hours (or more, if it's a travelouge!) to produce from start to finish. Yet the earnings on these videos are really nowhere near enough to cover our modest living expenses. That's where you can help us out here on Patreon.

Your donations will help keep us busy creating inspirational videos as well as helping us with other projects including Happy Healthy Vegan t-shirts and other merch, the follow-up to Anji's "Keep It Carbed, Baby!" cookbook, new Lovespirals music and podcasts, and now Ryan's campaign for a seat on our local city council.

Together, let's spread the healthy vegan lifestyle message to a world much in need of it!

We Also Make Music Under the Name Lovespirals


$128.16 of $300
per month

Thank you to our long time patrons, for helping me reach our goal of releasing my first ever cookbook, Keep It Carbed, Baby! The book is currently available on iBooks, Kindle and as a PDF and full color printed book on shop.happyhealthyvegan.org.

I am working on a second book, so we are gathering funds to help get those printed when I'm done, hopefully at the end of 2019 or early 2020. We are working completely independently and these are expensive to print, which is why we really appreciate your patronage!

1 of 1
By becoming a patron, you'll instantly unlock access to 112 exclusive posts
By becoming a patron, you'll instantly unlock access to 112 exclusive posts
Recent posts by Happy Healthy Vegan