Welcome! This is Taylor, founder of
Haunting.net
. Haunting is a website with three goals: 1) to introduce you to the most ground-breaking immersive experiences and underground haunts out there, 2) to form a welcoming community of like-minded individuals passionate about this art-form, and 3) to empower creators to produce their best work. We already provide an immersive guide that gives you information on the best immersive companies on the market today, we already provide a slack forum that lets you know the minute tickets go on sale, and we already sponsor events. But we want to do more! Our next goal is to provide exclusive immersive experiences for our Haunting Patreon Family and use funds generated from this to further sponsor creators and bring you the best content possible. 

Patronage is a fantastic concept and one I truly believe in--and I'm honored that you would want to support Haunting, it's staff, and the community of fans and creators alike. We are using a monthly subscription model that will give you access to early ticket sales, personalized immersive experiences from your favorite creators, and free invites to events and escape rooms. By pledging at any level, you are helping this community grow--and in turn, we are providing you with rewards that you actually care about.
Every dollar you provide is funneled right back into helping grow this community. Haunting is run by an extremely talented team of writers, editors, and producers who work to bring you this great quality content. Your support makes it possible for this staff to continue their hard work. Further, money will be set aside to help fund immersive experiences for YOU! These intimate, personalized experiences will be crafted just for our Patreon backers. Finally, we will use this patronage to sponsor events, taking the burden off of some of your favorite creators and allowing them to focus on the creative side of business. 

$1/Month: Join the Haunting Family
Get your name on the Haunting Community Wall
On a special page on our website, we'll list your name among other backers!
Access to patron-only content
Come chat with us and see exclusive updates, just for patrons! We are also offering an exclusive jacket for sale just for our patrons. No one else will have this!
Periodic sales on Haunting Merchandise
We will run sales for patrons only!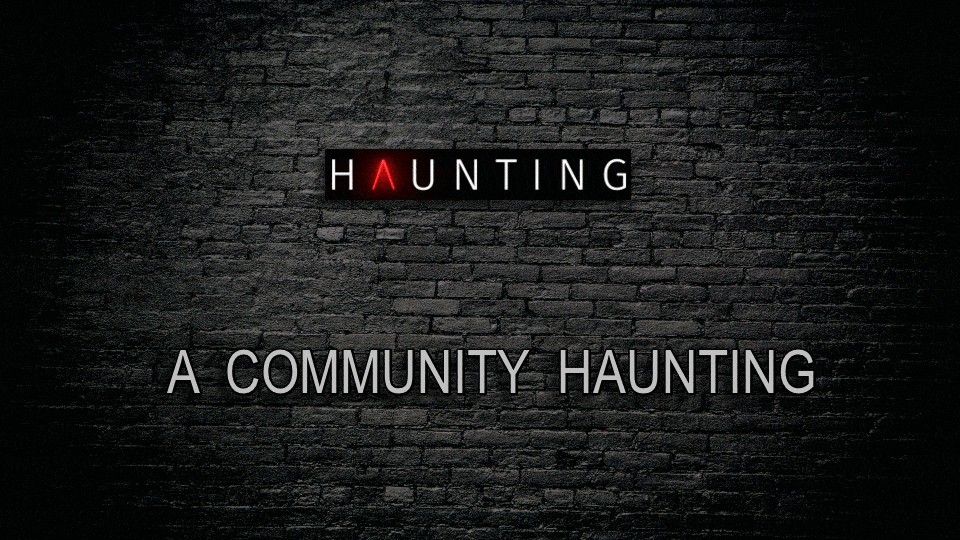 $5/Month: Personal Connection with the Community
Get your picture, social media handle, and a short bio on the community page

This is your profile to do with as you please. If you are an actor or sound designer, feel free to market yourself to creators with links to your work. If you want to discuss your favorite immersive experience and connect with friends, that's great. And if you want to use an anonymous picture, that's fine too. 
There's room for a profile picture, a link to social media/resume, a short bio, and your name/title. See a mock up of the page 
here
.
Plus all other rewards
www.HAUNTING.net/community

$10/Month: Private Offers, Invitations, Talk Backs, and Tickets
Access to a private group
We will invite you to a private email list and slack channel 
Early access to some immersive tickets
Many of the immersive experiences in the next section agreed to do early ticket sales for backers at this level
Invitations to attend free escape rooms / immersive events with us when room permits
We want to hang out with you! At this level, we want to invite you to come to escape rooms or immersive experiences with us when we're invited to play-test them. While we can't promise a frequency, we will always make you a priority
Ticket raffles
We are working with immersive creators to get tickets to experiences to raffle off to this group (This group will pay for itself in no time!). 
Exclusive talk-backs
We are working with immersive creators to schedule exclusive talk backs for backers. These may be opened up to lower tiers if demand in this tier isn't high enough--but you will have priority seating and invites. 
First up, Wolseley Institute will be interested in doing a talk back to discuss their sold-out show, Betwixt! 
Plus all previous rewards
$20/Month: Exclusive Immersive Content from Creators
Exclusive content from an immersive creator in various forms.
At this tier, backers will receive 1 point every 2 months to use on one experience. Some months may offer multiple experiences to use a point on, others may offer none. Points expire one year from earning.
Currently, the following companies have pledged to assist us in this tier: Drunken Devil. Santu Deliria, Heretic, Firelight Collective, Night Shift, Force of Nature, The Society/Boanthropic, White Helix, Wolseley Institute.
These experiences will all be on brand with the show and will come in the form of pop-up experiences, variant/extra scenes in a show, a series of phone calls/mail to your house, or an exclusive one-on-one with an actor.
Plus all previous rewards




$50/Month: TRUST
Please provide phone number and address upon signing up. 
Please follow all instructions & enjoy the experience.
Includes all previous rewards.
What if I don't live in Southern California?
 We offer plenty of rewards that are not limited to the Southern California immersive scene. We have community members all over the world wearing our branded clothes, and at higher levels, we will make sure you get your money worth. Creators can mail you personalized packages or provide phone calls to you directly. We promise to make you feel included! 
Do I have to pay in US Dollars?
No - Pay in any currency! As this is US based website, everything is written in Dollars, but you can use any currency and it will be automatically converted.
How do I get the exclusive content from immersive creators?
 Haunting will discuss with creators to determine when and how they will like to create an experience and variant for Patreon backers. We will communicate these opportunities to you so you can choose where to use your token. 


Can I request a custom item of Haunting merchandise?
 We love feedback from our community. If there's a style, a design, or even something innovative that you're thinking, let us know. We are happy to work with you to create that perfect clothing item that you'll wear to every event.


I don't have much money, can I still become a Patron?
Yes, please only sign up to donate what you can easily afford. Even $1 a month adds up, and is greatly appreciated! We want you in this community!


Can I stop donating in the future if I can't afford it?
Yes of course! You can log in to change or cancel your pledge whenever you want.


I'm still confused. Can you help me?
Absolutely! If you have questions about using Patreon, or encounter any problems with the signup process, the Patreon support team is really friendly and helpful! You can send them a message by
clicking here
. If you have questions specifically about my page or rewards, Haunting, an immersive experience, or just want to say hi, you can send me a message by
clicking here
!

THANK YOU FOR YOUR SUPPORT!