Haxus
is creating Shores of Hazeron at Hazeron.com
Select a membership level
Space Marine
Patron-only posts and messages

Patron Name Used for NPCs and Geological Features in the Game
Starship Captain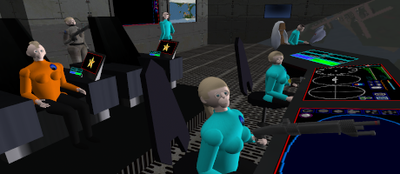 Patron-only posts and messages

Patron Name Used for NPCs and Geological Features in the Game
Emperor
Patron-only posts and messages

Patron Name Used for NPCs and Geological Features in the Game

Acknowledgement in game credits
About
Begun in 1999,
Shores of Hazeron
is a distinct evolutionary branch of game technology. No off-the-shelf game engine was used, just pure
OpenGL
. Traditional "movie-set" techniques were not adequate to accomplish what the game had to do. Innovative approaches were needed every step of the way.
Break free from the movie set. Go where you couldn't go before. Pick a direction and walk around the world. Swim in the seas and climb the mountains. Look up, choose a star in the sky, and go there.
Explore
Shores of Hazeron
, the MMO sandbox universe. Discover a rich virtual universe filled with subtlety, depth and dimension.
Begin life as a tribal indigenous person on your home world. Explore terrain; forage from plants; encounter animals: all uniquely generated at every world.
Build cities. Manufacture vehicles and weapons. Conquer the wilderness.
Construct spacecraft and space stations. Walk aboard them. Operate their controls.
Command a crew of NPCs. Lift off. Fly up through the atmosphere to outer space.
Land on other worlds, anywhere, not at designated places. Beam down if your ship is equipped with a transporter.
Travel to other stars. Chart solar systems. Orbit planets. Colonize worlds. Build an empire.
Encounter others. Conduct trade. Practice diplomacy. Wage war.
Design unique spacecraft and buildings with the built-in 3D modeler. Make them function, with operable doors, landing gear, lights, turbo lifts, transporters, engines, shields, weapons, and more.
Share designs at the Blueprint Exchange.
* * * * *

After more than twenty years of development, the
Shores of Hazeron
project has grown to exceed one million lines of code. The code is almost entirely C++, accompanied by a large chunk of code in
OpenGL Shader Language
. The project spans many sub projects, including servers, clients, libraries, web components and utilities. It's big, filling more than fifty 500-page volumes if printed in book form, without illustrations.
Many dedicated players have enjoyed steady meaningful improvement as
Shores of Hazeron
has matured. Every year the game grows better than the last. Like traveling somewhere new, every mile lets you see a little farther out ahead, down the road a bit. It's exciting to realize more and more what is coming.
Haxus is overwhelmed and he can't do this alone any longer. Funding is needed. Money is needed to hire help and grow a development team. Server resources cost a lot of money every month.
$483.03 of $3,000
per month
$3000 per month would enable Haxus to hire an entry-level minion.

This project requires Haxus to wear a lot of hats. Here is Haxus working on Shores of Hazeron on a typical day.

1 of 3
By becoming a patron, you'll instantly unlock access to 11 exclusive posts
By becoming a patron, you'll instantly unlock access to 11 exclusive posts