JENN BRUYER
is creating aerial + movement research, choreography and instruction
Select a membership level
Coven
I give a lot away... videos with spankin' new ideas and choreo, new shaportunies, you name it, if I love it, I love sharing it and remaining as "open source" as possible. As a Coven member, you support me in doing this!!! Whether you have been inspired by me in the past, enjoy coming to shows, or attending classes, I hope you decide to join me on this continued journey!

People have long asked me, how can I kick you some cash for all this neato sharing?!? Well, here you go!

And in return, I'll be sure to always post about my travel plans, tour dates, festivals and performances here first too, which is a handy way to keep track of me! 

Also included:
WEEKLY floor class: ex, include: Flexibility, Movement Quality, Conditioning (classes run on a request basis and are usually flex)
ONE monthly virtual workshop/discussion.
Discount on private sessions.

Witchcraft
I create a lot of material that never gets shared, or, only gets shared once or twice in class or a workshop. This level of membership is designed to be a place to view that material: unfinished ideas, expanded concepts or alternatives, and daily explorations. Think of this as my personal notebook. These videos are not tutorials, just a lot more of the same thing I'm already sharing and researching or some other ideas that might happen along the way that I hope someone can use. I record all of my class choreo and save it here - even previewing classes to be taught in the future. Questions and requests are always welcome to drive the conversation and this should be viewed as direct link to the source material.

Topics covered may include but are not limited to: aerial silks, aerial hammock, dance and static trapeze, lyra and ground movement.

Access to a private video account is granted after your payment is processed. IG @heelhang_witchcraft

Also included:
Everything in the previous tier!
Spell Book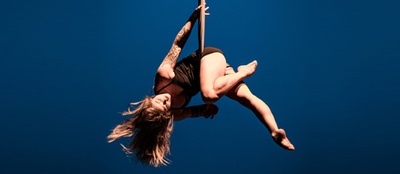 It's still magic, even when you know how it's done.

Members at this level will have access to everything at the other two tiers, PLUS: weekly LIVE and ON DEMAND aerial MODULES* (these are short classes, usually 3-4 per week), access to my Witchcraft tutorials**, feedback on any videos you want to send me, and customized content (just send me your requests).

Topics covered may include but are not limited to: aerial silks, aerial hammock, dance and static trapeze, sometimes lyra, ground movement, flexibility and conditioning.

Access to TWO private video channels is granted after your payment is processed. IG @heelhang_witchcraft  AND @heelhang_spellbook

*What are aerial MODULES? These are intended to supplement your current learning or give you a quick bump amid your hectic schedule - easy to fit in to your day at no more than 30 minutes in length. These are not provided in a progression as a normal class might be, instead they are unique original skills and sequences that you can't get anywhere else. I send out the weekly fresh sheet of whats going on every Sunday: you can choose to attend live to get feedback or do the recorded version for up to one week!

**What are Witchcraft tutorials? Good question! These short videos break down the theories that I build my work on, highlight my favorite discoveries, showcase special skills that I love sharing and of course cover special requests from YOU. They are by no means in any order, but are grouped together as I think through the projects and ideas that I am working on for classes, workshops and my own performances. I hope you find them easy to follow and relevant to your own work. Always feel free to make special requests at this level and I will do my best to accommodate.

I am not interested in creating a full and complete progressive video tutorial library for all or any apparatus at this time. There are some other cool people who already do that. ;) I am more interested in breaking down: my favorite concepts, the weird wacky and wonderful oddities that people always love and most importantly... my own ideas and style - to help facilitate growth for both me and YOU!

Expect to see a few different apparatus each week as I work through my own material and field requests. This is not a substitute for individualized coaching, just a platform for adding clear and useful information to your well rounded aerialist skillset. Also perfect for teachers looking to expand their communication skills.

Also included: 
Everything in the previous TWO tiers!
About
This Patreon is an intention to connect with students and supporters all over the world in a new way. As I dial back my traveling engagements to focus on digging deeper into projects and research that improve our industry and the understanding of our craft, I'm excited to use a platform that allows funding and support for this work. More than selling online information, I'd like to build a community to interact with remotely: field requests, be inspired, and share my own inspiration and discoveries.

As an Aerial Coach, I seek to provide the highest quality progressive instruction to aerialists of all abilities from novice to professional performer. My mission as a human is to cultivate a warm, non-judgmental learning environment that fosters community, to build physical and emotional strength within the individuals who participate in this environment and methodically construct a vehicle by which to create art.
By becoming a patron, you'll instantly unlock access to 93 exclusive posts
By becoming a patron, you'll instantly unlock access to 93 exclusive posts
Recent posts by JENN BRUYER
How it works
Get started in 2 minutes