Heidi Mund
is creating a Wake Up (!) Call to everybody
Select a membership level
You will get a warm personal "Thank you"
As a patron, you'll be recognized for making my work possible.
Even your smallest support will help me to move forward.
A personal created digital blessing
As a patron, you'll be recognized for making my work possible.
To express my thanks to you, you'll receive an autographed photo with a personal Word from God for you.
A copy of my first book in English
Limited (41 remaining)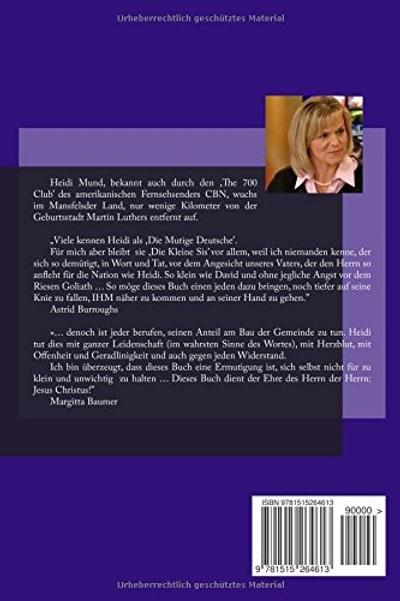 As a patron, you'll be recognized for making my work possible.
You will be one of the first persons, who will get a free copy of my first book "A woman after Gods heart" in English, when it is translated into English.
About
Thank you so much for making your way to my Patreon page. God has some really big plans for the future and I am asking you to be a part of it all. I feel that the Lord wants us to WAKE UP!

If you are new to this page and don't know me, let me share my story with you:

In 2013 I attended an "interfaith" concert featuring a Muslim Imam saying the call to prayer at the historic Memorial Church of Martin Luther in Speyer. Speaking up from the balcony, I warned the concert-goers and waved the German flag I had smuggled  into the service, over the concert, saying "Jesus Christ is Lord over Germany". I broke the curse from the Imam's Islamic prayer, and  repeated the famous words of Martin Luther, "Here I stand, I can do no other."

I was grabbed and forced out of the Church. 

YouTube video of the event went viral and has been viewed by millions around the world.
I was called "The Brave German Woman". That video lead to numerous interviews on radio and TV across America and the world including the Glenn Beck Radio Show and the 700 Club with Pat Robertson.

I grew up in the same region as Martin Luther, but as a young woman I was a convinced atheist and communist in the former East Germany.
It was during this time that I had an encounter with the Living God and committed my life to Jesus Christ. But persecution from the communist government forced me to flee East Germany before the Wall fell.

After arriving in West Germany I worked as a teacher and lecturer in Mathematics, German and Business Economics.

My first book, A Woman According to the Heart of God (Eine Frau nach dem Herzen Gottes), was published 2015 in the German language. You can still find it on Amazon!

I speak to churches and political groups such as the National Federation of Republican Women, Act for America and Tea Party events.
My spiritual gifts are evangelistic and prophetic. Since 2010 I have been in full-time ministry as a speaker and evangelist in the USA, Israel, Indonesia, India and Great Britain. 
And I am excited about how our Lord and Savior Jesus Christ will use me - together with you - in the upcoming months and years. 

I expect the Lord to do something great! 

Heidi Mund 
When I reach 100 patrons, I'll get a web designer  to set up a webpage, to maintain and develop it. It is necessary to have my own platform and to be more independent of Facebook.
1 of 2
By becoming a patron, you'll instantly unlock access to 178 exclusive posts
By becoming a patron, you'll instantly unlock access to 178 exclusive posts
Recent posts by Heidi Mund