Help 924 Gilman!
is creating a means to preserve 924 Gilman's legacy
Select a membership level
Letter & Sticker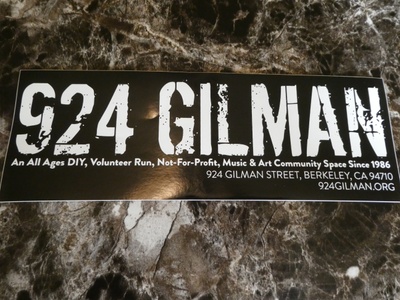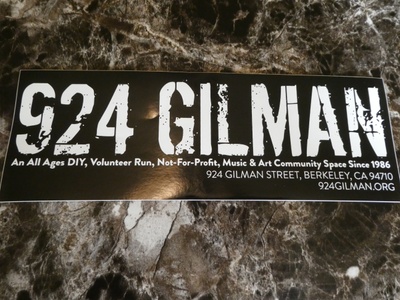 Donate $5 per month and receive a Large 9"x3.25" bumper sticker & subscription to our newsletter!
Calendar, Sticker & Lanyard
Donate $15 per month and receive the 2020-2021 Gilman Calendar, a Large 9"x3.25" bumper sticker & a 924 Gilman Lanyard, and a subscription to our newsletter!
Knit Cap, Tote Bag, Sticker & Newsletter
 Donate $25 per month and receive a 924 Gilman knit cap, a nice heavy duty canvas drawstring tote, a Large 9"x3.25" bumper sticker & subscription to our newsletter! 
About Help 924 Gilman!
Hi Everyone,
924 Gilman Street started on the last day of 1986 as one of the first DIY punk collectives in the country, and has become one of the longest-running independent music venues in the United States. They hosted many legendary touring bands in the early years, including Fugazi, Dag Nasty, Chumbawamba, Naked Raygun, Nofx, The Offspring, R.K.L., SNFU, 7 Seconds, and many more.
The club spawned a scene of its' own. Many local bands cut their teeth at Gilman and became hugely popular and influential, including Neurosis, Operation Ivy, Jawbreaker, Fifteen, and Green Day.
Today, this iconic venue is potentially facing the same fate as many other icons across the country- closure due to increased overhead and local gentrification. We need to save the one of the original DIY venues in the USA. The long-term fate of our current location is uncertain. We need your help to raise the funds necessary to permanently cement 924 Gilman's status as THE DIY venue of the west coast.
We have a number of unique reward tiers that we think you'll enjoy, with many exclusive items only available here, including uncirculated flyers from the beginning, and uncirculated photos from Murray Bowles' archive!
924 Gilman is a 501( c )3 nonprofit and your donations are tax deductible!

How it works
Get started in 2 minutes