Hi, I'm Henry. I made the co-operative shouting game
Spaceteam
(
official website
).
I want to
keep Spaceteam alive
and make more
free games,
 and if you like Spaceteam, Patreon is the best way for you to help out. As my patron, you contribute whatever you can—as little as $1 per month—and you'll become a member of the
Spaceteam Admiral's Club
. You'll get special rewards (check out the sidebar! -->) and I'll be able to focus on interesting, accessible game design without having to charge money or use ads, time-limits, or micro-transactions.
(for more about why I want to make free games, see
this post
)

My next game is a cooperative puzzle treasure hunt, called 
Blabyrinth
, but I can only make it with your help.
(for some hints about what Blabyrinth will be like, see 
this post
)
This is a pretty new way of funding game development. It's more sustainable and it gives me more freedom to make smart choices in an unpredictable business. I think it's pretty exciting and I'd love your support.
Please spread the word to all your spacefriends, send them here and get them to join... the
Spaceteam Admiral's Club
!
If you have any questions or just want to chat, you can join me on the 
forum
or send me an 
email
.
Thank you so much for your kindness and support and fan art and hilarious App Store reviews. I love you all!
- Space out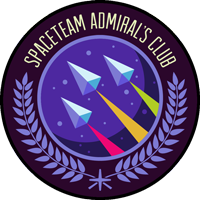 ~~~
FYI: The Spaceteam Admiral's Club started as a Kickstarter campaign. It has already allowed me to do a bunch of things that would have been hard to sell in traditional ways. If you want to see what's happened since then there's a retrospective up on my blog: 
http://www.sleepingbeastgames.com/blog/admirals-cl...
And here's some more background on the Patreon campaign: 
http://www.sleepingbeastgames.com/blog/admirals-club-2-0/