Hestia's Muse
is creating Spiritual Inspiration and Astrological Awareness
Select a membership level
Tip Jar
You can easily support me with a monthly tip for my blog and other services.  Leave any amount from $5.00 and up* to show your support! 
Patreon-Only special offers and Discounts will be announced periodically
*Note - I started the tip jar with a minimum of $5.00 a month because there are fees collected from Patreon and PayPal.  
Hestia Devotionals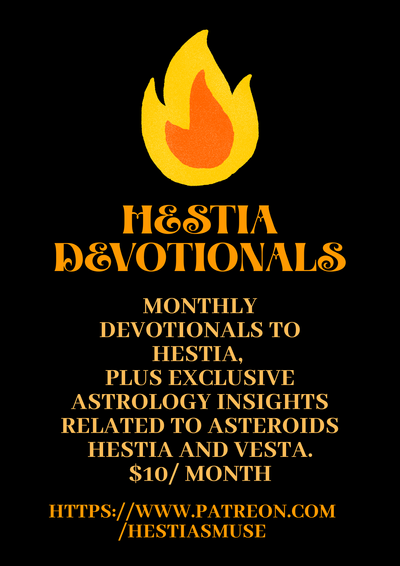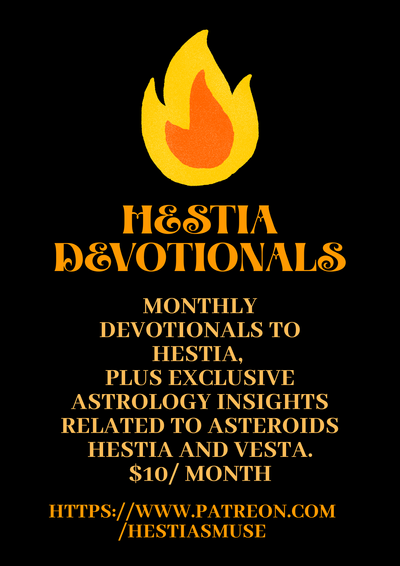 Hestia - The Goddess of Home & Hearth, Devotion & Purity.  Astrological Devotional Practices designed to help you connect with the archetype of Hestia through Astrological insight and observations.  This tier will include:
Monthly Devotionals to Hestia for each month during the Virgo moon phase; related to the moon's aspects to other planets as well as the transits of the asteroids Vesta and Hestia.

The New Moon - astrological interpretations for the current New Moon as well as activities and meditations to help you connect with the New Moon and set your intentions for working with the current season.

$20 OFF the Hestia and Vesta Devotional Course - https://www.hestiasmuse.net/hestia-devotion-course

Patreon-Only Special Offers and Discounts will be announced periodically
Apollo & Artemis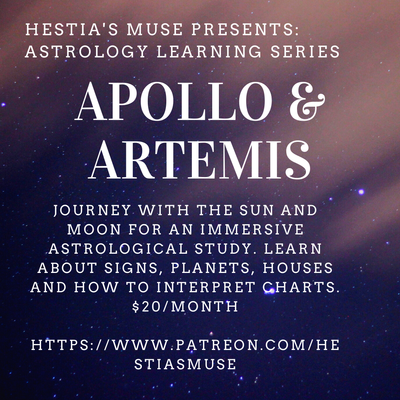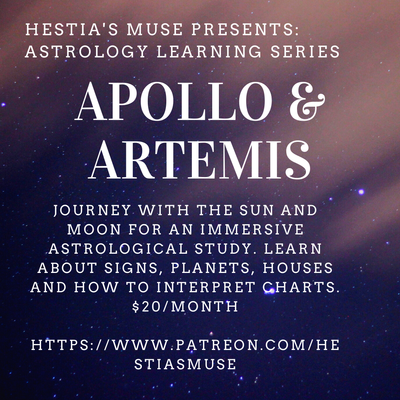 Astrology insights and lessons based on the current transits of the Sun and Moon! This tier is excellent for anyone interested in connecting with astrology on a deeper level. Perfect for beginners who are just starting to learn about astrology, or for people who already understand the basics but are seeking some structured guidance in following the monthly cycles. This tier is also great for witches and Neo-Pagans who wish to strengthen and empower their personal spiritual practice with the Wheel of The Year and the cycles of the moon.
Each Month will include these exclusive Patreon-Only posts:
Access to the posts in the Previous tier and all public posts
The Sun - an exploration of the Zodiac sign that the sun is currently transitting through. Learn the basics of each zodiac sign while we are in that season; the sign, element, house, modality, ruling planet, etc. Including how to connect with the energy of that season in your personal life, tarot cards and herbal/medicinal associations and more!
The Full Moon - astrological insights for the current Full Moon as well as activities and meditations to help you connect with the Full Moon
Astrology lessons exploring concepts such as Houses, Aspects, and more. Variety of posts
plus more!
Apollo & Artemis Patrons will also be eligible for:
$25 OFF a Personal Astrology Reading - One per month, live video reading via Skype, Microsoft Teams, or Facebook Messenger
Patreon-Only Special Offers and Discounts announced periodically
If you are a supporter of this level for 12 months, you will learn about each sign, house, and planet in depth and through personal practice - the equivalent of a Basic Astrology Course for just $240
About Hestia's Muse
Hello and Welcome to my Patreon!  My name is Lilliana Blackstar of 
Hestia's Muse
.  I have a passion for Astrology, Tarot, Herbalism, Metaphysics and Modern Witchcraft and I am so excited to share my thoughts and insights with you. Astrology is my main focus of study and practice and along with sharing informative Astrology posts here, I offer personal natal chart readings.  I have been reading tarot professionally for over 10 years, a Professional Astrologer since 2018, and currently work as a Certified member of the 
Seattle Psychics Association
.  I am trained in Evolutionary Astrology and I am also studying Medical Astrology. I am a student at Woolston-Steen Theological Seminary, earning a Bachelor's Degree in Wiccan Ministry, and I am a Dedicant of the ATC WISE Tradition of Wicca. I am a queer disabled witch working to build financial stability and a life I love while sharing with others the magic of Astrology!  I would be honored if you choose to join me on this journey!
Levels of Support-
Tip Jar - $5 to $19 per month - show your support for my public blog and social media posts.
Hestia Devotionals - $10 per month - Exclusive posts related to the asteroids Hestia & Vesta. Includes guidance for monthly devotional practice for Hestia - Goddess of Home & Hearth
Apollo & Artemis - $20 per month - Exclusive posts related to current sun and moon cycles
Individual Astrology Mentorship - $50 per month.  Exclusive posts and one on one mentorship via video calls, individually focused training to help you learn astrology and chart interpretation
Mentorship Level - access to all previous tiers PLUS a Monthly Phone call for private mentorship or tutoring in Astrology.  Can be a personal reading for goal-setting (like an astrological life-coaching session) or tutoring in your process of learning Astrology.
By becoming a patron, you'll instantly unlock access to 29 exclusive posts
By becoming a patron, you'll instantly unlock access to 29 exclusive posts
Recent posts by Hestia's Muse
How it works
Get started in 2 minutes