Hey Shauna Art Therapy
is creating art therapy prompts & resources, ink art, online support groups
Select a membership level
Support Fund
All proceeds collected into this fund will go towards offering free private art therapy sessions to folks who need the support but who can't afford the expense. I will be personally matching this fund 1:1, so every $5 received will become $10 towards free therapy. 

This subscription is about giving, period. I will not be sending you anything in return for your contribution. It is also non-performative, no public acknowledgement, no visible social cred. Just you giving support to someone who needs it.

But do know, with certainty, that investing in your community is an act of generosity, responsibility, and collaboration. And that it is VERY much appreciated, and will be put to good use. 

PLEASE NOTE that your monthly contribution will not be tax deductible, as I do not have charity status.
An opportunity to support someone else's healing.
Prompts & Resources
Each month you will receive:
ONE art therapy prompt (step-by-step instructions for art-making with the intention of taking care, processing, expressing, grounding, and life balance).
THREE different resource recommendations (some combination of a book title, film title, video link, poem, article link, podcast suggestion) with a wee blurb about each.
Prompts will include a list of art materials required, as well as suggestions for alternatives. 
Resource recommendations will cover a wide range of topics, and will not be limited to specifically art therapy themes. You can expect suggestions on topics related to anti-oppression (in all of it's forms), decolonization practices, Indigenous resilience, psychology, art therapy, movement practices, writing practices, music, self-care (in all of it's forms)... If I believe it to be something that could be helpful to you, to us, to our communities... I'll be sharing it. 
1 x monthly art therapy prompt/directive

3 x resource recommendations (ie: book, film, video, poem, article, podcast)
Ink Field Paintings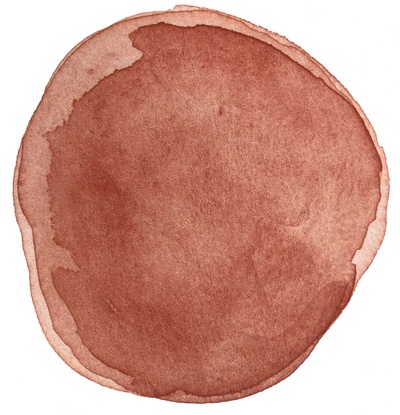 Each month you will receive TWO small "ink field" paintings: one that's painted with an ink that I've made, and the other that's painted with an ink/pigment/paint made by a featured paint-maker that I love, and want you to know about!  

You will also receive a little blurb about each one ...for the painting made from my own ink, I will tell you what it's made from (ie: blueberry), for the painting made with ink created by another maker I will include their name and website/social media details so that you can check out (and possibly support) what they're up to. Do note that the featured paint-makers won't necessarily be different every month... there will absolutely be repeats, since they each make so many great colours & pigments! 

PLEASE NOTE that these paintings are VERY simple ...layered washes/samples of each ink/paint/pigment. A simple and beautiful circle of handmade colour. Also, please understand that they are "living inks" in that they may (and most likely will) change over time - the conditions that each is kept in also being a variable. I'd like to encourage you to see this is a good thing, and to embrace the changes that the inks/colours will go through. Also, as a point of reference -  the images at the top of this page and top of each subscription option are examples of "ink field" paintings.
4.5" x 6" - "Ink Field" painting (ink made by me)

4.5" x 6" - "Ink Field" painting (ink made by another paint/ink/pigment maker)
About
Hello!
My name is Shauna Kaendo, and I'm an art therapist in private practice in Vancouver BC - the traditional and ancestral lands of the xʷməθkwəy̓əm (Musqueam), Skwxwú7mesh (Squamish), and Səl̓ílwətaʔ/Selilwitulh (Tsleil-Waututh) First Nations peoples. And I am thankful (every single day) for their historical and ongoing stewardship of these beautiful lands, and honoured to move forward as an ally and co-conspirator in decolonization... personal, professional, and within community.
You can read more about my practice and offerings on my website at:
www.heyshauna.com
.
This page will include (affordable) options for all sorts of ways to engage in and support my work within and across communities of art and healing:
Art therapy prompts & resources
An option to contribute to a support fund (to provide free therapy to those who need the support but can't afford it)
Handmade "ink field" paintings (inks made by me AND featured ink/pigment/paint makers that I love)
Monthly Zoom group chats for art therapists and other professionals in counselling, support, and care-giving roles

(coming soon)
And, if there's anything else that you'd love for me to offer... don't be shy to pipe up and send me a message at
[email protected]
- I'd love to think of this as an ongoing and collaborative thing, and I welcome feedback. We've got some healing to do... let's get to it, ya?
NOTE
: this platform is going to bill your subscription in US dollars (even though I'm located in Canada). Sorry, it's out of my hands. Hopefully that is something that is updated at some point.
Recent posts by Hey Shauna Art Therapy