hibbary
is creating art of all sorts
Select a membership level
Pup

Early access to sketches and paintings
Early access to comics and Silly Art: Comics and scribbles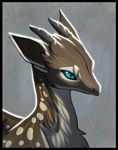 Yearling

Early access to sketches and paintings
Early access to comics and Silly Art material
Early access to Resources: brushes, textures, etc.
Access to rough and WIP work (Patreon only)
One Request per month
About
Hello, everyone!  If you're here, chances are you already know me from one of my various art sites. I'm joining the Patreon bandwagon in the hope that I can support my art habit and make more paintings, more goofy comics, more everything for you fine folks to enjoy, without having to worry about ending up in a cardboard box under a bridge eating pigeons. 

For those of you totally new to patreon, here's the low-down on my page. You pledge a certain dollar amount per month and you get sweet, sweet art swag. The more you pledge, the more swag you get! Some of it will even be Patreon Exclusive. Just have a look at what you can get.

First dibs on commissions: When I open up for commissions my patrons get to be first in line. Just a little thanks for your continued support.

Early Access: All art will be posted here before being distributed to the four corners of the internet. No need to follow multiple pages. I will put EVERYTHING here first. 

Silly Art: All my goofy comics, scribbles, and general absurdity. Markedly different from my 'regular work', it nevertheless comes from my demented brain and is part of the whole that is 'hibbary'. 

Resources: Free resources for your arting pleasure which include: photoshop brushes, textures, tutorials, bases, and whatever other useful things I cook up. 

All rough and WIP work: I don't ordinarily upload my scribbles, sketches, and so forth, but I will do it just for YOU. This is work that won't be seen anywhere else on the internet. 

Requests: This is not a free commission but a general request for artwork you want to see like: more pokemon comics, more tigers, etc. This can also include specific characters that I own. 

Self Critique: As I work on my art I will include thoughts I have about the process, my workflow, and offer insights to aspiring artists. 

Critique: I will look over your work and offer feedback.  And more! So much more! Just look below to see what else you can get.

A warning: This is an adult patreon. There won't be pornography per se, but there will be nudes with bits showing, sexual situations, strong language, and the occasional totally un-titillating erectdickscribble uploaded on Silly Sundays.
$313.53 of $500
per month
I'd like to be able to upload a little something every day.
2 of 2
By becoming a patron, you'll instantly unlock access to 980 exclusive posts
By becoming a patron, you'll instantly unlock access to 980 exclusive posts
How it works
Get started in 2 minutes