Hi-Lo Press
is creating a space for experiments in collective joy and community
Select a membership level
Supporter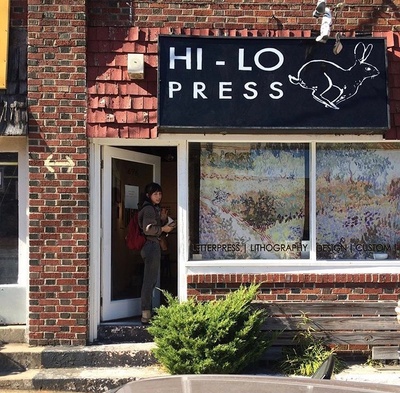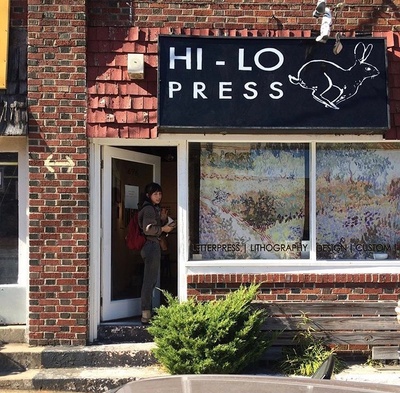 Help us keep the lights on! With this tier you will receive a real-life, printed-on-paper newsletter in your mailbox every month.  Stay abreast of all the goings on for the month. Who doesn't like getting mail?
Reader
Help us put our new risograph to use! Your funding will go towards buying more color ink drums and paper for the risograph as well as to creating two yearly photo books we will be releasing.

We plan to follow the lead of Unity Press in the Bay Area in hosting days designated to printing work for Queer and POC youth (21 and under) for free. We believe that life is more interesting, joyful, and nuanced with exposure to more varied voices and perspectives. Providing free printing days for Queer and POC youth will make better zine fairs and help get these artists work out into the world. What a special thing to be a part of!

We will also be using the risograph to print the poetry chapbooks you'll receive for a contribution at this level. They'll feature work from writers in Atlanta and all across the world, hand lithographed covers, and the interior pages will be printed on the risograph. These books will little labors of love and we can't wait to share them with you!
First edition copies of our quarterly poetry chapbooks, signed and numbered
About Hi-Lo Press
Since 2016, Hi-Lo Press has been a bastion of the Atlanta DIY arts scene. At various times, Hi-Lo is home to printmaking classes, perfumery workshops, film screenings, poetry readings, dinners, meetings, birthday parties, punk shows, raves, and a rotating schedule of unique art installations. In the months before Covid induced lockdown, you might have practiced your queer figure drawing skills at Drag Drawing night, joined the Atlanta Painting Club for their monthly still life setup, or attended one of our notorious Rent Parties. More recently, we hope you've been able to join us for our ongoing weekly outdoor screening series focusing on Black revolutionary cinema.

Within the broader Atlanta art world, Hi-Lo also serves an important purpose. For many artists, a show at Hi-Lo is the first time their art is exhibited publicly, a chance to experiment with a new medium, or a way to share work that wouldn't be shown elsewhere. Hi-Lo is committed to lowering the bar for artists of all kinds to building skills and sharing work with the world around them. We take a drastically reduced gallery cut for work sold in shows, strive to ensure free events whenever possible, and will never turn anyone away for lack of funds.

Throughout its existence, Hi-Lo has only ever been run strictly out of pocket. Hi-Lo has never received corporate sponsorship, been affiliated with an "arts institution" or received support from a "government", and does not benefit from "inherited wealth". We run Hi-Lo because we believe in the importance of true DIY underground spaces and the skills, ideas, encounters, and discussions they make possible, and because we believe that Hi-Lo can help build the rich, joyful life we've always aspired to live together - a life incompatible with the capitalist homogenization, cultural gatekeeping, and the destructive forces of gentrification making permanent attack on our city.

Over four years of scraping together rent, and all the other expenses of a space like this, have taken their toll. For a moment, our rent parties successfully served at once as a space for free expression through dance and a chance to hi-lite some of our favorite DJs in Atlanta, and also as a way to keep the doors open and the lights on for all our other events. For the time being, though, those parties are obviously no longer possible. But as evidenced by our new screening series, we remain as committed as ever to finding safe and joyful ways to building strong communities for the world to come. That's why we are asking you now to help support Hi-Lo through these difficult times. Your support will help us keep the space open and running - you'll help us continue and expand our little parking lot cinematheque, and we are in the process of working out Covid safe protocols to begin once again having painting club meetings, drag drawing nights, and to host the exhibitions we'd scheduled before the pandemic - by artists including Y. Malik Jalal, Brandon English, Pastiche Lamumba, Sasha Schilbrack-Cole, Carly Elliot, Hannah Tarr, Jean Langkau, and Beha Flickinger.

Beyond that, we still have high hopes and big plans for expanding the Hi-Lo programming, and your funds can help make that happen. Once we can, we hope to:

- Build out our microcinema to offer a high quality audiovisual experience in multiple formats (including 16mm and 8mm film) to show otherwise unseen film and video work made around the globe as well as here in Atlanta.
- Release two yearly photo books - a retrospective featuring photos from all the events over the past year at Hi-Lo, and DOUBLE HAPPINESS, collecting work by friends across the world who are prefiguring the joyful world of the future in the here and now.
- Support opportunities for touring poets by paying them for readings, workshops, and other free admission events at Hi-Lo.
- Publish a quarterly poetry chapbook featuring work from poets across Atlanta and beyond, made here at the shop, with hand printed stone lithograph covers.
- Put our new risograph to use by holding free zine printing days for Queer/POC youth
- Help artists develop new skills through our litho subscription program, where local artists working in other mediums will collaborate with litho expert Dianna Settles on a limited edition run of prints.

By becoming a patron, you'll instantly unlock access to 3 exclusive posts
By becoming a patron, you'll instantly unlock access to 3 exclusive posts
Recent posts by Hi-Lo Press
How it works
Get started in 2 minutes