Ginhaha
is creating NSFW Arts
Select a membership level
Tier - Easy
 您如果這個月贊助,將於下個月1號~5號左右收到回饋獎勵。
您將可以:
➤預覽只有贊助者能看到的預先公布內容
➤參予角色投票
回饋獎勵:
➤2000px以特典圖案至少一張
➤沒有任何浮水印和馬賽克
==========================
今月中に支援者になっていただいた方には、来月の1日~5日前後にお返し品をお届けします。
支援して頂いた方には:
➤支援者様限定のプレビュー内容を閲覧できます。
➤キャラクター投票に参加できます。
お返し品:
➤2000px以上のPatreon限定PNG特典イラスト一枚
➤ウォーターマーク・モザイクなし
 ========================== 
If you sponsor this month, you will receive rewards for the next month 1st~5th.
You will be able to:
➤ Preview only pre-published content that patrons can see
➤ Participate in character voting
Rewards:
➤ 2000px or more PNG special pattern
➤ No watermarks and mosaics

Tier-Basic
 
您如果這個月贊助,將於下個月1號~5號收到回饋獎勵。
您將可以:
➤預覽只有贊助者能看到的預先公布內容
➤參予角色投票
回饋獎勵:Tier-Easy+
➤2000px以上同人圖+角色動作和服裝差分  
➤3000px以上額外插圖2~5張(含差分)
➤沒有任何浮水印和馬賽克
 ==================================== 
今月中に支援者になっていただいた方には、来月の1日~5日にお返し品をお届けします。
支援して頂いた方には:
➤支援者様限定のプレビュー内容を閲覧できます。
➤キャラクター投票に参加できます。
お返し品: Tier-Easy+ 
➤ 2000px以上の同人イラスト+それぞれに衣服や ポーズ 差分つき  
➤3000px(300dpi) 以上のExtraイラスト2~5枚(差分含む)
➤ウォーターマーク・モザイクなし
 ==================================== 
If you sponsor this month, you will receive rewards for the next month 1st~5th.
You will be able to:
➤ Preview only pre-published content that patrons can see
➤ Participate in character voting
Rewards: Tier-Easy+ 
➤2000px or more with the fan arts + many clothes and pose of difference 
➤3000px or more Extra illustration 2~5 pages (including difference)
➤No watermarks and mosaics

Tier-Advance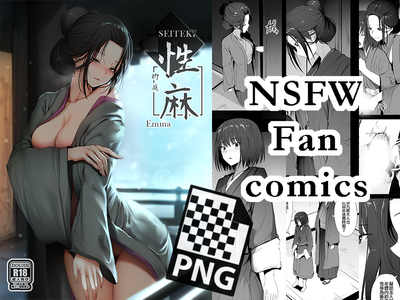 您如果這個月贊助,將於下個月1號~5號收到回饋獎勵。
您將可以:
➤預覽只有贊助者能看到的預先公布內容
➤參予角色投票
回饋獎勵:Tier-Easy+Basic+
➤沒有任何浮水印和馬賽克
➤每月一部12~16頁R18漫畫
==================================== 
今月中に支援者になっていただいた方には、来月の1日~5日にお返し品をお届けします。
支援して頂いた方には:
➤支援者様限定のプレビュー内容を閲覧できます。
➤キャラクター投票に参加できます。
お返し品: Tier-Easy+Basic+ 
➤ウォーターマーク・モザイクなし
➤毎月12P~16PのR-18漫画
 ==================================== 
If you sponsor this month, you will receive rewards for the next month 1st~5th.
You will be able to:
➤ Preview only pre-published content that patrons can see
➤ Participate in character voting
Rewards: Tier-Easy+Basic+  
➤No watermarks and mosaics
➤One 12~16 pages of R18 comics per month.

About

非常感謝您對我的支持,您的支持將會化作我繼續創作的動力!
如果您也喜歡成人向的同人作品,或許您會希望以贊助的方式支持我以及獲得我的作品回饋。

About ぎんハハ


I'm a NSFW of fan arts creator. It is my pleasure to meet you. You can also see my arts for free on:






What is here doing?




You can use here to support my arts and become my patron to get rewards





How do I get my rewards?




All rewards will send on 1st~3rd every month for who became patrons last month. I will send rewards of link address by Patreon message and you can download it in 10 days



How do I get previous rewards?
Every previous rewards will release to :

After I send all rewards for my patrons. You can buy every previous rewards on Gumroad but it is more expensive than Patreon Tiers.



Others caution


All my arts of characters are adults. Sometimes is after character grow up fan art. Sometime is parallel time and space. What I have created will be the appearance and body of an adult.


By becoming a patron, you'll instantly unlock access to 38 exclusive posts
By becoming a patron, you'll instantly unlock access to 38 exclusive posts