The Homicidal Homemaker
is creating horror-themed recipes, cooking videos, tutorials, & DIY projects
Select a membership level
Supporter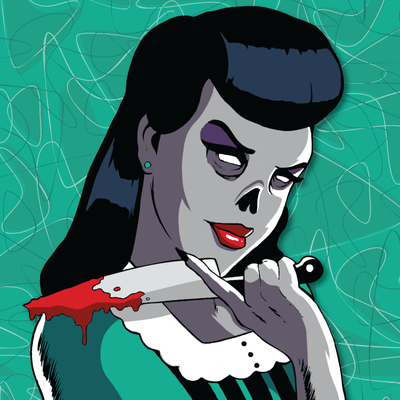 By contributing as little as $1, you're helping The Homicidal Homemaker to 'keep the lights on'. Contributes to monthly expenses such as grocery bills, supplies, and equipment upgrades that make it possible to keep the spooktacular recipes coming!
Includes Discord benefits
The Homicidal Horde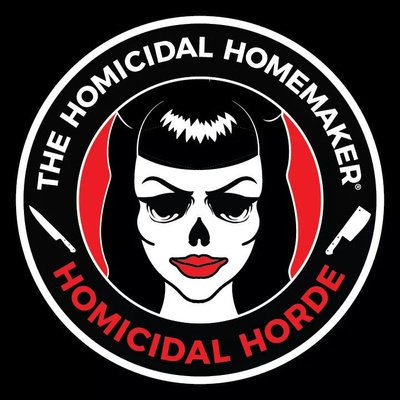 The official The Homicidal Homemaker® fanclub - the Homicidal Horde! You'll get exclusive updates & a "behind-the-screams" look at new recipes, merchandise, and other things I'm working on. On top of that, you'll get your name listed on the
supporters page
as an official supporter, special Discord access and perks, and you will also get a 'thank you shoutout' on Twitter!
By contributing as little as $5, you're helping The Homicidal Homemaker crew to continue to do what we're doing. This helps support costs for the show, including transportation to and from set and special events, cost of ingredients/supplies, costs for various props/costumes/accessories, and  various other things to keep the lights on and the website up.
As well as exclusive
Patreon-only
content:
Discounts and/or free shipping on my Etsy shop
Patreon-only movie nights on Kosmi
Special Patreon-only content and posts
Special Patreon-only Live Webchats
Behind-the-scenes news & updates
Access to the new Discord server
Ability to add images in Discord
Ability to embed links in Discord
Voice-chatting in Discord
…and more!
Includes Discord benefits
About
I invite you to please check out my channel and website to get a feel for the content that I am currently offering, and what you can expect to see more of:
www.TheHomicidalHomemaker.com
www.youtube.com/homicidalhomemaker.

The Homicidal Homemaker horror-themed cooking show is currently available on Screambox (Roku, Playstation, XBOX, browser), AT&T Uverse & Comcast in Central California, YouTube, and various independent streaming horror websites. The show has been featured on all of the major horror news sites, and my recipes are now featured as their own column in the amazingly awesome horror publication Rue Morgue Magazine.
I originally started The Homicidal Homemaker as a MySpace profile in 2008, where I would share the horror-themed cakes and creations that I made, or goodies that I'd share at the horror movie nights I'd host. The response was instant—people began asking how they could learn to make these things themselves.
So the idea of a blog was born...

After a couple of years of sitting on the idea, I took The Homicidal Homemaker away from MySpace and launched TheHomicidalHomemaker.com, and made an official Facebook page in February of 2012.
Immediately, I had a growing fan base, which has now reached over 50,000 fans on Facebook
alone
.
I did absolutely 100% of everything myself, and out of my own pocket – developing the recipes, photographing them, building and maintaining the website, and all of the branding and marketing. I always wanted to bring the video element to the website, but honestly just didn't have the means to do it, both equipment and time wise.
In 2015, I partnered with Neptune Cinema to bring my idea to life – my own horror-themed cooking show that was not just educational, but also fun and entertaining, and suitable for all levels of kitchen skills. In February of 2016, the show premiered.
The Homicidal Homemaker shows delves into many areas that standard cooking shows typically don't – usage of miniature models, cinematic vignettes before and after the episode, and music that is unique to every episode. Basically, I get to do what I love – add my own spooky twist on easy-to-prepare recipes, but also get to make a mini-horror movie in every episode. :)
Every element of The Homicidal Homemaker cooking show is 100% created FOR the show. Absolutely zero stock footage or music is used. Our crew is small, and wears many hats to make the show a possibility. It's definitely a labor of love, and we DO love bringing you the episodes. We all do this out of pocket, and we all do this outside of our very busy full-time careers.
My first goal for Patreon is
$250/month
, which would help 'keep the lights on' with my website, and allow me to raise funds for my own personal filming equipment for filming bonus content for the channel, as well as in-home crafting and decor tutorials that don't utilize an entire crew.
As of April 2020, I am renovating the kitchen in my new home to move filming on-site, rather than having to travel over 50 miles away to my producer's studio to shoot an episode.
This will allow me to put out content more frequently, as well as introduce a wider variety of entertainment that goes beyond the cooking episodes and product reviews.
A lot of folks don't realize the costs to produce even just one written recipe on the website – sometimes, I have to make a recipe up to five times before I am happy with the results. $250/month would absolutely help with some of those costs and ensure that I can keep The Homicidal Homemaker going.
No matter what, regular blog posts will always continue
, but your support via Patreon will allow me to put out additional content, and more frequently, as well as allowing me the opportunity to better connect with my audience, and get a feel for what they would like to see more of.
Even just $1 a month helps 'keep the lights on' over here at TheHomicidalHomemaker.com!
This first goal is to assist me in creating at least one full episode of my horror-themed cooking show a month. This includes travel costs to my producer's studio (which is located 50 miles away), cost of ingredients for the recipes, and any additional costs including special effects makeup, props, and costumes. All of these costs currently come out of pocket. This also assists in me providing regularly-updated blog posts/recipes/tutorials on my website.

1 of 2
Become a patron to
Unlock 196 exclusive posts
Connect via private message
Recent posts by The Homicidal Homemaker
How it works
Get started in 2 minutes