Tori Taylor
is creating Fundraising for Horses of Gili
Select a membership level
Get exclusive patron-only merch
Official Patron
$5 monthly enables the purchase of one bag of grass for our resident rescue horses.  We currently have 7 horses in residence at our stables: Jara, Varsha, Xena, Callie, Gingin, Iggy, and Amy.  One bag of grass feeds one horse for 1 week.

All-access Patron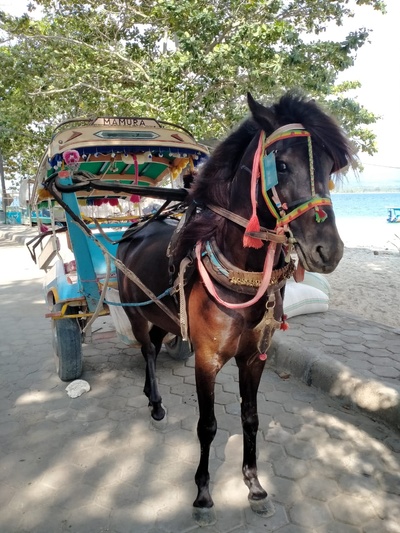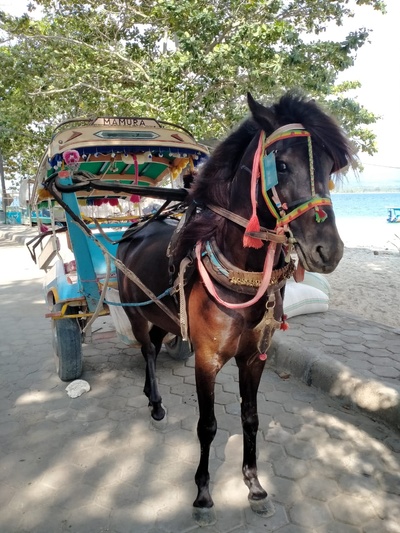 $10 monthly purchases one bag of rice bran for either a resident horse or a working horse on one of the 3 Gili Islands.  We currently have 7 resident horses that we care ofr in our stables and are providing supplemental feed to over 250 working horses on 3 islands. 

VIP Patron
$25 monthly enables us to feed one working horse on the 3 Gili Islands rice bran for one month.  We are currently feeding approximately 250 horses and ponies on 3 islands. 

Includes
Exclusive Sticker -

Horses of Gili sticker

Exclusive Organic Tote Bag -

Organic, reusable tote bag featuring cidomo pony image!
About Tori Taylor
Hi my name is Tori Taylor and I am a born and bred redneck Oklahoma girl. I got my first horse when I was 13 by hitchhiking to an auction and purchasing a Pony Of the America's who was being sold by the pound for meat.I attended OSU and have a bachelors in Animal Science/Pre Veterinary Medicine and also a 2 year degree in Equine Management from Rogers State College in Claremore, OK. I spent a good portion of my teenage years and early 20's training, riding, and competing in horse events. And in the end my career became Veterinary Technician moving up into management. I of course then did the silly thing and married a non horse guy. We traveled a lot and became dive instructors and decided to move to the islands...he hated it....
Fast forward a few years, got new husband who was more into my animals and started again to chase my dream of living in the islands. In 2014 we found a management job at Lutwala Dive on the island of Gili Trawangan near Bali, Indonesia. The unique thing about this and 2 neighboring islands is that motorized vehicles are not allowed only horses, bicycles, and your own two feet. So we sold everything and moved to the other side of the world!
It has been destiny it seems for here we can live a simpler life, enjoy the ocean and good weather, have a decent income, and there are HORSES! Being used for local transport on the 3 islands are hardy locally bred ponies and small horses that are wiry, tough, and strong. There are also larger horses with some more western influence used for beach rides. In all usually around 400 horses and ponies live on these 3 tiny islands. But what I quickly learned was that despite local efforts husbandry and care was severely lacking and there was no veterinary care except at once or twice yearly free horse clinics.
So in 2015 I founded a charity called Horses of Gili. This charity was designed with the purpose of helping to preserve local culture but also to improve the lives, quality of care, and working conditions of the horses and ponies. Working with other charities both local and from abroad we increased the size and length of time horse clinics were sponsored. More things were offered such as dental care, farrier work, and more advanced medical care as well as the usual vitamins and deworming. Educational handouts were provided and in between clinics we offered help with any minor medical issues that occurred as well as basic husbandry and welfare. We also began soliciting tack donations from all over the world to distribute free both during and in between horse clinics.
Over time the bidy conditions scores of the animals improved and we began to see the effects of education and kindness in helping the local people. Remember most of these locals earn about $35 to $50 usd per week and in addition to their horses they usually have large families to support. We also began taking in injured, sick, starved, or needy horses and ponies and rehabilitating them to be rehomed. We built a horse hospital and rescue stables complete with a charity shop to help sell t shirts to raise money for the horses.
In August 2018 our region suffered a devastating series of earthquakes which killed over 500 people and destroyed 60% of businesses/buildings in the area. With help from the world together enough donations were gathered to feed and care for hundreds of horses during those few months
Now in 2020 we have been faced with a different and much larger crises...a worldwide pandemic which has closed down nearly all travel and tourism. Our islands are 100% tourism dependent and without tourists there is no income. As of now the islands have been closed since March 15th and the borders of Indonesia are set to remain closed international until In June sone domestic tourism returned but only in very small amounts not nearly enough to support hundreds of horses and ponies. So we have been distributing horse feed free of charge since early April. Currently we are helping to provide food for around 250 horses on 3 small islands. This is about 10 tons of food every 2 weeks. 1 ton of food delivered is about $170 usd. This has been a massive effort but it's working! We are keeping the animals alive and healthy enough to return to work next year and this gives their owners the time and ability to focus on feeding their human families.
We get donations through bank transfers to both a US and Indonesian account as well as PayPal and Go Fund Me. We are not currently a tax deductible charity as the cost of becoming one here is still quite prohibitive and we have always chosen to spend money on the horses.
Feel free to follow us on Facebook at www.facebook.com/horsesofgili and Instagram @horsesofgili. We also have a website (which I rarely update) at www.horsesofgili.com
https://youtu.be/SPu66prb4KM
By becoming a patron, you'll instantly unlock access to 23 exclusive posts
By becoming a patron, you'll instantly unlock access to 23 exclusive posts
Recent posts by Tori Taylor
How it works
Get started in 2 minutes