Hey, how's it going? My name is Hoyt Silva and I'm currently the artist on
**Name Redacted** with Doug Wagner  for  **Name Redacted**
 I also draw "Last Stop" which is a webcomic written by Trey Walker with the Just Comics Group, and if that wasn't enough; I also write and draw the Drink Champs Webcomic which is published weekly on Line Webtoon. All the webcomics work that I do is available for free so go check it out these pages:
DrinkChamps

Last Stop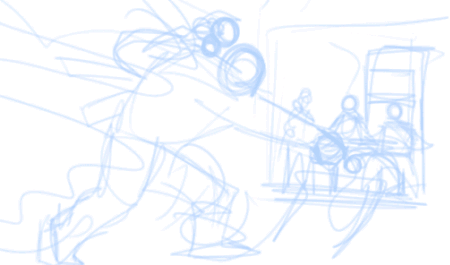 Now you can become an active supporter of my art! By tipping me as little as $1, you can help provide me with resources to improve & continue making free webcomics for everyone to enjoy!
Because, first and foremost; 
ALL
of the webcomics I create, 
have been
created,
are
created, and
will continue to be
created; for
FREE
. Comics for Comics sake, that's the thing. I've got so many stories I'd like to tell as well as a long list of other creators I'd like to work with and with the help of Patrons such as yourself I will be able to continue to do this. Consider Patreon a tipping service. Wether you leave a tip or not I'll keep making the doughnuts..or err...Comics. Man I want a doughnut right now. Anyway, YAY COMICS!
A new episode of the Drink Champs Webcomic comes out every Sunday. As a Patron you'll get a behind the scenes look at episodes before they go live. You'll get to hear about the snippit that inspired the strip, a look at the written script, a peep at the layouts, and an advanced look at the Inked pages before the colors go on there. Not all Drink Champs Stories make it so you'll also get a look at some of the strips that don't make the cut.
Once a week a new installment of one of the stories we've got cooking over at the Just Comics Group/Still Cinema goes live as well. As a Patron you'll also get a look at how that's made too. You can read some of Trey's scripts, look at the layouts, and also see the inks before I color them up. 
And that's just the beginning! We've got  at least another half dozen stories over on Still Cinema just sitting on the back burner waiting to be told. Not to mention a multitude of other projects with other creators elsewhere. So Don't fret we've got a bunch coming down the pipeline.  
I'll also include videos and tutorials as I do various private commissions from time to time and other work for hire projects while the weeks roll by which will be available only for those who support me on here. 
If you're looking to back my efforts in some way, but don't want to sign up for the monthly subscription, that's all good! You can always purchase items from my store here: 
STORE
Or you can make a one time donation of any amount you'd like by clicking the link here:
DONATE
My gratitude for reading through all that crap.
Now, what are you waiting for?!
Let's do this thing! :)