Hugging America
is creating a heart-centered hugging movement to heal the USA!
Select a membership level
About
Howdy everyone!

Please find Hugging America on social media here:
Hugging America Page (page)

Hugging America Group
 (group)
Hugging America Instagram
Thank you so much for making your way to our Patreon page for
Hugging America
. We have some really big plans for the future and we are asking you to be a part of it all!
Our goal is 
5000 HUG FANS
and
SUPPORTERS AND WHEN REACHED,
 we can dedicate 100% of our time to
this art...



EACH DOLLAR DONATED MONTHLY SUPPORTS OUR HEART MOVEMENT OF SPREADING DIRECT HUMAN CONNECTION AND COMPASSIONATE LOVE VIA "FREE HUGS HERE" signs AND TRAINING VOLUNTEERS across AMERICA'S CITIES to serve LOVE in their communities.



HUGS HEAL!
HUGS ARE DIRECT HEART HEALING ENERGY AND YOU CAN DO THIS TOO!

HUGGING AMERICA has grown from a single act of VULNERABILITY to a global, FREE HUGS HERE MOVEMENT / #lovebomb that connects people in a deep, spiritual way and creates a lasting effect of loved-based presence.
EVERY.SINGLE.TIME
From ONE hug to tens of thousands via supporters spanning 30 countries, one thing is sure:
SERVE LOVE AND YOU SAVE THE WORLD: LOVE WINS


PEOPLE NEED HUGS!
AMERICA NEEDS HUGS, NOW MORE THAN EVER!

According to a
Carnagie Mellon University study
:

"Everyone needs at least 5 hugs per day for human maintenance."
And there are 
dozens
 of 
other health
benefits
! 

SO..
We've made the decision to be an ARTISTS and EVANGELISTS for HUMAN connection and community by giving Hugging America our full energy.
It's time to be a full-time Agents of Heroic, Uninhibited Innocence.
Courage tells us to dedicate ourselves to this art that our LOVE FOR THE WORLD brought out in us together via this daily #lovestunt.
"Follow your joy" and connect America with LOVE...
Free Hugs opened a door in us and cultivated our true purpose:
Encouraging others and inspiring kindness by uplifting the positive vibrations in everyone we hug, and teaching that to everyone who will join our mission:
Spreading Love, Person to Person, One HUG at a Time.

Cat
and I together, honestly, cannot thank you all enough for being such delightful, beautiful, heart-full friends and followers!
YOU ARE CHANGING THE WORLD TOWARDS LOVE.
"Do the best you can until you can do better, then do better"
Our goal with this ongoing campaign is to raise funds that support a full-time lifestyle of travel so we can create public acts of #loveart daily and document the journey.
In short, we want to #lovebomb the world
EVERY.DANG.DAY with FREE HUGS!
Thank you! Thank you! Thank you!
We want to keep doing what we love and what we love is
creating magic
and
joy on a personal level
through
immediacy
and
presence
:)
Here's a few links to the many articles that have been written about
Hugging America
and they barely scratch the surface of a global #lovetribe that takes this message out daily:
WE HUGGED FOR 24 HOURS STRAIGHT during Burning Man 2017!
We performed a ritual of love by chaining ourselves with ankle cuffs and steel chain to the desert floor and hugged over a thousand people....here's the video from our "morning after" <3
* Hugging America was the crucial turning point in a Cadillac ad, aired during the Oscars, that encouraged viewers that we are ONE! FREE HUGS via Hugging America is seen by MILLIONS!


Tex often goes out in public with a blindfold and wears it during hugs as an act of TRUST.
They are called "Trust Hugs" and the vulnerability to humanity is the message:
* The philosophy behind 
Hugging America
was the topic of a podcast at Into the Fire:
Hugging America
was part of a MindBodyGreen interview with "FREE HUGS'' visionary Juan Mann: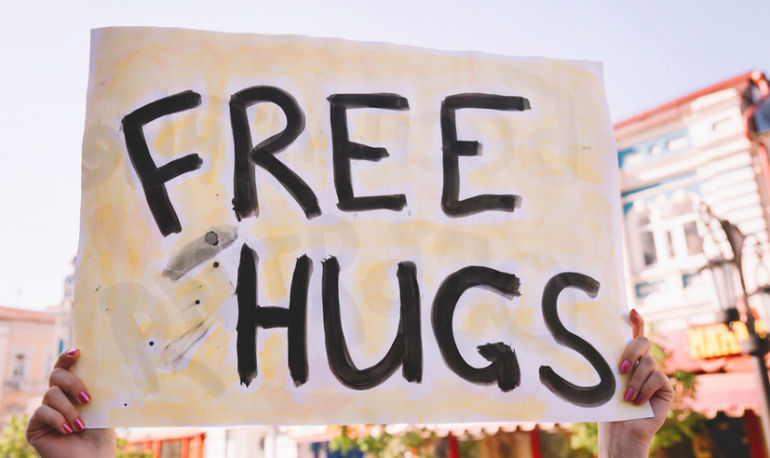 * 
Hugging America
was interviewed by a number of media organizations after the Oakland Ghostship Fire that claimed 32 lives:
KQED piece on the fire

CBS SF Local

New York Daily News
After 2 years of Hugging America, it's time to trust the magic...and be vulnerable:


WE TRUST in the magic that happens when we've got our arms open and the eyes you've opened in us are looking for another moment to express compassion and love and tell the stories of those connections through hugs. We want to build a career of dramatically and lovingly telling stories and painting life with the participation of those we meet on our journey.
If you can afford $1 per month, that makes a HUGE DIFFERENCE in our mission and is GREATLY APPRECIATED! Hundreds and thousands of single dollars per month will add up to continue this #lovemission across hearts around the world :)
EACH DOLLAR DONATED SUPPORTS OUR MISSION
When Hugging America reaches 5000 Hug Fans, we can devote our full-time life to this #loveart and begin to travel across the USA with our message and LOVE.IN.ACTION community events on a weekly basis! <3
1 of 1
Recent posts by Hugging America