Nita Strauss
is creating Music, Guitar Lessons and more!
Select a membership level
Category 1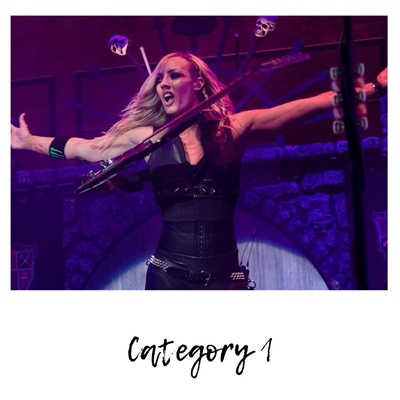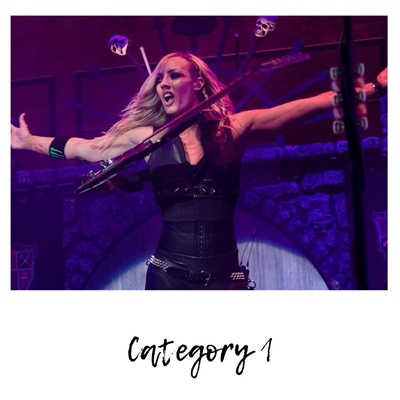 Welcome! In Category 1, you'll receive:
Access to all album updates on Patreon only feed, including sneak peeks at songs, studio photos and videos, and more as inspiration strikes!
Early access to album content, singles,  music videos, and pre orders
Access to Patron only giveaways and contests
Discount on official Nita merch
My sincere gratitude for being a part of this new venture!
Category 2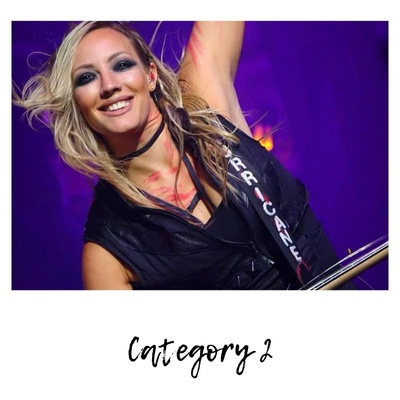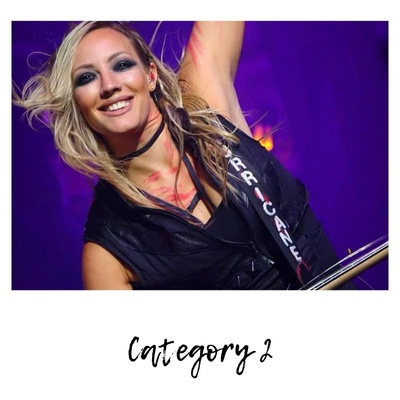 You are a force of nature! In Category 2, you'll receive:
Everything in the previous tier, plus:
Minimum 2x/ month livestream, one music focused for guitarists and one open Q&A with album update!
Digital download of my new album before it's released to the public 
Access to even more Patreon exclusive content like behind the scenes tour photos, gear photos/ videos, Cooking with Nita, and more! I'm looking to you guys to tell me what you want to see, this is all catered to YOU!
Access to Patreon only Facebook community where we can talk music, working out, exchange guitar tips, or whatever your heart desires
Category 3
Our storm is gaining strength! In Category 3, you'll receive:
Everything in the previous tier, plus:
Special Team Hurricane laminate so I can identify you when I see you- show it at the merch table at any of my solo shows for a thank you gift!
Invitation to the album listening party in Los Angeles before release day
About Nita Strauss
** UPDATE **
This page was originally started just to give people an insight into the making of my second album, but it has evolved into so much more. It's become a place for like minded people to gather, talk about music, life, ask questions, learn songs, trade licks and make friends around the world. It's also become a place for me to release everything first- from songs and videos to merch to early access to my instructional course.
So while
EVERYONE
, including new signups from now on, will still get the album download as well as some surprises for different tiers on release- this page is going to evolve to officially feature access to more fun stuff than just my second album.
The importance of what we're doing here at this uncertain time in the world is not lost on me! So to show my appreciation, here's what I'm adding on my end:
😷 #ShredSunday has become official. For the duration of the COVID-19 Quarantine, we will move our 2x/ month live streams to every week, every Sunday at 1 pm PST and make them open to all tiers. Each week I'll be teaching a new song or technique or doing an open forum Q&A to answer any questions you guys have about technique, touring, fitness, or anything else I might know about.
🎼 I'm also reaching out to other pro musicians and entrepreneurs to join me for some of the livestreams to create more cool experiences for you guys. I want this to be a place for everyone to learn something new every week.
📬 I'll be sending random surprises in the mail to a few people every month on top of the normal autographs and postcards, so keep an eye on your mailboxes!
🎁 Patrons will get first access to all merch including limited edition items, and early access to all album materials, music videos, and new ventures like my online instructional course. Basically if I'm doing something, you'll find out about it here first.
🎸 And finally, I'm officially offering an open forum for guitar players with playing or technique questions. Post a video of you playing anything you have a question about to our private Facebook group, and I'll give you any notes I can or send a video back with my suggestions.

If you've read this far and it sounds cool, thanks for stopping by and I hope you'll consider staying! I might be biased, but it really is a lot of fun! 🎸🎸
Nita
Original text follows below:
Hi all and welcome to my Patreon page!! Thank you for stopping by to see what it's all about! The video will give you a short overview, but read below for more!
I had an amazing time doing the Kickstarter campaign with many of you for my first album. It was so cool to rally together as a community to make it happen, and it was with your support that I was able to make such a huge statement and show the world that instrumental guitar music is alive and well.
Now that it's time to get going on Album 2, I wanted to get you all involved again, at whatever level you would like to participate! I love sharing my life and what I'm working on with you all, and social media is amazing, but I think we can all agree that sometimes it. is. EXHAUSTING. People who aren't true fans cruise in just to troll and be negative and then leave, and it makes opening up and sharing what I'm working on much more difficult, knowing you're pulling back the curtain just for the trolls to attack. I've been very guarded about what I'm working on for that exact reason, but it feels weird working on music and not having you guys be a part of the process!
So without further ado... This Patreon community is your backstage pass to my life during the making of my follow up album to Controlled Chaos! You'll get a behind the scenes look at everything that goes into a full album cycle, including the actual making and recording of the record at my home in Los Angeles, in the studio, and on the Alice Cooper tour, as well as press, photo shoots, music video shoots, rehearsals, solo touring and more! There will also be monthly live streams with song progress and Q&A, bonus live streams from the Alice Cooper tour, home practice sessions, and more to come as this page evolves!
You guys already know this, but I'll say it anyway... the music industry is not what it once was. It's rare that rock and metal musicians, especially in the instrumental genre, are able to pay their bills just by playing music. I'm extremely lucky and thankful to have a great job playing with Alice Cooper... but when I'm off the road, like most other musicians, I'm not getting paid anything. That's why I have to follow the rigorous schedule that you guys witness every day on my social media pages. I'm hoping that by using Patreon as a resource, it will allow me to take a step back and create this album without filling up every available moment with more work.
If you've read this far, THANK YOU!!! I appreciate you being a part of our shred family and stopping by this page, and hope you'll join me for this next chapter!!
When I reach 500 Patrons, I'll do a live stream revealing the concept of my upcoming album and what my main inspiration has been so far in the writing process!
2 of 2
By becoming a patron, you'll instantly unlock access to 211 exclusive posts
By becoming a patron, you'll instantly unlock access to 211 exclusive posts
Recent posts by Nita Strauss
How it works
Get started in 2 minutes