Tony Caline
is creating Artwork, Comics
Select a membership level
Simple Cookies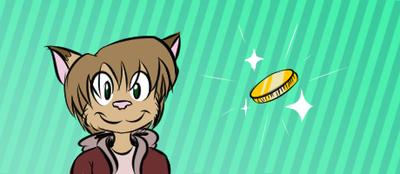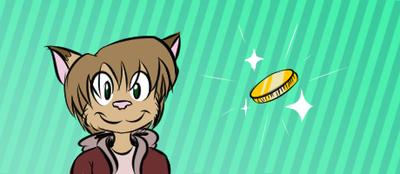 You donate up to a dollar, friend, and you get access to basic updates on my Patreon! Patrons of this level will granted access to:
 •  WIPs of current works!
 •  Comic Previews!
 •  Basic sketches!
 •  Comic updates before they land on the main site!
Botched Cookies
Limited (1 of 1 remaining)
IT'S THE TIER FOR BOTS, YAAAY dont pledge to this one, you wil be removed. thank you!!
About Tony Caline
Welcome to the Patreon Page for Tony Caline!

Hello there! I appreciate you stopping by my Patreon page to have a gander. Come in, rest your feet, have a cuppa tea, just, y'know. Ease and unwind, I say.
In all seriousness, My name is Tony, and I like to draw things. Lately, my love has been for comic related things! My ultimate goal is to entertain, to share stories I otherwise just tell to myself, and to simply give folks stuff that they haven't seen before. While standalone pieces are fun to do (and will be showcased here, too!), I want storytelling to be my main priority, and I would love for more and more people to enjoy the work I have to share. I currently have two ongoing stories that I am actively working on, which are as follows;
"At Least We Have Cookies" has gone through a few iterations before finally taking the form of a casual slice-of-life story that just sort of goes where the wind takes it. It stars one of my oldest characters, Tony Caline, as well as his friend/sister figure Silvia, in a tale about makin' friends, learning general life lessons, and of course, consuming baked goods whenever applicable. This one is the lower priority of the two I'm running, but it is something I'm working on when I have to take a break from the adventure story. Speaking of which...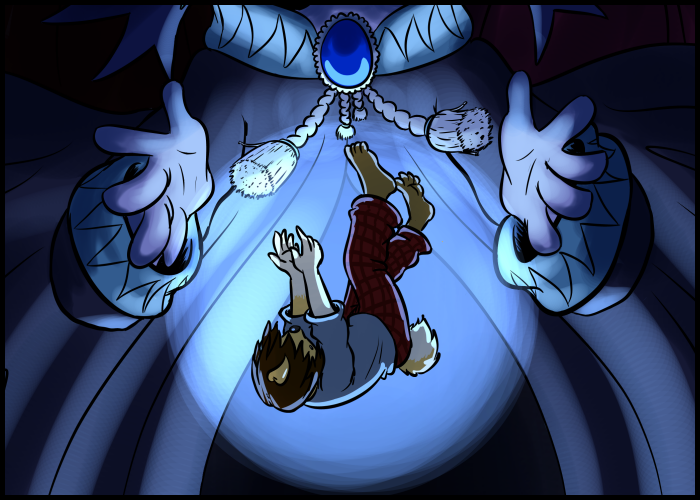 Devoid follows the adventure of one lone doggy creature by the name of Meryl that winds up in the afterlife due to an unfortunate clerical error of sorts, and, determined to return back to the way things had been before, she embarks on a journey to find out a way to return to the land of the living. The story will proceed to chronicle her adventures as she makes new friends, battles new foes, and continues to uncover the secrets of the Second Plane. Unbeknownst to her, a war looms on the horizon, and before long she and her companions will soon be at the center of it all.
Further Thoughts, and the Future

As I've stated, I wish to create comics and stories for folks to enjoy. It is my actual dream to one day be capable of surviving off of my craft entirely. At present, I am having to rely on an on-again/off-again IT job that has yet to bear proper fruit, and the path has been rickety. If I can get to a point where art is my living, it won't be an issue any longer and I can literally focus on my artwork. While I don't expect this to take hold anytime soon, I will keep working toward it as an eventuality one day.
But that's where you come in! By supporting my work via Patreon, not only do you bring me one step closer (oh, EVER-so-closer) to my ultimate goal, but you'll be rewarded for it, as well! Check the tiers for extra details, but patrons will potentially gain access to special art just for them, desktop backgrounds of their favorite characters, anything of that nature. Maybe even postcards per the holidays! (We'll have to see about that one, but, regardless!)
The comics, if all goes well, will be here FIRST! Devoid (and eventually At Least We Have Cookies) has its own webpage that you can visit, bookmark, and indulge in the material at your leisure. However, Patrons will be able to take a peek at pages at least a week (maybe even two!) in advance! In addition, you'll get sneak peaks to the stories I'm working on well in advance, AND, if all goes well, certain tiers may even gain access to side-stories I create, featuring either characters from my main series' on their own little adventures, or even one-shot stories with original characters not inclusive to my current storylines! The latter options would require more time to handle, so essentially, the more support I receive, the more time I can put into the artwork!
That being said, I hope you decide to pledge to my Patreon, and if you think my work is worth it, feel free to point others in my direction as well! Your support is vastly appreciated, and I look forward to providing proper content in the days and weeks to come.
Let's shoot for financial independence!

( Maybe! )

(( Someday. ))

((( Goodness, I hope. )))

(((( Thank you for your time <3 ))))

If I reach this goal, you guys are great and have helped me cover one of my bills! Upon hitting this goal, I will do a new "Ask the Character"-type questionnaire series for all Patreon supporters.

1 of 7
By becoming a patron, you'll instantly unlock access to 41 exclusive posts
By becoming a patron, you'll instantly unlock access to 41 exclusive posts
Recent posts by Tony Caline
How it works
Get started in 2 minutes