Steve Austin
is creating resources for mental, emotional, and spiritual health.
Select a membership level
Join the Facebook Group
Limited (3 of 10 remaining)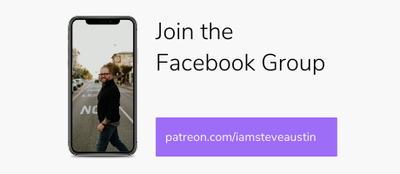 Whether you're a spiritual misfit or just someone looking for a soft place to land, you'll be welcome in our private Facebook community.   

We're here to encourage everyone who shows up, from all walks of life, to keep on keepin' on in the constant push and pull of a life that is rarely ever easy.

Join us. Let's journey from chaos to calm together.

Monthly Guided Meditation
Each month, I'll record and release an exclusive guided meditation or affirmation, just for you.

And yes - you also get access to my private Facebook group.

Coaching Library Downloads
Once per month, I'll release a downloadable Patron-only coaching exercise from my exclusive Coaching Library. Resources include (but aren't limited to):
Recorded affirmations
Printable manifestos
Emotional health exercises
Spiritual health exercises
Mental health exercises
Journaling pages
Quarterly Grab Bag
Limited (50 of 50 remaining)
Every 3 months, patrons at this tier receive a surprise piece of merch, starting with my "Scars are just grace tattoos" mug. After that, your surprise could include:
a sticker
a poster
a gently loved book from my personal library
a signed copy of a book I've written
a t-shirt
or something else wild and wonderful I dream up.
This is your daily reminder: scars are just grace tattoos.
Soul Care Strategy Session
Limited (9 of 10 remaining)
Save 50% on coaching! Each month, I'll hop on a one-on-one call with you for a half-hour Soul Care Strategy Session.

Whether you're looking for someone to keep you accountable on your next big project, or a guy with the heart of a pastor who will actively listen to whatever is on your mind, these monthly conversations will be all about your mental, spiritual, and emotional health.

About
Are you beat down by your negative inner voice?

Does a fear of rejection have you stuck?

Can you imagine re-framing the way you view mistakes and not feeling so ashamed of who you are?

I'm a spiritual life coach who helps hurting people find belonging. If you're ready to face your fear, shame, and guilt, I'd love to partner with you.

I help my monthly patrons:

✓ Find the balance between work and life.
✓ Integrate your spiritual and mental health.
✓ Discover how to come up for air and breathe again.

You get exclusive access to my coaching library, monthly blogs, guided meditations, and more!

Can you imagine reducing your pressure to perform, and actually experiencing joy?

Being able to love your life, rather than working so hard just to fit in?

Wouldn't it feel great to be able to neutralize the power of your inner critic, so you're no longer your own worst enemy, but actually become your own best friend?

What might you achieve if you were no longer limited by a fear of rejection or failure?

Isn't it time to replace rigid negative thoughts with positive core beliefs?

Can you imagine not passing your shame onto future generations?

Looking for a safe place to belong? Start here.

This level of support gives me 10 hours per week to write and/or podcast.
1 of 3
Become a patron to
Unlock 81 exclusive posts
Connect via private message
Recent posts by Steve Austin