Ali Ismail
is creating IFCWebServer & free to use BIM Services
Select a membership level
Basic
You're officially supporting IFCWebServer! Thank you!
You will gain a Patreon badge on supporter page on the server that will let everyone know you support us and will make you look cool!
Advanced
get access to advanced features like:
-  graph database function in the online viewer
- ready to use server scripts: IFC to COBie
- Additional storage
- priority for custom implementation 
- support per e-mail and online meetings

One time support
- get access to IFC to Neo4j converter
About Ali Ismail
IFC WebServer
is a free to use Open BIM data server and online viewer for Building Information Models (BIM) based on
IFC
standards.
IFCWebServer simplify sharing and exchanging of information from BIM models using open and standard formats like (IFC, generate reports, study the IFC data model and compare IFC official releases.
Easy
: Cloud BIM data model server with easy to use front end and one-click automatic workflows for advanced information querying and reporting task
Innovative
: Many innovative features like: (1) dual
graph
and SQL database management, (2) dynamic parsing to support any IFC release, (3) online viewer with unique features, (4) model comparison, (4) real online collaboration layer to share model views and (5) semantic enrichment of BIM models with domain information
Extendable
: Modular system architecture and full extensions possibilities for the core functions and front end
About the project: 
I started the development of IFCWebServer back in 2010 mainly out of frustration of missing software to access and analyse the information inside IFC models and since then I have been working on this project on my free time. At moment there are about 1900 registered users coming from +102 countries around the world.   
The project consists mainly of two parts:
(1) Data model server IFCWebServer
IFCWebServer enable 100% access to all information and relations inside IFC models. It supports all IFC official release starting with IFC2X_Final issued on 2001 to the latest release IFC4 Add 2 release issued on July 2016. Moreover, it supports any valid IFC sub schema or extended schema so it can be used by researchers and IFC developers .
The IFCWebServer can be used also in universities as an easy to use portal within BIM courses. Students can register and upload IFC models, explore the models structure, apply filters, create sub-models, generate reports, study the IFC data model and compare IFC official releases.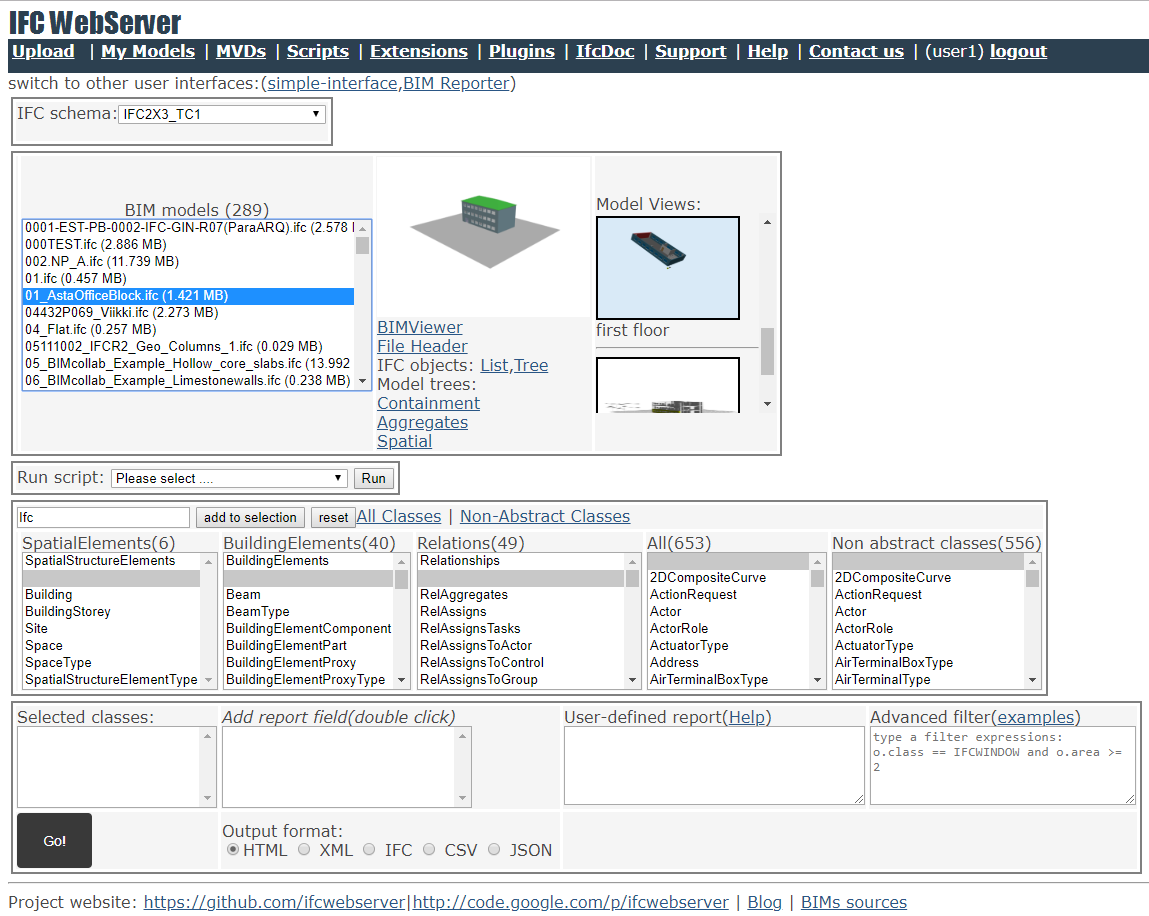 (2)
Online BIMViewer
Despite of having easy access to the information in BIM models as the main interest (through queries, filters, scripts and reports), the online 3D visualization offered by BIMViewer provide an handy way to view, share BIM models and visualize the results of data queries online inside the web browser.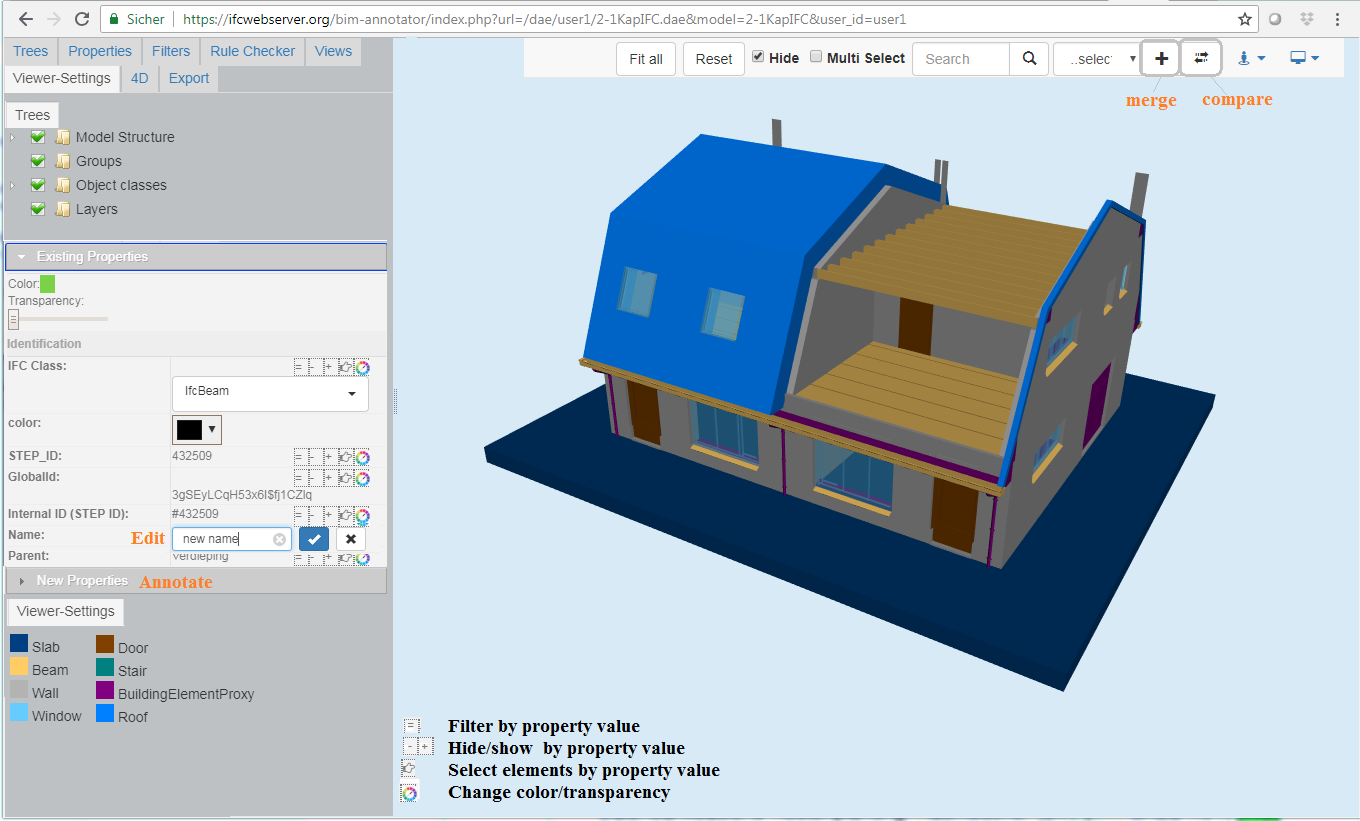 What I'll Use the Money For:
 Your contributions will be used to cover the following:
Hosting the server and keep it running for free use. The IFCWebserver is provided as a free service since 2011 and I pay the cost if hosting by myself. Recently I moved the server on a new host with high cost to ensure processing huge IFC models and have enough space for few hundreds of accounts. Your contributions will help me keep the server online and thriving. 
Developing new features: With your contributions you will help me to have more time to work on developing new features for the server and the BIM online viewer and offer you more free tools, which will help you to save time and money. I have already developed 350+ extensions and many plugins and server scripts to automate a lot of advanced tasks
Documentation and video tutorials: Due lack of time a full documentation is sill missing and this prevents a lot of users to explore a lot of features or to start writing server scripts to solve their problems and share them with others. Your contributions will give me the motivation to work on this issue and find time to write a detailed documentation and create professional video tutorials on youtube channel. 
Start writing a full documentation and introduction video on youtube
1 of 3
How it works
Get started in 2 minutes