Todd Crapper & Danielle DeLisle
is creating new content and original artwork for the Ironbound RPG
Select a membership level
Ironbound
As one of the Ironbound, you will gain these benefits;
A monthly Patreon-only post featuring a new draft of a section from either the Book of Iron or the Book of Resistance
Vote on new art pieces as they become unlocked
Access to drafts and works-in-progress
Machinist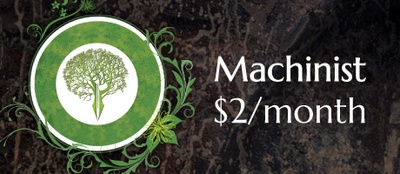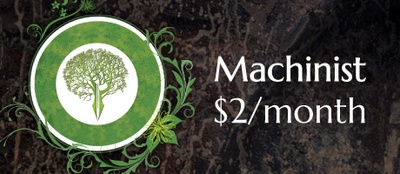 As one of the Machinists, you will gain these benefits;
A text-only version of IGON's corebooks, The Book of Iron and The Book of Resistance (accessed from Google Drive)
Access to monthly audio recordings of Dannie and Todd talking about IGON
Plus all previous rewards
Access to drafts and works-in-progress

Behind-the-scenes content
Scout
As one of our Scouts, you will gain these benefits;
An exclusive monthly IGON encounter/scenario for the Prequel & Harvest Phases (as written during the time of publication)
Plus all previous rewards
Access to drafts and works-in-progress

Behind-the-scenes content
About Todd Crapper & Danielle DeLisle
The peaceful witches of Novala lived in harmony with Nature before the Apothecary arrived with their machines. They tore up the soil and sickened the land. The Novallans saw no choice but to fight back to save their world. Now, it's magic versus machines and conservation versus consumption. It is time for the Ironbound to rise from the shadows and bring their fight to the enemy as the Guardians of Novala.
For over a year, we have been working on writing material for a dark fantasy RPG setting called
Ironbound: Guardians of Novala
... but finding existing stock art that best represents this world of witches vs machines and the people we created for our game simply doesn't exist. With your support, we'll be able to commission some amazing artists who will help bring our vision of Novala, its people, the Apothecary, and their dreadful machines to life as we prepare to move this project forward into the real world.
In exchange, we're offering patrons advanced access to our upcoming tabletop roleplaying game in both plain text and full layout, audio discussions, and your feedback to help us make this an RPG you'll want to play as your next go-to campaign. In addition to setting material, we'll also provide immediate access to some of the mechanics, archetypes, and more with a goal of providing all our patrons with an exclusive early copy of the
Ironbound: Guardians of Novala
RPG. Your support will help us expand our work with the visual art and feedback we need to create an accessible world to all gamers that places a positive and heroic presentation of witches in fantasy. 
What Is IGON? 
Ironbound: Guardians of Novala
(or IGON for short) is a tabletop roleplaying game setting created by Danielle DeLisle and Todd Crapper of witches battling giant machines. It presents a rich and complex setting where the peaceful witches of Novala are pitted against an invasive group known as the Apothecary who seek to exploit the land's magic-rich environment for their personal gain. It presents a fantasy world where Wiccan/Pagan beliefs and practicing witchcraft are the dominant culture rather than the standard Christian societies so prevalent in modern tabletop gaming. It creates exciting adventures of elemental spells hurled against destructive technology, while leaving room for players to explore the complexities and moral concerns of war.
Here's a summary of what IGON is all about:
Fifteen cycles ago, the Apothecary came in their mighty ships, and the peaceful witches of Novala embraced them with open arms and minds. The newcomers came in search of a new home after a natural catastrophe destroyed their birthplace. Unlike the Novallans, who lived in touch with nature and tapped into the magical energies residing deep within the Nature they worshipped, the Apothecary built massive, noisy, and powerful machines to do their bidding. Despite their differences, these two people found a way to communicate and co-exist. In time, the Apothecary formed their own communities and maintained embassies within the major Novallan settlements.

The settled areas remained unaware of the Apothecary's true intentions. But in the remote, wild regions home to rural witches, they began to observe invasive mining operations, secretive patrols of Apothecary troops with predatory machines, and some Novallans went missing. Then the Blight came; a dire sickness that poisoned the land and its people. Suspicion spread among rural Novallans leading to the discovery of the truth: the Apothecary were harnessing the natural ley lines running through the landscape to power their machines.

When the Apothecary responded with violence, the call came for the Novallans to fight back. So, warrior witches formed the first Ironbound covens; they banded together to use the magic of Novala against this severe threat. As these covens began to poke holes in their enemy's excuses and explanations, the Apothecary decided to do away with the niceties and struck back with fury. Now there is no question what they are up to, and whom they find expendable in their quest for energy. The war has begun.

Become a Novallan witch and join a special type of coven, known as Ironbound, and take the fight directly to the Apothecary at great physical, emotional, and spiritual risk. Use your witchyknowledge of herbs, gems, and magic to heal your world and bring back peace to Novala. You are the Ironbound and your people are in danger; the time has come to fight back!
What Will IGON Look Like? 
Our goal is to start with creating two corebooks to launch the full version of IGON. 
The Book of Iron (written by Danielle DeLisle) provides a completely in-character guide to Novala, its traditions, the role of magic in everyday life, the history and role of the Ironbound, and so much more. This corebook will be written for all Ironbound players to use during play and enjoy away from the table.
The Book of Resistance (written by Todd Crapper) teaches you how to create Ironbound characters and take the fight to the Apothecary in this guide to playing IGON. Complete with additional options and mechanics to customize your group's style, this book provides everything you need to play IGON.
We're currently in the midst of releasing the Prequel Phase of IGON through the Pip Worlds community content program created by Third Eye Games and the full version for the Harvest Phase will use our own version of the Pip System. 
You can check out the selection for this Phase on DrivethruRPG.com.
This Patreon will not go towards any work in this Prequel Phase; all money raised here will go towards helping us create artwork for the two corebooks of the Harvest Phase.
Click 
here
for a free PDF copy of
Casting the Circle
, a preview of IGON, available at DriveThruRPG.com.
You can also check out 
the Ironbound: Guardians of Novala page
on the Broken Ruler Games website.
The artwork you see on this page is by Tithi Luadthong, whose work is also featured in our Prequel Phase products mentioned above. You can see more of their amazing work at 
https://tithi-luadthong.pixels.com
Sales Tax Notice:
Depending on where you live, some patrons may have sales taxes added to their monthly pledge. If you have questions and want to confirm if where you live requires sales taxes, you should be able to find answers
here
. If you still have questions, the best place to get an answer is from Patreon's customer support team,
here
.
IGON Extended Patreon Video
For a more detailed breakdown of this page and our goals for IGON, please watch this extended video from Dannie and Todd. 
Become a patron to
Unlock 13 exclusive posts
Connect via private message
Recent posts by Todd Crapper & Danielle DeLisle
How it works
Get started in 2 minutes