Ilse de Ziah
is creating Cello Videos with Cello Sheet Music
Select a membership level
Pledge $1 or more per video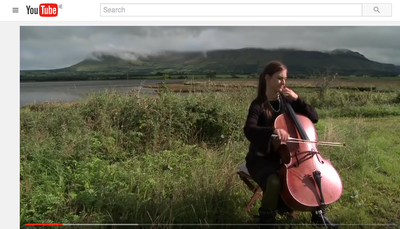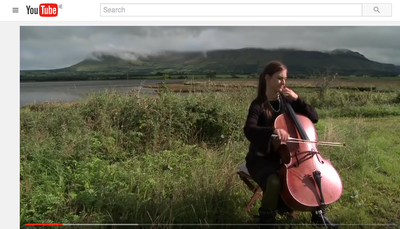 You enjoy the video and get an mp3 of the music. You feel good enjoying ultimate cello heaven and help support my work!
Pledge $5 or more per video
When I make an cello video you will receive the cello sheet music, beautifully scored with bowing and fingering, and you can ask advice about playing the piece, cello playing in general, get the mp3 and even get extra free pieces now and again!
About Ilse de Ziah
Hello Friends! Welcome to my Patreon page for my cello videos. I work freelance around Cork, Ireland, and sometimes around the world. My passion is for arranging and composing music for cello and particularly for solo cello. If you enjoy my videos and love the cello I hope you become a patron today!
About the Cello Videos
I live in Ireland and I am inspired by Irish music, film music, improvising and rocking out on the cello. I am on a quest to expand the solo cello repertoire by creating pieces that are satisfying to play and wonderful to listen to. I make videos of these pieces and post them to YouTube. Go and have a look to get an idea of what I do;
YouTube channel
. I have over 7000 subscribers who enjoy these videos. I am passionate about growing and developing my music, and aim to spend more time making arrangements and videos and gradually upgrade my production levels. Would you like to help me in this?
How your support makes a difference
I spend weeks making each arrangement and composition. I like to make creative, beautifully playable and harmonically satisfying pieces. I record a piece with Logic Pro and video myself recording it. So each piece is one take. A live recording with no drop ins, overdubs or miming. It is real music. It takes time to practice them and get a good take. I love releasing these pieces and the wonderful comments people make can really help me keep the energy and inspiration to carry on. The goal to produce at least one piece a month keeps me focused in my work and helps me to continue to make beautiful cello music. I aim to make music to inspire and to make people happy. If you like my videos, and pledge just €1 each time I make one, it helps me to spend more time on this project and helps me to produce higher quality products, eventually get a proper video camera. If you feel like you could help more, that's even more wonderful.
Are you a cellist?
If you are, you know this scene; someone gets excited that you play the cello and asks you to play... and you pull out the Bach solo suites. As powerful and great as they are, it's helpful and empowering to have something fresh to play. Something fun or popular but still juicy and substantial. Or a really sad and moving piece you can wallow in. A piece that sounds great and is a good workout on the cello. That's what got me motivated you make my own solo music. I wanted to be able to play concerts with pieces outside the usual repertoire.
this is how you benefit...
When you pledge €5 or more each time I release a video, you get the sheet music for the piece. I also send you the mp3. This will help build your new repertoire of pieces to play in concert, for friends, or just when you want to play something enjoyable.
When you pledge €5, you can also ask me to make an arrangement of something you love and if it works on cello it will go on my list. I can also give you advice on playing any of the pieces and let you know of any sales going on at my online store
Play Cello Music
When you pledge €1 you see the video and get the mp3 too, and maybe get a warm feeling inside that you supported someone who is dedicated to share really beautiful music on the ultimate instrument!
Patreon charges and rewards

Patreon lets you become a patron of a creator on your own terms. You can pledge any amount you like, for as long as you like. You're charged once per video, at the end of the month. On average I will make one video a month, now and again two. You can limit how much you pay per month. You can change your pledge at any time. Patreon is designed to be a long-term way to support the creators you love.
An example of one of my compositions;
A sample of this popular arrangement;
An example of the presentation of my arrangements. Always clearly engraved and of the highest professional standard.
"The typesetting is gorgeous, and the music is all there for you with bowings, fingerings, ornaments, grace notes, and phrase markings." playcellomusic customer
Thank you so much for your support, and I'd love if you "Come and join me on a cello journey!"
$99.71 of $2,000
per Video Relase
$2000 a month would so help to give me more time and focus on arranging and composing.
1 of 1
By becoming a patron, you'll instantly unlock access to 53 exclusive posts
By becoming a patron, you'll instantly unlock access to 53 exclusive posts
Recent posts by Ilse de Ziah
How it works
Get started in 2 minutes