Indrid Casts
is creating gaming videos and casts
Select a membership level
Dire Avenger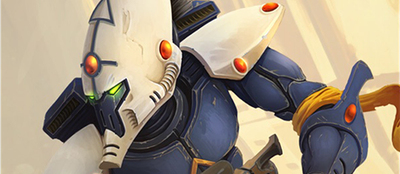 Thank you for the support! You walk the Path of the Warrior. Get access to Dawn of War 2 casts (at least) 24 hours early.
Warboss
Thank you for the awesome support! You iz da biggest 'ere! Get access to Dawn of War 2 casts (at least) 24 hours early, and your name will be at the end of every video as a contributor.
About
Hey people, Michael here. Or as you may have known me for the last eight years, Indrid!
In that time, I have cast over 1,000 Dawn of War 2 matches with other game coverage thrown in here and there. It's been quite a ride! As we all do, I started very small, hosting the casts myself to get around YouTube's 15-minute video limit before eventually finding a home with a YouTube channel.
I am incredibly grateful for the support I've received on YouTube over the years. Despite covering an aging, niche game, which spawned a disappointing sequel, people have kept watching. The channel has long since grown beyond my wildest of dreams and I hope to continue talking through replays and covering games for as long as possible.
What will the money be used for?

Living! I have become reliant on the income I receive from YouTube and as anyone with a small channel will tell you, with the limitations, fees, and trends, earnings are meager, sporadic, and volatile. Any pledges received will help support me in the most general but important sense. It would help me devote more time to the channel, allowing me to be more consistent with uploads, organise more special matches, and finally develop ideas for more and varied content.

The future of the channel


I aim to cover Dawn of War 2 as long as I can, but that is reliant on the awesome Elite Mod being maintained. Unfortunately, that is entirely beyond my control. It is also reliant on good replays coming through, which, thanks to a passionate Elite Mod player base, has been quite steady so far. I'm always looking for more, so don't be shy. Send in your replays early and often!
Casting other games is also a possibility in the near future. Dawn of War 1 is a strong option as it still seems to be quite active with mods. As for Dawn of War 3, with official support ending, covering that again seems unlikely unless a big mod is released and maintained.
Hopefully, other RTS games will hit and be good candidates for coverage, with my eyes on the very promising Iron Harvest. If you have suggestions, feel free to send them in.
Other than casts, I will also continue to dip into other games I enjoy with Let's Play series' here and there. Again, if there's something you want to see me play, suggest it!
Rewards
Patrons will be able to unlock early access to casts, their name in post video credits, and invitations to Elite Mod lobbies.  There will not be any video content behind a paywall.
By becoming a patron, you'll instantly unlock access to 480 exclusive posts
By becoming a patron, you'll instantly unlock access to 480 exclusive posts
Recent posts by Indrid Casts