Lis Mentyka
is creating Serialized Fiction
Select a membership level
Curious Bystanders
Don't have a lot of extra cash lying around, but you still want to help me write full-time? Seriously, thank you for your love and support! It means the world to me!

Bystanders will receive:
-My Eternal Gratitude
-Access to the Patrons-Only Forum
-Monthly Entrance into the Innsmouth Nightingale prize raffle! Once a month, one lucky patron will receive a special personalized gift!
Citizens
Thank you so much for supporting the town of Lake Bakade enough to move there! 
Citizens of our fair town will receive the above rewards, plus:
-Early Access to Online Chapters
-A Monthly Photo of Brynjolf and/or Katniss, the town mascots.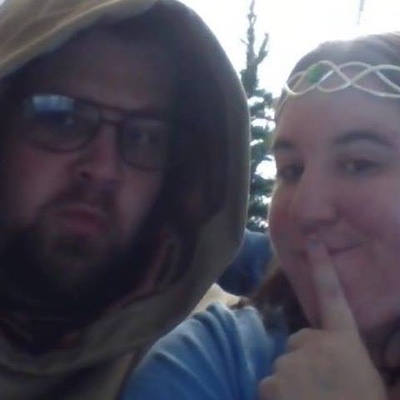 Coven Members
Want to get a little bit magical? Join one of Lake Bakade's local covens...if you dare. Members at this tier will receive all prior tier rewards.

Coven Members also receive: 
-A personal note from Lis every month.
About Lis Mentyka
Hello! I'm Lis Mentyka, and thank you so much for checking out my Patreon! I'm the author of Songs of an Innsmouth Nightingale, a blog where I offer a glimpse into the secrets both man-made and paranormal that shroud the town of Lake Bakade, a fictionalized Northern Michigan community.  Songs of an Innsmouth Nightingale is a series of entirely free-to-read short stories based around the history of this eerie community and the families and secretive organizations who inhabit it.

What am I writing, and why?

It was always my dream to write for a living, but until recently, I was content writing novels and short stories in my free time while focusing on a more stable line of work. Two months ago, however, I found my life uprooted when I was let go from what had appeared to be a safe and secure position. I went from providing the main source of income for my family to being unemployed, without healthcare, and without a safety net. It seemed that I was at a crossroads. I could look for another day job, or I could take a leap of faith and finally dedicate myself to writing full time. So, I did the crazy thing and decided it was time to follow my dreams.

My goal is to eventually publish a series of novels set in Lake Bakade, Michigan, a lakeside tourist town with a troubled past rooted in regional folklore and conspiracy. Each nearby village has its secrets. Each wild place hides its own strange history known only to those who dare to venture within. And behind every wall lurks powerful forces, both human and inhuman, who seek to spread their influence.

These stories are important to me because they are a love story to my roots, to the town I grew up in, and to the people who have shaped me into the woman I am today. I have drawn on stories and experiences of my childhood, as well as the beautiful and sometimes unpredictably dangerous wilderness that I spent my early life exploring. To me, this is the best way I have to give back to the strange and enchantingly beautiful place that I carry in my heart no matter how far from home I settle.  

Why free serialized fiction?

Songs of an Innsmouth Nightingale is my first attempt to bring these stories to life in the form of serialized short fiction. It has been my goal from the beginning to release these short stories for everyone to enjoy, not unlike a webcomic. I've chosen to do things this way for a number of reasons, but primarily because I want to give back to the writers and creators of the internet who have encouraged and helped me over the years. I want to share my work with everyone I can, because I truly believe that art is one of the things that binds us together as people. There are no writers without readers, just as there are no readers without writers. We need each other, you and I, and I would be thrilled and honored to share this journey with you no matter your situation.

Of course, the choice to make my work free-to-read means that I need to find a way to support myself, and that's where this Patreon comes in. While I will be taking contract work and other part-time employment to help support my family while I launch my writing career, every dollar you donate will make the transition easier on my husband and myself and help keep a roof over our heads. Most importantly, it will help keep our two cats in cat food, which they would certainly thank you for if they cared about anything besides napping in the sun and yelling loudly at me while I try to work (looking at you, Brynjolf...). 

Why do I need your support?

Writing's a tough and unpredictable gig, and I'm not going into it expecting to make a lot of money. That being said, I am trying to be responsible about pursuing my dreams while not forcing my dear, beloved husband to carry the full financial burden of our household. I'm working the gigs I can get, but that's not exactly a dependable source of income. Even a stable $500 a month would help us move into a better apartment closer to Pittsburgh and have a real shot at starting our family in a decent position. To work on the blog and my other writing projects full-time, I'd need to bring in at least $1300 a month (which was about what I was making at my old job). Anything would help, though, and I'm grateful for whatever help you can provide!

So what can you, a hopeful patron, expect from me?

I firmly believe that the best thing a writer can offer their readers is community. I have always treasured interaction with my readers, and want to maintain a personal connection to those who appreciate my work. With that in mind, I want to offer my patrons access to an exclusive forum that I will frequently (possibly too frequently) participate in. I also want to create monthly videos for patrons answering questions and giving you a look behind the scenes. You deserve to see how your money is being spent, after all!

I also want to make shirts and other physical items available for purchase as the Lake Bakade stories release. Some patron levels will receive discounts on these items, while others will receive exclusive, patron-only merchandise as a thank you for their generous support. But regardless of whether you can afford a dollar a month or a hundred dollars a month, know that I love and appreciate you.

Thank you for believing in me and the stories I have to tell. Thank you for supporting my vision. And most of all, thank you for being there for me and for each other as a community. Here's to a long and fruitful relationship!

-Lis Mentyka

With your generous support, I'll be able to cut back on contract work and have more time for my own writing! At $500 a month, I'll be able to increase my uploads to twice a week!
1 of 6
Recent posts by Lis Mentyka