Iraqis in Pajamas
is creating Music
Select a membership level
Exclusive Access to New Lyrics
Fan-only community with access to exclusive blog posts
Access to lyrics for one new song each week
Access to photo of the original, handwritten version of that song, in Loolwa's journal
Spoken Word Performance
Weekly video of Loolwa performing a spoken word rendition of the new song
And everything in the previous tier
Singing + Storytelling Performance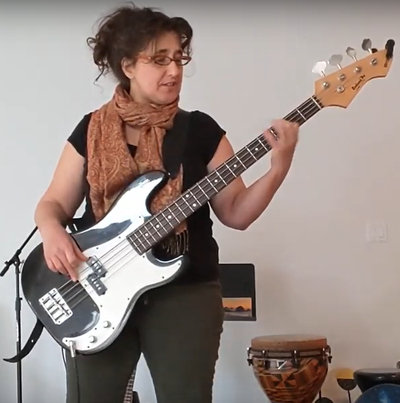 Weekly video of Loolwa performing the new song on vocals and bass
Weekly video of Loolwa telling the story behind that song
And everything in the previous tiers
About
Seattle band 
Iraqis in Pajamas
belts out tunes in Judeo-Arabic, Hebrew, and English, fusing ancient Iraqi Jewish prayers with original punk rock and personal storytelling - effectively disarming audiences and engaging in heart-centered conversation about our shared humanity. In turn vulnerable and angry, haunting and inspiring, the band catalyzes deep contemplation about trauma, healing, and transformation – whether regarding domestic violence, cancer, mental illness, racism, street harassment, family caregiving, national exile, or some other form of wounding and struggle. Whatever our particular issue, how can we express our rage, our pain, our despair, without getting stuck in it? Better yet, how can we use those energies, channeling them for our own personal transformation and that of the world around us?
MISSION
Iraqis in Pajamas promotes healing and transformation, through the medicinal powers of storytelling, prayer, and song – inspiring people think deeply about our lives, our shared humanity, and our individual and collective power to effect positive change, whether in our bodies, our families, or our world. As part of doing so, we showcase ancient Iraqi Jewish heritage and its 21st century application – grounding listeners in tradition, while engaging them on contemporary issues. We additionally seek to collaborate with artists, educators, activists, nonprofit organizations, social entrepreneurs, and wellness professionals in alignment with our mission and message, thereby amplifying our impact.
Society often indulges an oppositional attitude – such as by treating Arabs and Jews as mortal enemies, and by waging a "war on cancer." Through catchy and accessible songs about front woman Loolwa Khazzoom's life (Loolwa being, among other things, an Iraqi Jew who has approached cancer as an opportunity for healing and transformation), Iraqis in Pajamas challenges this orientation and offers an alternative paradigm – highlighting and weaving together the shared threads, complexities, and nuances of the human experience, and revealing the healing portal and transformative power of music.
Because these songs integrate ancient Iraqi Jewish prayers, the band not only revives a 2,600 year old tradition that is on the verge of extinction, but it also raises awareness of the racial and ethnic diversity of the Jewish people, and the inter-connectedness between Jewish and non-Jewish communities across the globe. Amidst a wave of hate crimes against Jews, in the USA and worldwide, it is essential to offer this kind of positive, constructive, and intimate model of shared experience and relationship-building, in particular, through heart-centered music and conversation.
SAMPLE ENDORSEMENTS
As Grammy-award-winning violinist Lara Lavi says about the band, "Iraqis in Pajamas bring deeply personal truth through song and lyric and make us think through our own human reaction, through their profound and often cathartic performances." Event organizer Katie Rudman adds that hearing the band live "is like being struck by a thunderbolt. [Their] music will crack you open and get under your skin in the best way. [Their] lyrics are raw and visceral, combining prayer with deeply personal truth." Event organizer Stefanie Brendler concurs that a live performance "emotes an unencumbered power of grief, rage, and delight, through song and storytelling."
BAND FOUNDER
Iraqis in Pajamas founder, singer, songwriter, and bass player Loolwa Khazzoom pioneered the Jewish multicultural movement, from 1990-2010. As part of this work, she presented at prestigious venues including Barnard Center for Research on Women, the Simon Wiesenthal Center, and Harvard University; she published Jewish multicultural articles in top media including The Washington Post, Marie Claire, and Rolling Stone; and she published The Flying Camel: Essays on Identity by Women of North African and Middle Eastern Jewish Heritage – which was endorsed by professors at Harvard, Yale, Princeton, and other prestigious universities, which received positive reviews in media ranging from The San Francisco Chronicle to The Jerusalem Post, and which since has been taught throughout the Ivy League and at universities nationwide.
Loolwa additionally has been a feminist activist, speaker, and women's self-defense instructor, a holistic health coach and founder of the Dancing with Pain® method for natural pain relief, a patient advocate and family caregiver, an advocate for youth and the homeless, a freelance journalist, and a public relations manager. Her work has been featured in top media including The New York Times, ABC News, andthe Johnson & Johnson Health Channel; she has placed clients in top media including Dr. Oz, Fortune, and CNN; she is the author of Consequence: Beyond Resisting Rape, which received positive reviews from indie and mainstream media, ranging from Bitch to SF Weekly and which is taught at universities throughout the country; and she has worked in various capacities with VIPs ranging from medical celebrities like Mehmet Oz MD and Andrew Weil MD to musical celebrities including Matisyahu and Miri Ben Ari.
Here is an example of Loolwa's leading and teaching style:
In this video
, she is leading an Iraqi habdallah service and teaching two songs. This November 16, 2019 event in Seattle was a fundraiser for immigrant bonds, organized by the Jewish Coalition for Immigrant Justice NW.
Recent posts by Iraqis in Pajamas