Helen M. Waters
is creating Illustrations
Select a membership level
Warm Fuzzie Level
Thank you thank you thank you thank you! You have my immense gratitude, plus warm fuzzies from Sprout!
Keeping in Touch Level
Along with my immense gratitude and warm fuzzies from Sprout, you will get access to my Patreon-only posts, including first looks at all my drawings, sketches, and works in progress as well as any exciting and breaking news!
Let's Learn More Level
Along with my immense gratitude, warm fuzzies from Sprout, and access to my Patreon-only posts, you will get first word of new product releases!
PLUS:
At this level, you will also get to participate in periodic Q&A sessions, both posts and video hangouts, where I'll share some of my work and creative processes, and just have fun.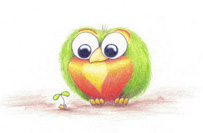 About Helen M. Waters
Hi! Thanks for stopping by! My name is Helen M. Waters (the "M" being very important) and I create illustrations. All kinds, black/white and color, for children's books, greeting cards, poems, and anything I can think of.
I've been drawing since I can remember, when and wherever I could, and over the years developed several different styles. One of them was spawned from doodles in my school notebook margins, and grew into greeting card designs like these:
Then I started doing a few cartoons for websites and greeting cards:
Then one day a persistent little fellow popped into my head and refused to leave until I drew him down on paper. His name is
Sprout
, and here he is as he first appeared: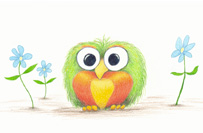 As you can see, I have a LOT of varied projects going, and this is where the Patreon site comes in.  Patreon is set up so that you can make a monthly contribution to support an artist whose work you like. For me, Sprout has a whole world that I want to discover, I have a couple of children's books in the works, new greeting card designs, and I need more time!  Your support will help me dig in and get my projects moving.
I have so much in store for my patrons! You'll get a first look at everything - works in progress, ideas, sketches, stories and more - before they go on any website or public forum, PLUS some great rewards and opportunities for us to interact. I'm very excited to share everything I do, - I'll be uploading new stuff at least every week, more if I can. Your appreciation of my work means the world to me, and your support would too. THANK YOU!
This goal would go a very long way to helping pay for drawing supplies, marketing work and product development. It's a first step toward a dream of making my work more widely available, and more than just a hobby.
1 of 2
Recent posts by Helen M. Waters
By becoming a patron, you'll instantly unlock access to 143 exclusive posts
By becoming a patron, you'll instantly unlock access to 143 exclusive posts