Hello! I'm Iza Bułeczka - a Berlin-based fine artist and illustrator. I love drawing bold women in a very geometric way

to make you feel inspired, empowered and self-confident

. I would briefly describe what I do as classy&sassy.
Here is a sample: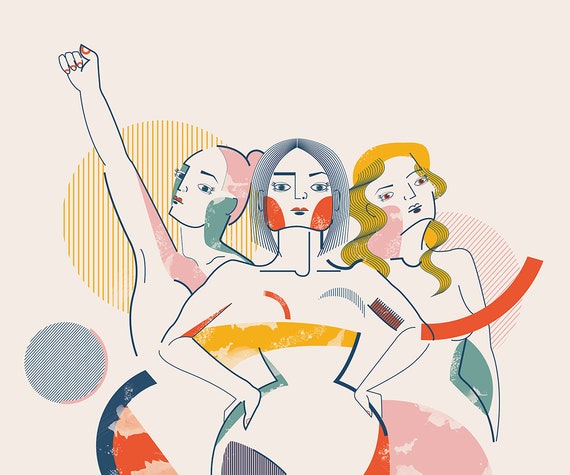 I'm joining Patreon because first of all I would love to interact more with you, update my social media more often with some really great content and spread girl power and female beauty all over the world.
I will continue to bring you nothing but the absolute best content and quality work.
If you're concerned about going over your budget, please consider supporting me with 1 dollar a month- yes, it does make a huge difference for me. I never want you to go beyond your means, and I appreciate every one of you regardless!
Your support allows me to be focused on creating new illustrations and coming up with more projects and ideas for you to enjoy (zines, t-shirts, drawing dates etc). Your pledges help me buy art supplies, pay my bills, pay for the software I use for drawing, but most importantly, they give me the mental space to focus on bigger and better projects, while having fun and hanging out with you more often.
If you like my work and you'd like to support me, choose one of the pledges (even 1 dollar makes a big difference for me!) and select some cool perks like sketchbook tours, live Q&A sessions, eary access to new illustrations and so on.
And don't worry you can
start, edit or cancel your pledge any time you want
. I appreciate so much any support you're willing to give, so that I can just keep on doodling for you. Check out my work on 
instagram
, 
facebook
and
my website
. I also send monthly newsletters- 
sign up
!
Do I have to pay in US Dollars?
NO - Pay in any currency! As this is US based website, everything is written in Dollars, but you can use any currency and it will be automatically converted.
I don't have much money, can I still become a Patron?
Yes, please only sign up to donate what you can easily afford. Even $1 per month adds up, and is greatly appreciated! :)

Can I stop donating in the future if I can't afford it?
Yes of course! You can log in to change or cancel your pledge whenever you want.
I'm still confused. Can you help me?
Absolutely! If you have questions about using Patreon, or encounter any problems with the signup process, the Patreon support team is really friendly and helpful! You can send them a message by 
clicking here
. If you have questions specifically about my page or rewards, my music, or just want to say hi, you can send me a message directly that only I answer the second you become a Patron!