Jameela F. Dallis
is creating magic through tarot, writing, art, research, & radical workshops
Select a membership level
Abundance: Three of Cups
You'll have access to my patron-only feed including work-in-progress updates.
THANK YOU!
The Hierophant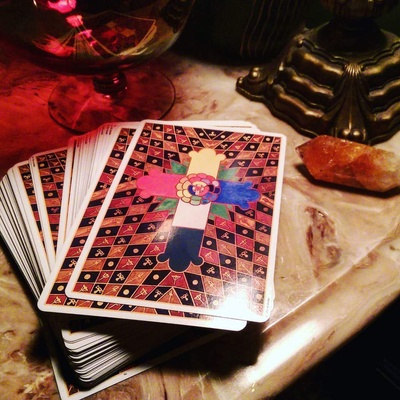 You'll receive all benefits of the Abundance tier.
You'll receive my monthly digital postcard with updates and artwork inspired by tarot, my travels, and poetry.
THANK YOU!
The Hermit
So, you'd like to support me, but you're not interested in receiving things in the mail. With this tier, you can select to pledge $9 or more per month. You'll have the benefits of Abundance and The Hierophant.
THANK YOU!
About
I'm an intuitive visionary who loves, writes, reads, listens, speaks, moves, connects, and creates.
I've been reading tarot for myself and others since 2001. Maybe I've read for you at 
Arcana
or a friend's birthday party? Since before I can remember, I've been creating visual art and dreaming up poems and stories and possibilities. I've been practicing yoga with the 
same teachers
for a decade (I completed their yoga teacher training in 2018) and can remember figuring out triangle pose as an angsty preteen. I've written academic book chapters, presented papers at professional scholarly conferences, and developed courses and taught hundreds of university students since 2009. I'm also a jewelry designer, astrology lover, and I am passionate about art, travel, salt, noodles, and red wine varieties. I do and love a lot of things.
I am declaring that I am ready to do the work I am meant to do.
Launching a Patreon is evidence that I believe in myself, community, and what's possible. My dream is to do intuitive and creative work full-time at some point in my life, and this platform is a beginning. I am asking for your support to set things in motion and maintain the momentum.
I am brimming with art and writing and joy that I want to bring into this world, but I need the time, creative mental space, and financial security to do so.
As support grows, I'll expand and modify rewards and ask you all for input about what you'd like to know or receive from me. In the beginning, expect work-in-progress updates, excerpts (e.g., poems, non-fiction) from completed works, and other surprises.
Want to make a one-time or occasional donation(s)?
Here's me via
CashApp
($jameeladallis) or find me on Venmo @jameeladallis and
THANK YOU!

Here are some of the things I am asking you to help me complete, create, and maintain through your support: 
a poetry manuscript in which enslaved people and their descendants tell their stories
a hybrid academic and poetic manuscript about haunting and its complexities
lyric essays about tarot, love, color, and creativity
poems and nonfiction work about surviving intimate partner violence
a black history month illustrated coloring card series
a women's history month illustrated coloring card series
my tarot deck
a poetry-inspired oracle
radical love, tarot, and yoga workshops
supplies for various art exhibitions
research travel for writing projects
professional and creative development (e.g., lost wax casting, soldering)
collaborative projects with local artists, dancers, and dreamers
Some of the most effective healing modalities for me are based in bodywork, so your patronage also supports:
1-2 acupuncture sessions per month (I've been going to the same practice for a decade)
one massage per month (as of my initial launch, I've never had a professional massage!)
one yoga class per week

Do any or all of those things sound like things you'd want to support?
BECOME A PATRON TODAY! 


Want to know more about me?
My sun is in Aries, my moon in Cancer, and my rising in Libra. My PhD is in English. I love Gothic literature by writers like Toni Morrison, Jean Rhys, Angela Carter, and Djuna Barnes. Audre Lorde, Natasha Trethewey, and Maya Angelou provide me with vital life advice. Frida Kahlo, David Bowie, Kerry James Marshall, Joan Mitchell, Helen Frankenthaler, Lina Iris Viktor, Barkley Hendricks, Gustav Klimt, and Carrie Mae Weems are some of my favorite artists.
I'm committed to living a life of freedom and adventure--a life that my benevolent ancestors and departed loved ones celebrate.
You can also check out 
my website
and my 
instagram
to get a better idea of who I am.
What I've created (last update 4/5/19):Scholarly publications:
"Through the Eyes of the Monster: Angela Carter's 'The Lady of the House of Love.'" Monsters and Monstrosity from the Fin de Siècle to the Millennium. Eds. Rebecca A. Brown and Sharla Hutchison. Jefferson, NC: McFarland, 2015. pp. 92-110.
"'Life Refusing to End': The Transformative Gothic in Shani Mootoo's Cereus Blooms at Night." Undead Souths: The Gothic and Beyond in Southern Literature and Culture. Eds. Eric Gary Anderson, Taylor Hagood, and Daniel Cross Turner. Baton Rouge, LA: LSU Press, 2015. pp. 224-235.
As a writer for Indy Week:
Click
here
for a continuously updated list.
Art exhibitions:Works in progress:
Haunting Narratives: Deadly Love and the Transformative Gothic in Women's Literature
. 
Full-length poetry manuscript
Two academic/long-form essays
Works under review:
Five poems about mourning, history
Princess of Swords
 (a poetry chapbook)
Full CV available at my website: 
jameeladallis.com


Photo credit:
Special thanks to Derrick Beasley for the black and white banner and High Priestess tier photo, my profile image, and the photo used for The Empress tier. See his work on instagram @brobeas and
http://derrickbeasley.art/derrick
. Beasley retains his photo rights.
All other photo, image, and text rights belong to me, Jameela F. Dallis.
$200 pays for one acupuncture session, one massage per month, and two yoga classes per month. Thank you!

1 of 3
By becoming a patron, you'll instantly unlock access to 67 exclusive posts
By becoming a patron, you'll instantly unlock access to 67 exclusive posts
Recent posts by Jameela F. Dallis