J.D. Barker
is creating Fiction
Select a membership level
Pledge $1 or more per month
Thank you! You will receive digital downloads of all items posted including short stories, chapters of future novels, and other unreleased material.
Pledge $3 or more per month
3x the thank you! You will receive digital downloads of all items posted including short stories, chapters of future novels, and other unreleased material.
Pledge $5 or more per month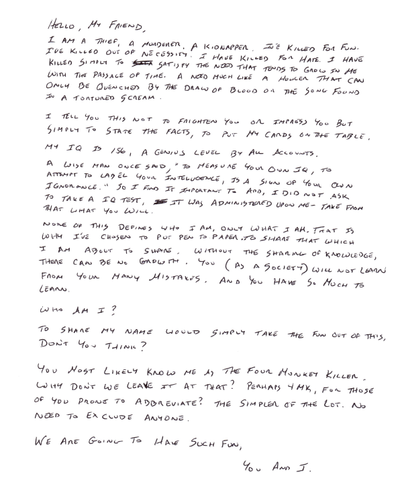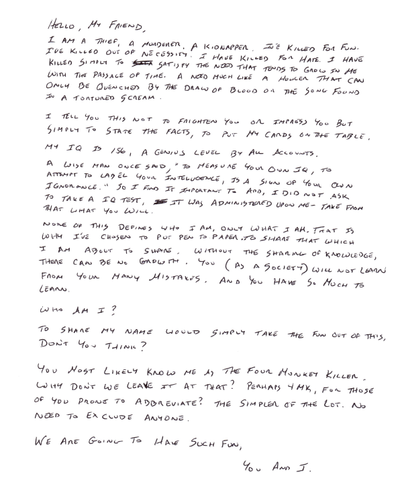 Here's where things get interesting. You'll receive everything from previous tiers plus a handwritten letter from 4MK - the serial killer featured in the novel THE FOURTH MONKEY! (Physical mail in US, email copy worldwide.)
About J.D. Barker
International best selling author Jeffery Deaver called me, "A talented writer with a delightfully devious mind!"

I'm a lucky guy. After writing my debut novel in 2014 (FORSAKEN), Stephen King read portions of it prior to publication and was kind enough to allow me to use one of his characters in the story (Leland Gaunt of NEEDFUL THINGS). I'm not aware of him ever doing this for someone else - there simply aren't enough thank-yous for something like that. Although indie-published, the novel went on to hit some major milestones - #2 on Audible (I got stuck behind Harper Lee who wasn't about to give up the #1 slot), #44 on Amazon US, #2 on Amazon CA, and #22 on Amazon UK. FORSAKEN was also nominated for a Bram Stoker Award (Best Debut Novel) and won a handful of others including a New Apple Medalist Honors Award. After reading FORSAKEN, Bram Stoker's family reached out to me and asked if I'd be interested in co-authoring a prequel to Dracula based on Bram's original notes. Of course, I said yes! Titled DRACUL, the book sold at auction to Putnam (publication fall 2018) and Paramount scooped up the film rights with Andy Muschetti (Mama, IT) attached to direct.

My debut thriller, THE FOURTH MONKEY, sold in a series of pre-empts and auctions worldwide and was published by HMH here in the states 6/2017, HarperCollins HQ in the UK, and a series of others throughout the world. It's about a serial killer in Chicago but with a major twist - the killer dies in the first chapter, hours after kidnapping his latest victim, and the police have to race the clock to try and find her based on the handful of evidence the killer left behind. He also taunts the police and readers from the grave with a diary weaved within the tale detailing just how he became a killer in the first place. It's a fast, suspense-filled thriller geared toward mass market which has earned comparisons to Dexter, Se7en, and The Silence of the Lambs. THE FOURTH MONKEY was recently optioned for film and television by CBS.

The sequel to THE FOURTH MONKEY, titled THE FIFTH TO DIE published in July 2018 (HMH, HarperCollins HQ, others). The final book in the 4MK series, THE SIXTH WICKED CHILD, is due out in the fall. I'm currently co-authoring a novel with James Patterson and have several other books scheduled for release in the coming years.

I spent the bulk of my adult life working as a ghost-writer and book doctor, helping others get published. That experience allowed me to learn what works and what doesn't before venturing out on my own. As a writer, I walk the line between suspense and thrillers with all efforts geared toward the largest possible audience.

At this point, you're probably wondering, "What is this guy doing here?" The truth is, I've been a fan of Patreon since they launched. I've successfully published both as an indie and traditionally, I've never been afraid to try new things, and to me, Patreon offers a unique avenue for my scribblings to find an audience. I absolutely love the idea of being able to share short stories, novels, or unpublished works with a group like this before those things make it out into the real world.

There's another reason, though, too. One close to my heart. I want to help aspiring authors find a path to publication. A number of well-known authors have helped me pull a career together and I want to return the favor by mentoring as many new authors as possible. Whether it's marketing, fine-tuning a query letter, or polishing a novel, I've been there, done that, and I want to share what I've learned. By all accounts, I've had a crazy career and I'm just getting started. The truth is, very little of the above happened by accident. If you can write a good book, I can teach you to take it to the next level.

What's right for you?

As you view my various tiers, you'll find I have some geared toward the fan who just wants a sneak-peek and others specific to aspiring authors who need a little help and guidance. Regardless of which tier you choose, I can't wait to get to know you!

By becoming a patron, you'll instantly unlock access to 3 exclusive posts
By becoming a patron, you'll instantly unlock access to 3 exclusive posts
Recent posts by J.D. Barker
How it works
Get started in 2 minutes