What brought you to Patreon?
I need to buy steak!!! JK JK 
Cosplay is what I enjoy the most! I love bringing my beloved characters to the 3D world! So Patreon will be an opportunity for you to support me and help me cosplay more often! All of you who decide to be my Patrons will be helping me create content faster and give me the opportunity to share my cosplay work with all of you! //wags tail V●ᴥ●V

How do I get my Patron rewards?
If you become a Patron, you will be billed once a month on the first day of the next month. Digital rewards will be sent out when the payments are confirmed and physical rewards will be mailed as soon as they are ready, which is usually the 5th unless something bad happens! /barks barks

How do rewards work?
You get the rewards for the tier you signed up in that month and that month only. Photo sets will be different for every month. You can only get the one for the month you pledged for. The polaroids will be sent on the 5th or earlier of the month. Polaroids will be also signed! //presses paw against photo. If there is something that is not clear and you have any question feel free to email me at

[email protected]

 

How does King WanWan tier work?


Basically I will send photos of the cosplays I could shoot on the month you pledge. You pick which one you like the best and I will make you a unique and personalized polaroid set only available to you. You will also receive a print every month of the character you pick. You can also get a little video of me wearing the cosplay you chose. Of course you will also get all the digital rewards that my other tiers receive.






You can also just send Donations if you don't feel like joining as a Patron!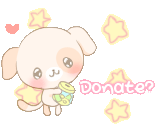 THANK YOU SO MUCH TO EVERYONE WHO DECIDES TO SUPPORT ME! ❤ (ɔˆз(ˆ⌣ˆc)