Jeff & Paige
is creating science & nature music, activities, & explorations for kids.
Select a membership level
Get Outdoors Explorers
Jeff & Paige are creating science & nature-based music, activities, and explorations for kids.
Why join?
It's not passive, it's
active
. It's
hands-on
. It's
inter
active. It's
real live people
doing real things. It's
inspirational
. It's place-based and age-appropriate. It's educational entertainment
you
can feel good about!
For those who have a little to give right now we're offering this super low cost option that is sure to please!
We want to be able to hang out with everyone in our community, meet new people, and support you with exciting engagements to get kids outside and active.
This tier is great if you're looking for a way to test drive some of our content or want to get a taste of what our educational livestreams are like.
With this tier you'll get:
An opportunity to connect and learn LIVE with us once a month during a patron-only livestream science lesson! 
One pre-recorded Jeff and Paige hands-on activity, science experiment, or craft each month.
The ability to download one printable activity each month
Emails whenever new member's content is posted.
Access to all of our Get Outdoors Explorer archives: lessons, activities, science experiments, and of course music!
Triple Rainbow Hiker
Want a little more Jeff & Paige? If you're looking for a few on-demand activities and a couple of livestreams every month, then this is the perfect tier for you!
Our content is all about inspiring kids to fall in love with science and nature. Use it to have some family fun, as educational entertainment that you can feel good about, or as extracurricular activities to boost your child's learning.
This level gives you all the benefits of our Get Outdoors Explorer tier.
Plus these additional benefits:
Connect with Jeff and Paige during live science lessons. Twice a month livestreams just for patrons. (Mondays at 4pm OR 10:30am ) Can't make the time that day? Watch the replay anytime!
One prerecorded video each week with a hands on activity, science experiment or game to explore. 
An activity each month that you can download and print.
Sneak peeks and previews of new music and developments.
The opportunity for your kids to communicate with Jeff and Paige and to send in their "work." This might be drawings to decorate Marty the Troll's habitat, videos you send us, or picture of drawings that we include in our kids digital art galleries. We want to make them feel special and connected!

A personal shout-out once a month in a Jeff and Paige thank you video!
A digital copy of our latest album.
Energy Superhero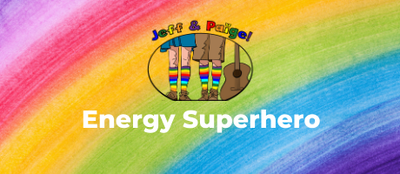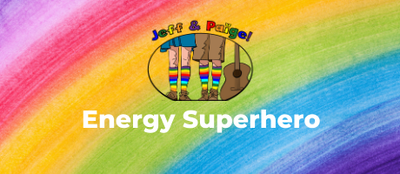 Become a 21st Century Energy Superhero! This is is the ultimate Jeff & Paige science and nature experience.
Perhaps the best thing about this tier is the opportunity to
interact with Jeff and Paige live (virtually) each week. 
Explore nature, science, and other Energy Superhero topics from the comfort of your home, delivered right to your inbox! All of our offerings encourage hands-on engagement and interaction.
This membership tier is a great option for parents looking to supplement your child's learning with more activities and explorations! Our content helps reinforce science and nature concepts taught in elementary level core curriculum. 
This tier gives you all the benefits of our Get Outdoors Explorer and Triple Rainbow Supporter Tiers. 
Plus these additional benefits:
WEEKLY Patron only livestreams with Jeff and Paige! Every Monday (10am OR 4pm).
Twice weekly educational hands-on activities, science experiments, crafts, and games to do at home (or with friends!).
Step by step videos to show you lessons in a fun and entertaining way.
Printable resources you can use at home or in the classroom.
A chance to be invited "in" to a livestream to dialogue with us and tell us about your world. Each week we'll pick a different Energy Superhero to join us live and answer 3 silly questions (with parent's permission of course!) during our News and Nature segment.
Voting power to shape future content and tell us what you want!
A 15% off coupon for our online store as a welcome gift!
Be entered into a drawing to attend small in-person events when we have them! (For local Coloradans).
About Jeff & Paige
Jeff & Paige are creating science & nature-based music, activities, and explorations for kids.

Why join?
It's not passive, it's active. It's hands on. It's interactive. It's real live people doing real things. It's inspirational. It's place-based and age appropriate. It's educational entertainment you can feel good about!!

It's reliable...Jeff and Paige are here for you and your kids!
Using music and silly antics Jeff and Paige will get your kids up and dancing, out into nature, asking questions, exploring their world, and ready to be their best, silly and fascinated selves.
When you join you get:
Member only videos
Live science and nature lessons
Printable activities
Active engagement from the creators, Jeff and Paige
It's not a static experience, it's active. Jeff and Paige are creating content weekly! If you have a topic you want to explore, if your class is studying something specific, let them know. They'll make a video about it, or even create a whole live lesson to explore with you.
The amount of content you receive depends on your tier. See above for more info on tiers.


Membership in the Online Jeff and Paige Community has two main components:
Member Only Videos & Live Nature and Science Lessons. Read on for more detail.
What's in a livestream? Each weekly science or nature lesson includes:

Jeff and Paige live and interacting with you!!
These are explorations, experiments, and activities. If you miss a a live lesson, don't worry it's available recorded as well.
News and Nature Sightings. The "antidote to the regular news." These are photos and videos from daily life, Jeff and Paige's and yours too! Send in your pictures to be featured.
A Kid Interview: one of our Energy Superheroes is invited on screen to answer three silly questions and make a song request.
The main event: the science of ice cream making, solar crayon art, melting points, keystone species, name that carnivore and so many more!!
Song requests: Jeff and Paige reserve the last 10 minutes of the lesson for your song requests. Get up and dance, sing a long, have fun.
Member only videos to teach, explore, experiment and learn:
Our bi-weekly videos include:
Science experiments
Nature activities
Fun, family games and projects
and of course Music!
You can participate "on demand" with these weekly hands on videos.
More about
Jeff and Paige:
Performing for over a decade in Colorado's Front Range, Jeff and Paige bring science and nature to life through kid-delighting music and stories. Their live performances are educational and full of science and nature. Witty lyrics, hilarious antics and quick costume changes keep audiences engaged. Their songs, experiments, and activities express the love of the outdoors and ecology, and bring concepts like insect anatomy, energy conservation and plate tectonics to the whole family. Now they are bringing it online! In this moment in time, Jeff and Paige are stepping up to the challenge of creating a community grounded in science, nature, music, and joy virtually. In normal, non-social distancing times, Jeff and Paige are available for school assemblies, community performances, festivals, and private events. Many of those are now virtual options as well! In addition Jeff and Paige work with like-minded companies to promote their products and brands and are also available to write songs for hire. They have six different albums of nature and science-based music, their original Surprisimal T-shirts and signature rainbow leggings for sale.
https://shop.jeffandpaige.org/

Through their live shows and six different albums Jeff and Paige have reached thousands of children with their joyful spirit of play and passion for ecological awareness. They have won many awards for their
music and musical programming.
We want to inspire more kids to get outdoors and fall in love with nature!

Help us reach our goal of 300 Patreon supporters! When we reach 300 Patreon supporters, we will have a special live stream rainbow dance party to celebrate!

Your support will help us bring digital content for kids to parents and educators nation-wide during this challenging time of social distancing and remote learning. As a thank-you for becoming a member, you'll receive special rewards and exclusive content from us. 

Join in the fun and help us meet our goal!


1 of 1
Become a patron to
Unlock 272 exclusive posts
Get discounts to an online store
Connect via private message
Recent posts by Jeff & Paige
How it works
Get started in 2 minutes