Jenny Wynter
is creating Comedy!
Select a membership level
A Cuppa Coffee!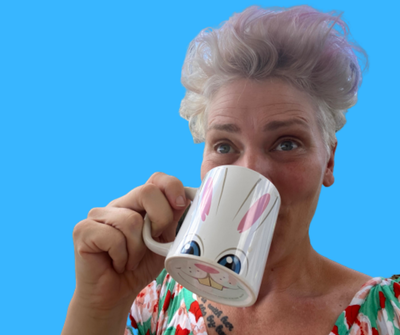 Whether it's $3 a month or a gazillion YOU'RE HERE! Thank you! You're sacrificing a lovely cuppa to flick my way and I am hugely hugely grateful! In return you shall receive:
Text posts exclusive to my wonderful patrons; and
A massive cyber-hug. Thank you!
A Fancy Cup of Chai!
You're sacrificing a quite delightful cup or chai (or mochachino even!) to support my work and I am so grateful! In return you get:
Exclusive text posts for Patrons only;
A shout-out on my socials (I'll even plug one of your own projects if you like!); and
My hugest grateful cyber-hugs!
Morning Tea Magic!
Ooh, SUPER fancy coffee with ice-cream and cream and everything AND a lovely biscuit on the side? For moi?! Thank you so much! In return you'll receive:
Your name in a special "Thank you Patrons" song;
Plus the rewards of the previous tiers; which includes...
Including a massive cyber-hug!
About
HELLO DEAR FRIENDS!
The short spiel: if you don't care to read on and just want to jump straight into being a patron, please just head straight to the tiers of support and go for it. THANK YOU! 
If we haven't already met, I'm Jenny Wynter: comedian, creator of web series, founder of Funny Mummies, lover of teapots and mother of dragons. (Or as other people call them, "kids".)
So… this Coronavirus eh?
Gees.
This is hitting artists hard. Oh boy. Festivals, events, conferences, gigs… months of income? Gone.
So what can I do? What can you do?
Enter Patreon. This is a platform where you - yes you - can directly support creative work that you love, by directly paying the artist for that work.
Thus, I, like many of my fellow creatives, am doing my best to make like Beyoncé and turn these lemons into lemonade, by wholeheartedly embracing the online space!
So… I'd like to welcome you to step inside the
Jenny Wynter Comedy Bunker!

I'm bunkering down, you're bunkering down, so let's bunker down together! (At a socially appropriate distance).
I'm not looking for donations. I'm not looking for handouts. What I am looking for is patrons! Backers! Sponsors! Cheerleaders! Supporters! People who dig what I do and want to throw some support behind me so I can keep going throughout this crisis. With your help, I can make you - and others - laugh through this crazy chapter while being able to afford to buy the nice brand of two minute noodles for my kids.
"But what will this look like?" you ask.
"I'm getting to that bit", I answer.
Well, starting immediately, I shall embrace this chaos to create and release online comedy, relentlessly. What exactly this will look like, I don't know. It's an unpredictable, creative experiment for these unpredictable, unprecedented times.
Some examples of things I will create include:
regular, interactive, comedy shows live streamed on Facebook;
kid-friendly regular interactive shows live streamed on Twitch or on YouTube (I need to check with my kids which is cooler these days) which I imagine will go down well for kids who are gonna need a bit of extra entertaining soon;
extra podcast episodes, for my Funny Mummies show but possibly others too. My mind is boiling over with ideas;
standalone comedy video sketches (such as my recent toilet paper crisis one); and
other ideas I haven't even thought of yet and/or others as inspired/suggested by YOU!
Choose a tier that suits you - even if it's $3 a month IT HELPS.
AND
PLEASE do go and check out other artists on Patreon and get behind them!
Your creative community needs your support. Now more than ever. Because a world without art is just… Canberra.*
*JK love you Canberra if you're from there!* **
**(I totes wasn't JK)
By becoming a patron, you'll instantly unlock access to 3 exclusive posts
By becoming a patron, you'll instantly unlock access to 3 exclusive posts
Recent posts by Jenny Wynter