Jen Owen
is creating A Global Movement Of Changemakers
Select a membership level
A Dollar For The Future
My gratitude and thanks!

You are helping to keep our website alive and thriving!

Thank you so very much for helping us to continue to "Give the world a helping hand."
Website Sponsor
You will be listed as one of our "Real Life Superheroes" Sponsors page!
http://enablingthefuture.org/oursponsors/
Thank you for supporting us and helping us to continue to "Enable The Future."
You will be emailed a digital badge to share on social media or your linkedin profiles to show that you are an official sponsor of the enablingthefuture.org website.
GOLD SPONSOR
You will be listed as one of our "Real Life Superheroes" Sponsors page!
http://enablingthefuture.org/oursponsors/ 
Thank you for supporting us and helping us to continue to "Enable The Future."
You will be emailed a digital badge to share on social media or your linkedin profiles to show that you are an official sponsor of the enablingthefuture.org website.
About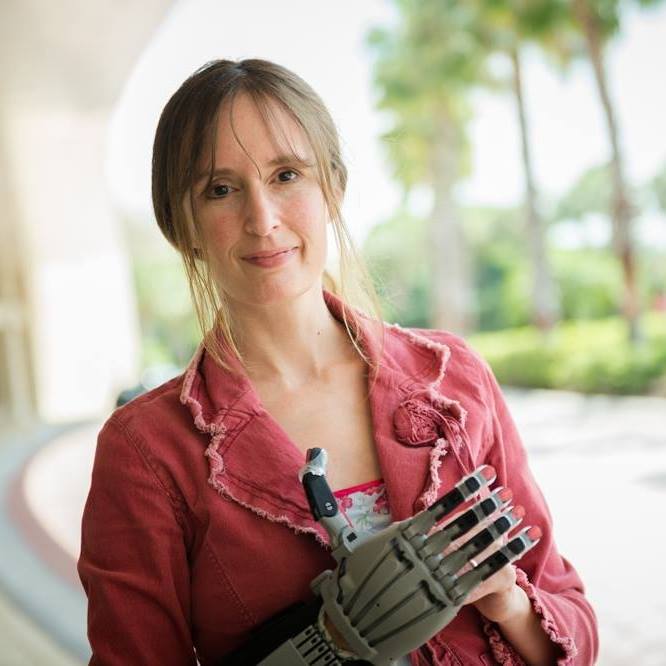 My name is Jen Owen and I am the founder and owner of enablingthefuture.org, a website dedicated to sharing the open-source designs and stories from a global community of volunteers who are creating free 3D printed hands and arms for those who were born missing fingers or who have lost them due to war, accident, natural disaster or disease.
I am extremely passionate about using my skills and artistry to communicate meaningful stories and create a positive impact in the lives of others. My philanthropic focus has involved helping to found and collaboratively lead e-NABLE, a global movement of makers and digital humanitarians who strive to increase the accessibility of prosthetic hands for children and introduce 3D printing technology and curriculums into STEM based learning environments around the world.
I have a big job to do and I have thousands of people all over the world who rely on me to be there for them - but without funding to help support my time to do this work, I am unable to continue to devote volunteering full time to accomplish this task. While the volunteer work I do for e-NABLE is priceless and it fills my heart with a kind of deep and indescribable joy that I never thought possible, it doesn't pay for hosting of the website, the electric bill, the internet bill or help me feed my family!
If you believe in the work that I do and the impact that e-NABLE is making on the world, if you are inspired by our stories, the images you see, have had your life changed for the better because of what we have accomplished over the years and how much heart I have put into this project, please consider making a monthly $5-10 donation to help me continue to devote my attention to this growing movement full time. 
For the cost of a Starbucks treat or a movie ticket - you can help provide an invaluable resource for thousands of people all over the world and help me to keep working on my passion project that is ever evolving and growing for the better. 
Every dollar makes a difference!
If you would like to make a one-time donation instead of committing to a monthly recurring donation - please visit the donation page 
HERE.


Thank you for your kindness, for paying it forward and for being a fellow changemaker!
For a little bit of history on our project - please see below!
Much love - Jen

In 2011,  
Ivan Owen
, created 
a crazy metal functional puppet hand
to wear to our first ever steampunk convention. It was a hit and when we returned home from our adventure, he decided to post a short video of it on Youtube. Little did we know that one simple video clip would change our lives and thousands of others - forever.
A simple Youtube video of the hand, led to an email from a carpenter who had lost his fingers in a woodworking accident and a collaboration across 10,000 miles to create a replacement finger for him.
This and ultimately led to a mother of a 5 year old boy contacting them to see about the creation of 
a tiny version
of this hand for 
a little boy named Liam
who lives in South Africa who was born with no fingers on his right hand.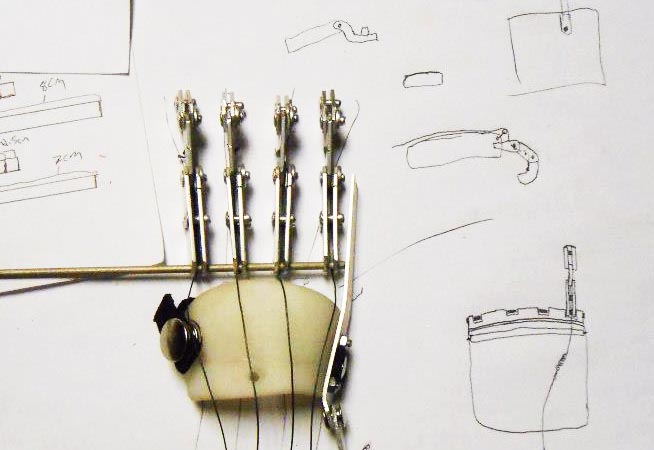 After creating the first prototype for Liam, Ivan realized that he would quickly outgrow the hand and started researching the use of 3D printing to create the next version. He taught himself how to use 3D printer design software and contacted a 3D printer company that donated some 3D printers so they could work on creating a stronger and more functional design for him. 
Together, they created 
the first 3D printed mechanical hand
.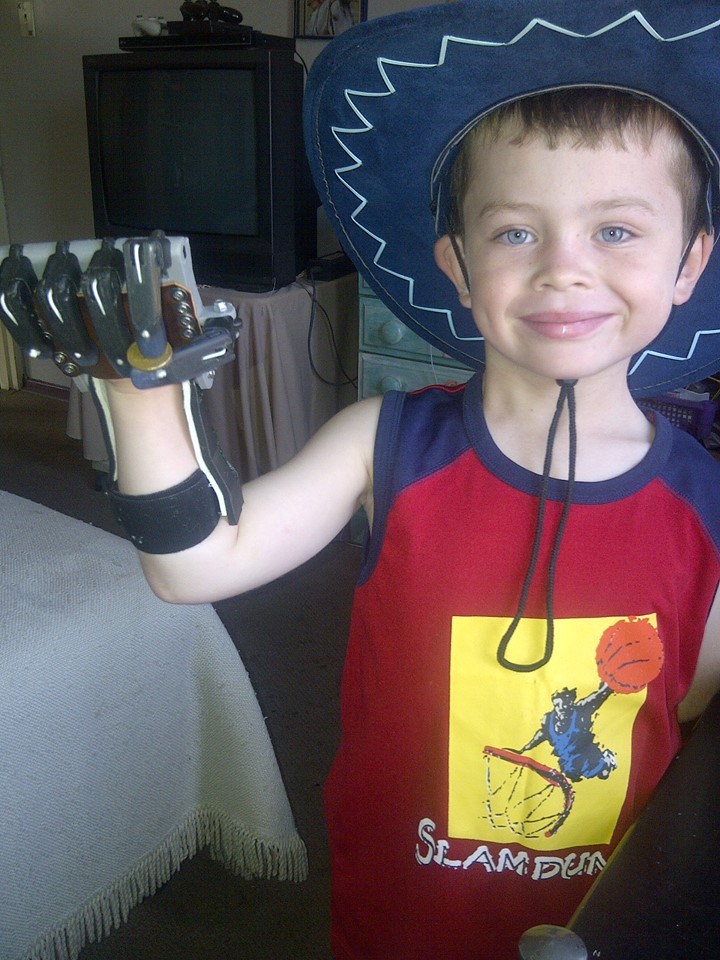 Instead of patenting the design for this new hand and making a profit, Ivan decided to publish the design files as open-source and public domain, so that not only could Liam have a hand, but so that people could download and print these devices for anyone that needed one too - anywhere in the world.
This prop mechanical hand was the catalyst for what is now a 
global movement and a community
of makers, tinkerers, artists, designers, humanitarians, teachers, parents, children, engineers, occupational therapists, medical professionals, philanthropists, inventors and every day people who are using their 3D printers and design skills to create free 3D printed hands and arms for those who need them.
As the community of makers began to grow, I decided to start a blog about this project to document the designs as they changed and morphed into better and more functional versions. Makers were joining the community by the hundreds every week and sharing and re-sharing their ideas and new files. More and more children were getting helped as we began a matching process that would connect a recipient to a maker willing to print and assemble a device for them.
After a while, my blog was no longer just a place to share the stories of the community, but it has morphed into a repository of "
how to" tutorials
, free 
3d printable hand designs
, 
support information
, 
forums
for those seeking advice, 
information for parents of children
in need of a device, help for 
teachers
who want to inspire their students and create service learning projects, a centralized calendar so people can meet our volunteers and get help in 
person at events
, and so much more. 
This is where families find 
hope for their children
. Where children and adults who are born missing fingers or who have lost them due to war, disease or natural disaster - can come to find stories of 
other people who have upper limb differences
and who are using 3D printed devices that can help them with daily tasks that are easier to perform with 2 fully functional hands.
This is where volunteers come to find out how they can join the global community and use their 3D printers to make a difference in the life of a child who wants nothing more than to be able to 
ride their bike and hold on to both of their handlebars
at the same time or have a "
Superhero hand
" to make them the "cool kid" in class instead of the child that gets 
teased or bullied because their hand is different
.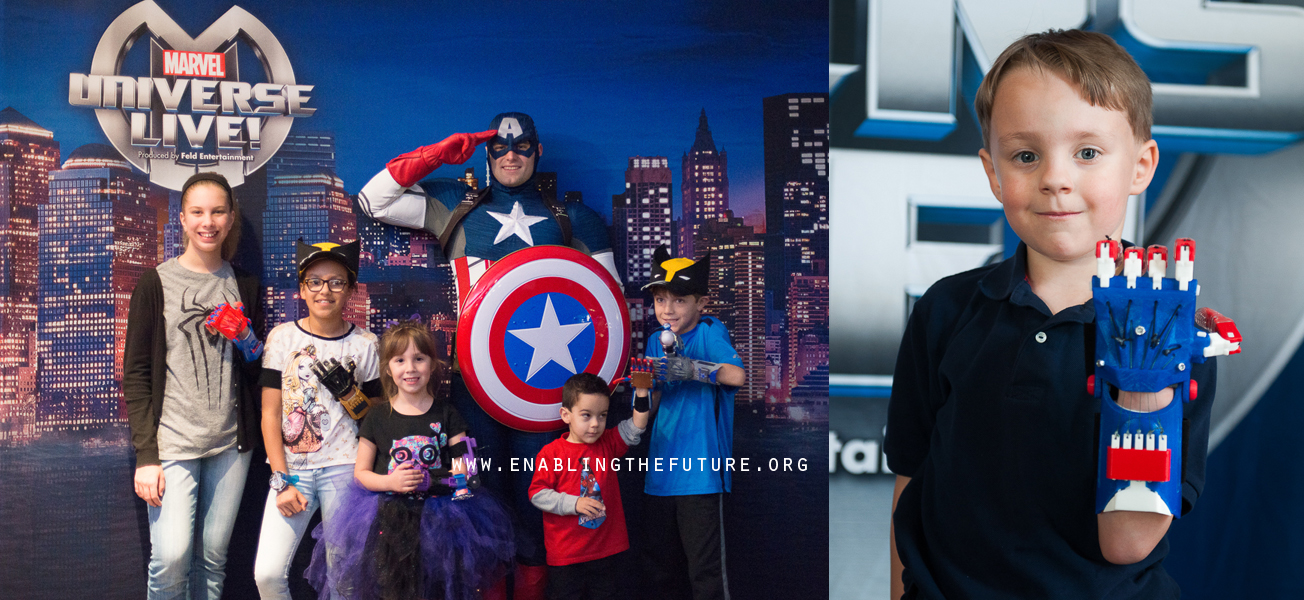 This website is where 
I pour my heart and soul into every blog post
I share so that people who read it can feel the love that is still out there in this world.
This is a place where people can find stories of hope and be reminded that there are still good people in the world who are putting their religious, political, cultural and personal beliefs aside to work together to use new technology to change the lives of thousands of people all over the earth.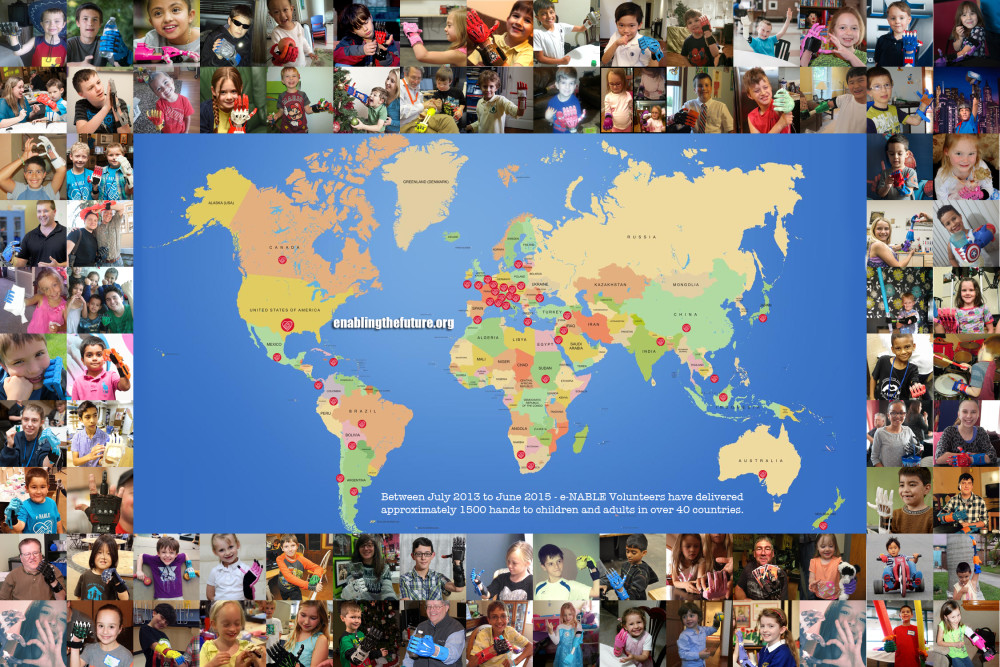 To date, we know of approximately 5000 3D printed e-NABLE hands that have been delivered in over 90 countries by volunteers who have signed up to make them and gift them to the end users for free. They donate their time and materials so that no one who receives an e-NABLE Community device, needs to worry about how to pay for it.
As this community grows and the stories get more media coverage - the more traffic this website gets every day. The need to spend time answering emails and questions that beg to be answered grows just as quickly.
It is my hope that the people around the world will see the value of the work that I am putting into maintaining this website and help to pay for the upkeep, upgrades and my time spent making sure the stories get shared and the history of this world-changing movement is documented.
But I am not simply just writing down the stories and reporting them in blog posts on this website. I also spend my time answering the emails from families seeking devices and makers who are interested in helping make a difference in the world and so much more.
There are random strangers creating hands for 
children they will never meet
.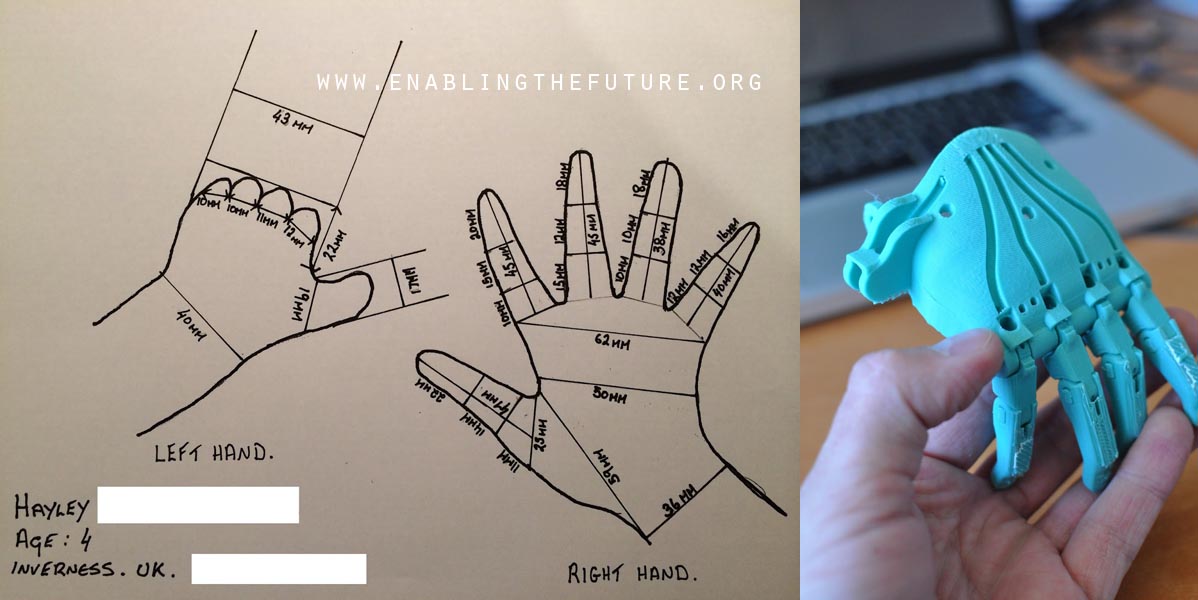 There are 
teachers helping school children
to learn to build hands for other children and inspiring them to turn around and use these experiences to find ways to change the world in other ways.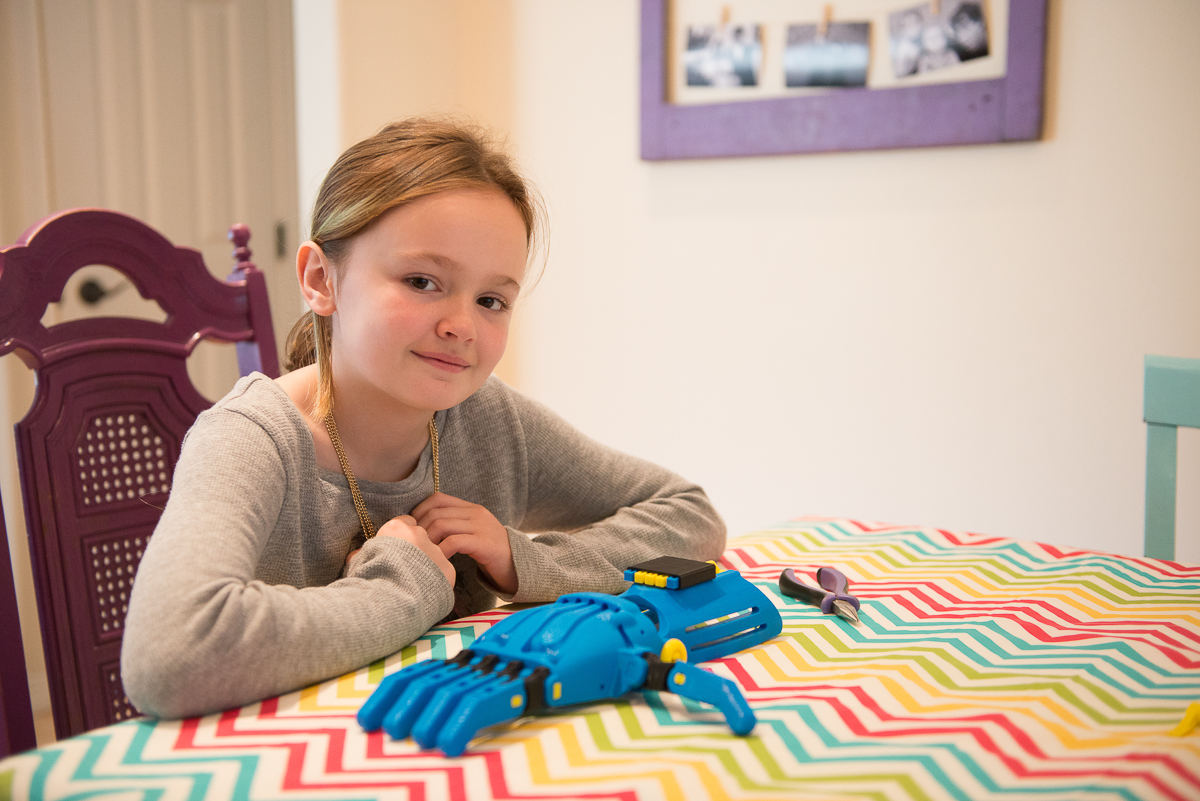 There are hundreds of 
scouts troops
who are spending their free time to put on large build workshops to create hundreds of 3D printed hands to ship to places like 
Haiti
and Syria.

There are 
parents creating devices
for their own children.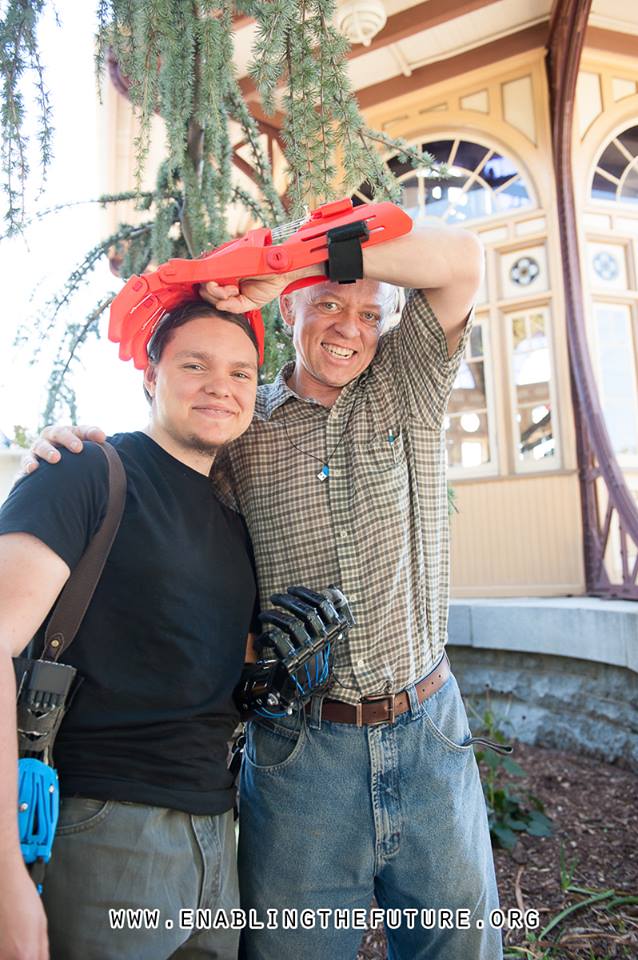 There are people 
reaching out into their communities
and helping people in places where medical care is hard to find and owning a traditional prosthetic device is nothing but a dream.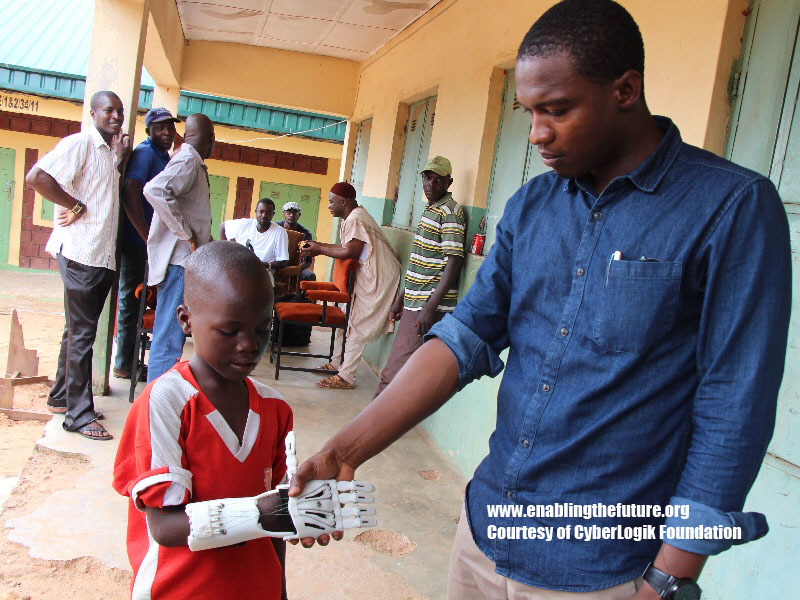 There are children who are learning to print, build and assemble 
their very own hands
.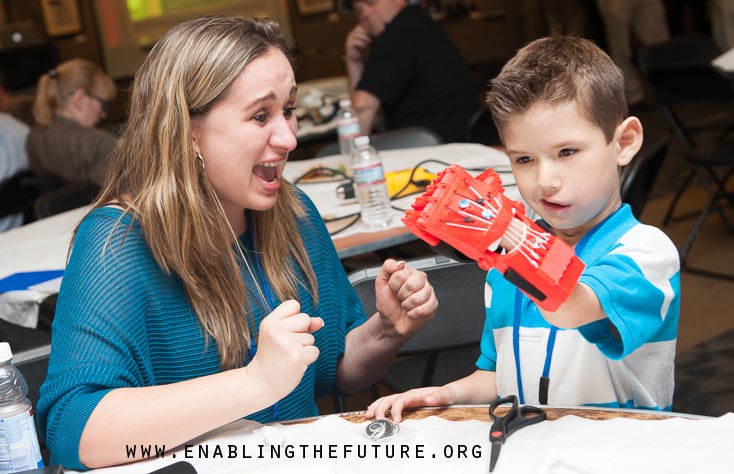 I am shouldering a priceless treasure that thousands of people visit every day who are looking for answers, wanting to help and who are getting inspired to make a difference in the lives of others.
This is a huge responsibility and one I am honored to have - but it requires my full attention and 30-40 hours of my time every week to keep up with the demand.
I am not simply writing the stories down and sharing them, but I am also connecting makers to families, answering questions and emails and providing a place where the community can continue to gift these files and designs openly and freely as well as trying to run some of the social media channels that help our volunteers communicate with each other and our recipients find the chapters who can help.
In order to keep up with the exponential growth of this project and the ultimate responsibility to be the "Hub of the e-NABLE Community" and the person that people reach out to for help every day, I am asking the world to help support me with a means to provide income for my family while I devote my time to making sure this precious asset is protected and able to continue to grow along with the demand for the information the community shares there. 
I don't need much.
Just enough to help provide for my family while I use my time to care for others. 
Together, we can change the world.
Will you help me help others?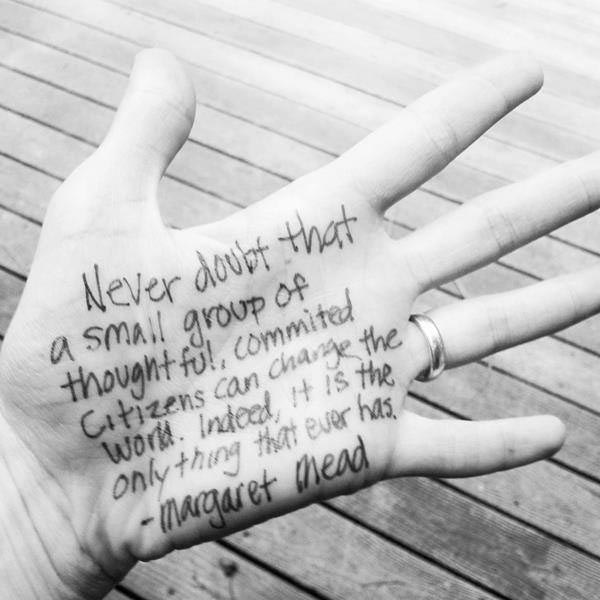 The "e-NABLE Community Website" - enablingthefuture.org - provides the design files, tutorials, assembly instructions, forums, educational materials, inspirational stories and various resources that have been donated and gifted to the world from the e-NABLE Google+ Community, who continue to work tirelessly in hopes of helping as many individuals as possible who need or want a 3D printed assistive device.

This website has become a full time job to maintain and update and my goal is to find individuals who value the information on the website enough to support my work so that I can continue to dedicate my time to helping the community share their gifts, their work and our collective stories.

• The current website - enablingthefuture.org is owned, maintained, paid for and updated solely by me. Ivan Owen, who is the co-creator of the first 3D printable hand that was created for a child in need, gave the design files away for free to the open source community so that anyone, anywhere could create one for themselves or someone in need and I created this website to share the history and story of this gift.

Your donation helps me to continue to use my time to work for the global e-NABLE Community as a full time job.

What do I do for the e-NABLE Community?

Some of the responsibilities that I have and attend to every day:

1. Updating and upgrading the website and paying for hosting, domain and other services that keep our information and global contributions safe and available for all.

2. Answering emails from families and recipients from all over the world - who are eager to be matched with a chapter or individual e-NABLE Volunteer.

3. Helping to guide new groups to information on how to become an e-NABLE Chapter.

4. Helping volunteers plan events at makerfaires and conferences, hand-a-thons and school events.

5. Creating event materials and make sure volunteers who email about them, can have them in a timely manner.

6. Responding to media inquiries, doing interviews about the community and providing images or directing media to volunteers with the images they are seeking for their stories.

7. Updating and maintain the e-NABLE Community Facebook, Twitter and social media accounts

8. Creating design contests that will expand the reach of the global community beyond 3D printed hands and arms and encourage the volunteers to think of other ways they can use the open source platform to make a difference in many more lives.

9. Creating surveys and reports to help get a better idea of how many hands and arms have been delivered and how many recipients are actively using their devices.

10. Connecting Conference planners to e-NABLE Volunteers that will best represent the global community at their event as Keynote speakers.

11. Searching the internet for stories to share on social media to continue supporting and encouraging the global community.

12. Writing blog posts to share some of the many amazing stories about our volunteers and chapter groups who are working so hard every day to make a difference.

13. Reaching out to the many recipient families and keeping in contact with them via social media to get feedback or just encourage them and support them on their 3D printed e-NABLE Device journey.

14. Designing educational games and materials to gift to the global community and help get e-NABLE into STEM based classrooms with a focus on k-12 student groups.

15. Guiding Universities on how they can best serve the community as a chapter.

16. Connecting chapters with other chapters in need of assistance and advice.

17. Finding mentors for new volunteers and guiding them to the forums and google+ community for help with their questions.

18. Connecting new volunteers in a quest for a 3D printer to our partners and sponsors so that they can find the best fit for their needs and get started helping to 3D print e-NABLE devices for others or themselves.

19. Reaching out to Libraries and makerspaces to ask them to consider opening up their 3D printers to families in their areas who may want to create their own devices.

20. Signing Eagle Scout project paperwork for those scouts that have chosen to make e-NABLE their final project to get their Eagle Scout Rank.

21. Finding ways to create fundraisers that will help provide e-NABLE with funding to send materials and supplies to our underserved Chapters worldwide.

There is much more that I do and could list, but I think this helps to show how much work I put in for the e-NABLE Community and to help you understand a little more about what I do all day!

If you are interested in helping to support my family financially while I continue to work full time for the e-NABLE Community, please feel free to pledge even a $1 recurring donation a month.

Every little bit helps to keep the lights on, pay for the hosting fees and internet service, upgrade a failing computer and feed the family!

Your support means the world to me and so does this project!

Thank you for helping me to continue to help to "Enable The Future."

- Jen
1 of 1