Jen Shyu
is creating new music, tutorials, & guidance to finding your authentic voice
Select a membership level
Official Patron
(For the monthly Live Q&A's (whose topics range from "Share Your Work" salons to "Grants, Artist Survival & More" workshops, click here!) This tier is for those who appreciate the music and work I produce and want to more actively support and see more of the process that goes into all that I do (music, theater, dance, research, production, etc.) to make it all happen.
Includes:
"Fieldwork Faves": See /hear some of my favorite fieldwork recordings from East Timor, Indonesia, Korea, Vietnam, etc. that you can't find anywhere else! (I'll share something at least once every 3 months)
Live Q&As on topics such as "Share Your Work" salons or "Pick my brain!", or Grants, Grant Writing, Artist Survival in times of COVID-19, Arts & Activism, etc. (once a month)
Exclusive voting rights (Participate in the creative process with patron-only polls)
"From the Archives": Exclusive viewing of a past concert from my archives (one concert at least every 3 months)
"Work-in-Progress" updates or "Behind-the-scenes" content or "Exclusive content" for patrons only, at least once every 3 months
General support
(Photo: Civitella © Marco Giugliarelli for Civitella Ranieri Foundation, 2019)
All-access Patron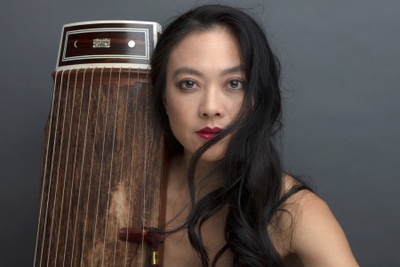 (For the monthly group workouts, click here!) This tier is for music lovers and also musicians/artists who want a deeper sense of the concepts I work with in the creative process. Even if you're in a different field entirely, I hope this inspires you as my approach is always holistic and multi-disciplinary. For this tier I offer monthly group "workouts" called "Inner Ear Strengthening for Improvisation," which you can participate in or you can just observe if you're not a musician. This is getting deeper into the processes that can directly inspire you in your creating as well and meant to open and expand your inner ear and unify your ear with your mind (theory) and body (physical internalization). If you've also never improvised before (i.e. you were trained classically or never learned theory), this is great way to jump right into applying music theory to your own creativity. If you're advanced, this consistent practice will strengthen your ideas in "free" improvisation as well as "structured improvisation" and help you create new works across disciplines.
Includes:
Pre-recorded video tutorials/lessons on all things music, finding your artistic voice, composition, improvisation, singing, instruments, etc., customized to your questions and needs (1 per month). 
Monthly "group workouts:" live group sessions of ear + rhythm + improvisation training customized for whoever participates, on or near the last day of the month (announced on this page and on social media) followed by the Live Q&A (1-hour session + the Live Q&A which is another hour). ALL-ACCESS & UP PATRONS GET ACCESS TO THE ZOOM RECORDINGS OF THESE GROUP LESSONS (they have 1 week to download)!
Bandcamp download discount/freebie
Patron shoutout / recognition / thank you in my programs, social media, website, CD/album booklet/liner notes acknowledgements
Fan requests (Help shape creative work with patron-only polls)
And everything in the previous tier
(Photo: Daniel Reichert)
VIP Patron
This tier is for music lovers who want to give more support (thank you!) and also have more access at performances that I do in person or live-streamed (in this time of COVID-19 precautions). For those who are working musicians, I'll also give you feedback and a thorough listening of your work as well as a session for career advice twice a year. This is for someone who wants insight directly from me on their own work, even if you're in a different field. I want to help you with what you are offering to the world, from the perspective of having forged a new artistic path and audience that didn't exist before.
Includes:
VIP status at live and live-streamed events 
Get a written personalized in-depth critique/feedback of one composition / improvisation / song / work of art / project idea, etc. that you have created. (3 times a year, once every 4 months)
Personalized career advice (finding your voice, grants, artistic vision and practice, strategic planning, especially in these times of COVID-19, etc.) (15-minute session, 2 times a year, once every 6 months)
And everything in the previous tiers
(Photo: Ben Doyle)
About
Welcome! Thank you for finding me in my corner of the world (Queens, New York). I'm grateful that technology has led you here. My goal has long been to bring music and creativity to as many people possible in every corner of the world, as many of you visiting this page 
might already know
.
In March of 2020, when my performances through at least this fall were cancelled due to COVID-19, I was heartbroken and shocked. My thoughts also went to friends that I have been mentoring or looking out for in New York's artistic community and beyond—especially those marginalized by, or less privileged in, our music industry—knowing how devastating this time must be for them. I recalled being a shy newcomer in New York City in 2003 desperately seeking wisdom from more established female artists and other women of color who were composers and bandleaders.
Which leads me to the reason why I joined Patreon: to help raise funds to launch a new kind of mentorship series—one that I had been considering for a while—in collaboration with my friend and colleague, vocalist 
Sara Serpa
. This online mentorship initiative (
https://mutualmentorshipformusicians.org/
, which we launched on June 20, the Summer Solstice,) fosters music artists from underrepresented communities around the world and provides a brainstorming hub to explore ways to re-envision our lives going forward, because everyone will have to serve our communities differently as a result of this pandemic.
With this in mind, I pledged to donate 50% of the proceeds earned on Patreon to this mentorship project until we secured funding, which I'm happy to report (as of July 2020), we now have support from a generous initial donor. Come here to follow the progress of this series. I am now making monthly recurring donations from Patreon proceeds to 
Justice for Breonna Taylor
as well as to 
https://www.shesafewesafe.org/
, a campaign led by 
BYP100
to put an end to the different forms of gender violence that Black women, girls, femmes and gender non-conforming people face everyday.
Before the pandemic I was busy lugging around my instruments, touring two different solo shows, the latest called 
Zero Grasses
—a theatrical and personal show I composed and wrote in the wake of my father passing last year—in which I play the Taiwanese moon lute, Japanese biwa, piano, and various percussion instruments, and chant and sing about less talked about subjects such as fertility vs. ambition, navigating the music industry as an Asian American woman, and childhood memories of my father and family.
Then in March, when the gigs were suddenly cancelled, I realized how much of my work, including multicultural performances and free creativity workshops for kids and families, was centered in bringing people together in communities and rural areas around the world, whether in the mountains of my Mom's native East Timor, at a home in Java, Indonesia, a school in my father's homeland, Taiwan, or a community center right here in NYC.
The one thing I have to hold me over, and for which I am so grateful, is a choir work commissioned by 
American Composers Forum
that I finished composing at the end of May for the choir students of William Alexander Middle School (directed by Mimi Broderick). The work was scheduled to be premiered in concert on May 13, but with schools closed, it will now be premiered in December 2020, if the school year starts as planned. Beyond that, all is on hold, and while some things have been rescheduled for December and January, uncertainty is still heavy in the air.
But I have to create to survive. It's my life's breath and how I have to contribute to our society and overlapping communities. Here, on this site, I'm excited to share my process from works-in-progress to their fruition, as well as monthly teaching videos, masterclasses, lessons (group and private), and experiments with voice, improvisation, composition, writing, songwriting, instruments, research, fieldwork, and language. And of course interviews, conversations, live Q/A's and discussions, and anything else we can think of together to keep the creativity going for both you and me.
Thank you again so much for joining me on this journey. Please take care and stay safe!
Love,
Jen
(P.S. All lessons, workshops, "Share Your Work" salons, live Q/A's, etc. will be done via the internet during the COVID-19 pandemic)
(P.P.S) For one-time donations, my venmo is @jenshyu and my Paypal is 
HERE
. 
When we reach 70 patrons, I'll be able to finalize my first chapter of my new book, title TBA!
1 of 4
By becoming a patron, you'll instantly unlock access to 68 exclusive posts
By becoming a patron, you'll instantly unlock access to 68 exclusive posts
How it works
Get started in 2 minutes