jeranism
is creating crypto classes and training
Select a membership level
CRYPTOISM STARTER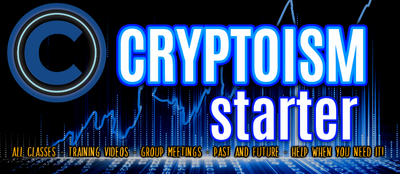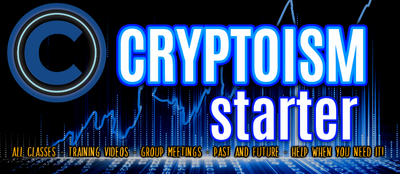 CRYPTOISM STARTERS GET...
₿- 4 hr. group class (1st Sat. of the Month)
₿- 2 hr. group class (Every other Fri. night) 
₿- No need to attend class live - You'll get the video the next day!
₿- All training videos on demand past and future
₿- Cryptoism Starter Private Telegram Group 
₿- Access to all past and future crypto classes (Video/Mp3)
₿- Contact me anytime with your questions and get a 24-48 hr. reply!


About jeranism
I've said it before and I will say it again. Crypto is going nowhere. It is not a fad or a flash in the pan. It is the future of finance whether we like it or not. As such, it is important in my opinion to begin to learn now as this will make what is coming much easier. I also believe the $10 per month you will be spending here is the best value in crypto. For $10 a month you get the following.
4 Hour Group Class (1st Sat of every month) The great thing is, if you cannot attend, you still get the video the next day.
2 Hour Group Class (Every other Fri evening) A minimum of two Friday Night Group Classes a month. Again, even if you don't attend you will get the video the next day.
You will get full access to every class that has been done up until now and all future classes as long as you remain a Patron.
Contact me easily through the Patreon app with any questions and I will reply within 24-48 hours, most often much quicker.
Two tiers are available. The $10 tier which gets all of the above and the only other tier available is the $40 Insider Tier. I will now be spending the month typing up a pdf report on 10 coins I have researched that I see with a high chance of profits and the ones I would steer clear of. Those in the $40 group get two main rewards. Of course all the $10 stuff. Classes, zoom, trainings, Telegram group etc. But they will also get a large report on the 1st of every month starting with August 2021. Then, the following Sunday (1st Sunday of the Month) the insiders will get together from 4pm-7pm PT to discuss the report, the coins in it and to hear from the others about their research. We will make some group decisions and possible buys.
Patreon will no longer include my other shows such as the jeranism show, Monday Night Raw, Globebusters or the Baby Truther Show. If you are looking for that content: Videos, shows, podcasts etc. you can now find those at Rokfin.com! At Rokfin you will get every show I do plus you get the other 200+ channels that are already there celebrating free speech. Click here to join Rokfin!  
http://rokfin.com/creator/jeranism


Hope to see you sign up 
http://rokfin.com/jeranism
soon and become a $10 Patron here. If you really think about it, that's the best value you can find anywhere today. 
You can support with a one-time tip through Venmo, Cash App or Crypto. All my links can be found here: 
links
By becoming a patron, you'll instantly unlock access to 8 exclusive posts
By becoming a patron, you'll instantly unlock access to 8 exclusive posts
How it works
Get started in 2 minutes